Unlocator is a popular Smart DNS provider offering its services since 2013. It allows users to access geo-restricted content, while the VPN offers added privacy and security features. In this Unlocator review, we'll tell you all about it.
This Smart DNS service ensures users can access hundreds of geo-locked channels and stay safe online. The software is well known for its geo-spoofing capabilities.
And while Unlocator's server network is limited, it offers a kill switch as an additional feature. (If the VPN connection suddenly drops, a kill switch ensures your device won't revert to its default Internet connection.)
One key feature that sets Unlocator VPN apart is its ability to unblock content. With this service, users can easily access a wide range of content on popular platforms like Netflix US, Hulu, Amazon Video, and Apple TV. Additionally, Unlocator VPN lets users stream and download movies and series easily.
Overall, Unlocator is a reliable and effective solution for bypassing geo-restrictions and maintaining privacy and security online.
No time to read the whole article?
You can check out Unlocator VPN right here. But just know that we recommend an alternative option!
And in this Unlocator review, we'll cover the following:
Speed and Servers
Security and Privacy
Streaming and Torrenting
Pricing
Pros and Cons
Unlocator VPN Alternatives
Unlocator Review

Ease of Use

Features

Customer Support

Price

Likely to Recommend
Summary
Unlocator is a reliable VPN option thanks to its easy-to-use apps, a growing selection of servers, respectable speeds, and exceptional privacy and security features. Not only does Unlocator provide access to streaming services and support torrenting, but it also has a free trial and a refund policy, making it a competitive VPN choice.
Pros
Military-grade AES-256 encryption
Streaming & Torrenting support
Split tunneling
Apps for Android, iOS, Windows, OSX, and Amazon Fire
Five simultaneous device connections
30-day refund policy
Free trial for one week (without credit card)
How Fast is Unlocator VPN?
Unlocator's server speeds are highly dependent on the server location you choose. Selecting servers closer to your physical location results in minimal speed drops.
However, connecting to remote servers can significantly impact your connection speed, regardless of the VPN service you use.
During my testing, I found some US servers with low speeds. Nevertheless, the US servers still provided sufficient speed for streaming and downloading. This means you should have no difficulty accessing US-restricted content.
Overall, while Unlocator's speed could be improved, it still earns my approval.
Servers Offered by Unlocator
Unlocator is a Virtual Private Network (VPN) provider offering physical and virtual dedicated servers. It has 43 servers and equivalent IP addresses spanning 38 countries.
While it's true that Unlocator has a smaller server network compared to other VPN providers, the number of servers they have may still be sufficient for some users.
It's essential to understand that the quality of the servers and the speed of the VPN connection are more important than the sheer number of servers.
Unlocator claims that its servers are optimized for speed and reliability, which may benefit users who prioritize these factors over a more extensive server network.
Is Unlocator Secure?
Unlocator's commitment to security is evident in its use of AES-256 encryption, widely considered the most secure encryption standard available today. This encryption is used with several protocols, including OpenVPN, IKEv2, L2TP/IPsec, and IKEv1/IPsec, all known for their reliability and security.
For Windows and macOS users, Unlocator uses both OpenVPN and IKEv2 protocols. For iOS devices, the IKEv2/IPsec protocol is available, while Android and Amazon Fire devices can use the OpenVPN protocol.
Additionally, for operating systems that have PPTP pre-installed, Unlocator supports PPTP connections.
Our Unlocator review found that with these security measures in place, users can feel confident that their online activity is protected from prying eyes, whether streaming over public Wi-Fi or their home network.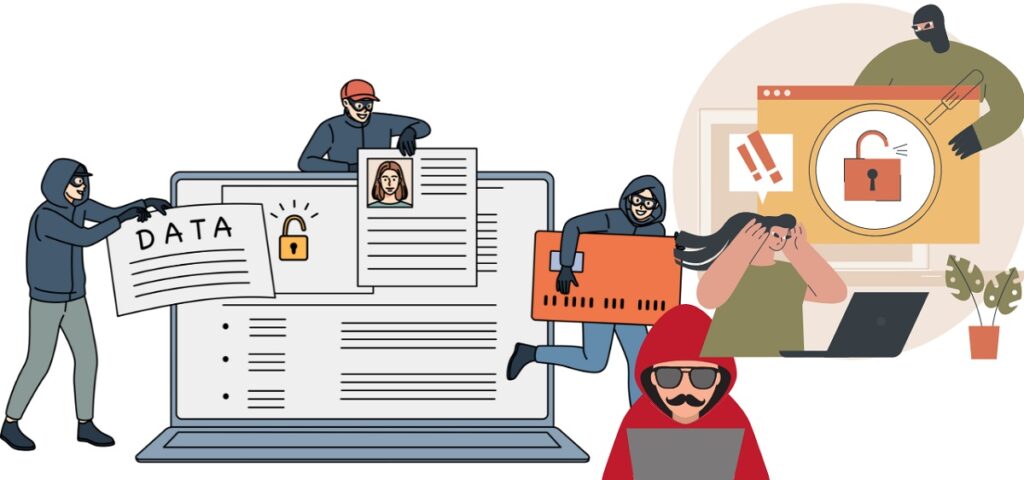 Does Unlocator Support Streaming?
Unlocator's strategic server network lets you bypass the geo-restrictions imposed by streaming platforms, allowing you to stream restricted content from anywhere. The United States, which hosts the biggest shows and movies, is home to a high number of Unlocator's servers.
Moreover, the VPN's IP addresses are not blacklisted by any streaming service. This means you can unblock various streaming platforms such as US Netflix, HBO GO/NOW, Hulu, US Prime Video, Amazon Prime Video, Showtime, BBC iPlayer, ITV, and Canal+.
Additionally, you can access popular sports streaming channels, including ESPN+, Fox Sports Online, NBC Sports Live, BT Sport, Sky Sports, and beIN Sports.
Torrenting
Unlocator permits P2P activities but recommends users choose servers located in P2P-friendly countries.
However, I found Unlocator less reliable for torrenting as some P2P servers didn't work. Their Terms and Conditions state account termination without refund for downloading pirated content.
Unlocator's speeds are also slow for this task, and better VPN options exist for efficient torrenting.
Does Unlocator Protect Your Privacy?
Yes, the Unlocator VPN provider is a safe VPN. However, the service provides fewer servers than other VPNs like ExpressVPN or Surfshark.
Furthermore, it keeps usage logs and needs to deliver good connection speeds to its users.
Unlocator's home country is Denmark, part of the 9 Eyes Alliance — an international agreement on digital surveillance. And Unlocator VPN appears to be leak-free in terms of both IP address and DNS servers.
Unlocator Review: Ease of Use
Unlocator is very easy to use, with many setup guides, articles, and tutorials to help you with any questions.
Device Compatibility
Unlocator can be installed on a wide range of devices as it is compatible with all major operating systems, including iOS, Android, Windows, macOS, Amazon Fire, and Linux.
Some of the devices on which you can use Unlocator are all major smart TVs from Amazon Fire TV, Apple TV, Samsung TV, LG smart TV, Toshiba TV, and Sony TV. And other devices like iPad, iPhone, Windows Phone 8.1 and above, Xbox 360, Xbox One, and PlayStation 4.
It is important to note that Unlocator does not offer browser extensions. Additionally, one account allows for the use of up to five devices.
Set-Up & Installation
Upon downloading the Unlocator desktop client, I was pleasantly surprised by its simplicity and ease of use. The installation process was straightforward, and with just a few clicks, I was able to enjoy VPN protection.
Once the client was installed, the server list was displayed, and connecting to the desired server was as simple as double-clicking on it.
Though it took a few seconds to establish the connection, once it was established, I was able to bypass geo-blocks anonymously. The "Settings" option allowed me to customize Unlocator to my liking, including enabling the "kill switch," changing the VPN protocol, and making general personalization.
The mobile app version of Unlocator is similar to the desktop client, with its sleek design and user-friendly interface. I downloaded the Android app on my Samsung and had no difficulty exploring its features.
Unlocator Customer Service
Unlocator provides user-friendly apps for various devices such as Windows, Android, Mac, iOS, and Amazon Fire. If your device is not compatible with the native apps, you can manually set it up with the help of the provider's support section.
Unlocator's DNS service can also be used on gaming consoles, smart TVs, or any media player like Xiaomi Mi Box, Chromecast, or Sonos.
Unlocator provides multiple customer support options, including email, web form, and online chat. Although the online chat is not live, it is still faster than email. In my experience, I received a polite email response in less than 12 hours.
If you cannot find the information you need on their website, the support team is available to help you.
Unlocator VPN Pricing
Unlocator offers a free trial without needing payment information, allowing users to try the service for a week before committing to a subscription.
It offers Smart DNS and VPN services, and pricing is reasonable for the features provided.
Four packages are available for Unlocator Smart DNS, which grants access to streaming services without the added privacy and security of the VPN.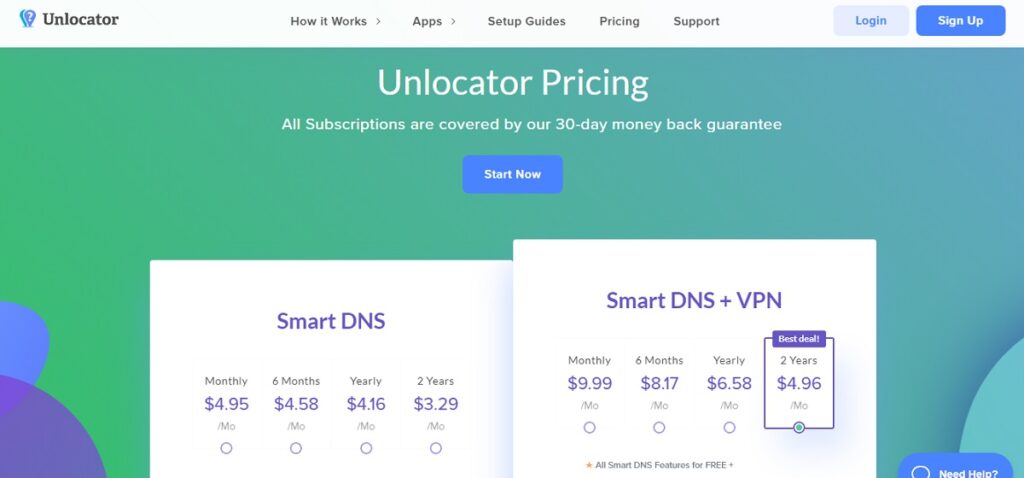 $4.95/month for a monthly subscription
$4.58/month for a 6-month subscription
$4.16/month for a 12-month subscription
$3.29/month for a 2-year subscription
You pay more if you would like Unlocator Smart DNS plus VPN:
$9.99/month for a monthly subscription
$8.17/month for a 6-month subscription
$6.58/month for a 12-month subscription
$4.96/month for a year subscription
Unlocator Review: Pros and Cons
Military-grade AES-256 encryption

Kill Switch and Unlocator Shield

Netflix and streaming support

Torrenting 

Split tunneling

Apps for Android, iOS, Windows, OSX, and Amazon Fire

Five simultaneous device connections

24/7 customer support

30-day refund policy

Unlocator free trial for one week (without credit card)
Smaller server network than other VPNs
Unlocator Alternatives
As part of this Unlocator review, we looked at three alternatives. It may be worth exploring other options if you require a more extensive server network and more advanced features.
Surfshark VPN
Surfshark VPN provider is a strong competitor in the VPN market. It offers an impressive array of privacy features and unlimited simultaneous connections, making it an excellent choice for families or small businesses.
Surfshark offers multi-hop routing and split tunneling for added security and flexibility. It also blocks unwanted ads and trackers to provide a smoother browsing experience. Surfshark VPN uses RAM-only servers for an extra layer of security, minimizing the risk of data leaks.
Its support for various VPN protocols, such as WireGuard, OpenVPN, and IKEv2, allows fast and secure connections. Another impressive feature of Surfshark VPN is its IP address rotator, which regularly changes users' IP addresses, making it more difficult for online threats to track their browsing activity.
Despite being slightly more expensive than other VPN services, Surfshark VPN is worth the cost due to its top-notch privacy and security features, excellent customer support, and user-friendly interface.
Its 30-day money-back guarantee and 24/7 customer service also provide peace of mind for users. Overall, Surfshark VPN is an excellent choice for those seeking a reliable VPN service that offers comprehensive privacy and security features without sacrificing speed or user experience.
Read our Surfshark vs ExpressVPN post to see how these two stack up against each other.
Hint: Surfshark gets our vote.
Price
One month costs $12.95/mo, billed every month.
12 months cost $3.99/mo, billed $59.76 every 12 months.
24 months cost $2.39/mo, billed $59.76 now, & annually after the first 25 months.
---
ExpressVPN
Express VPN is a widely popular VPN service that offers its users privacy and security by encrypting their data and browsing history.
With over 3 million active subscribers, it is clear that many trust ExpressVPN to keep their online activities anonymous and away from prying eyes.
However, other VPN services perform just as well in protecting users' online privacy.
ExpressVPN is a reliable and trustworthy VPN service known for its fast connection speeds, user-friendly interface, and robust security features.
Overall, ExpressVPN is an excellent option for those seeking a VPN service that prioritizes their privacy and security while providing a seamless browsing experience.
Before you commit to ExpressVPN, read about nine great ExpressVPN alternatives.
Price
One month at $12.95/mo, billed every month.
Six months at $9.99/mo, billed every six months.
Twelve months at $6.67/mo, billed once for 15 months (including 3 free months), then every 12 months.
---
NordVPN
NordVPN is a highly reputable VPN service based in Panama that offers a wide range of security, privacy, and convenience features. With ad-blocking, DNS leak protection, robust encryption, and a VPN kill switch, NordVPN prioritizes its users' security.
Additionally, it has a strict no-logging policy, a thoughtful Privacy Policy, and anonymous payment options to protect users' privacy.
NordVPN's dedicated P2P servers, native apps for major platforms, and ability to connect up to six devices simultaneously make it an extremely user-friendly service.
While NordVPN offers a robust set of features, it is worth noting that it comes at a higher price than other VPN services.
Overall, NordVPN's comprehensive security features, dedication to privacy, and user-friendly design make it a top choice for those seeking a reliable VPN service. Compared with Unlocator, NordVPN offers more features and a more extensive server network, making it a good option for those seeking a more advanced VPN service.
Price
Complete – $5.99/mo + 3 EXTRA months, $161.73 for the first two years
Plus – $4.49/mo + 3 EXTRA months, $121.23 for the first two years
Standard – $3.29/mo + 3 EXTRA months, $88.83 for the first two years
---
Unlocator Review: Our Conclusion
Our Unlocator review found that it is a VPN worth considering, with its user-friendly apps, expanding server network, decent speeds, and top-notch privacy and security features.
Unlocator also offers streaming services, torrenting, affordable plans, a free trial, and a refund policy, making it a dependable VPN that can compete with industry leaders.
I would go for Surfshark, though. It's an excellent choice if you want a VPN service that prioritizes security and speed. And it is very reasonably priced.