In this Shoptimizer review, we're going to be taking a look at all of the features this popular WooCommerce theme has to offer.
It's known for being one of the fastest WooCommerce themes around, but does it really live up to the hype? Keep reading to learn the pros and cons of using Shoptimizer for your site, as well as the pricing, so that you can decide for yourself whether it's the right theme for you.
Try Shoptimizer today and get access to amazing features, blazing-fast speeds, and superior customer support.
---
Shoptimizer Review

Ease of Use

Stability

Customer Service

Price
Summary
Shoptimizer is a lightning-fast WooCommerce designed to help you get the most out of your online store. It's packed full of features to provide a great user experience and ensure high conversion rates. Try Shoptimizer today!
Pros
Easy-to-use dashboard
Drag and drop builder
Discounts often available
CommerceKit and other plugins available
Known for great customer service and technical support
Super quick page load speeds
Cons
If you don't use CommerceKit then many of the features are unavailable
No free trial
Shoptimizer Review: Overview & Features
As you might imagine, a WordPress theme of this caliber has plenty of features and options to choose from.
From ensuring that your brand identity is front and center to ensuring that you can be found on Google, the Shoptimizer WooCommerce theme does it all.
Let's take a look at the main features on offer.
Drag and Drop Page Builder
When you're putting together your website, you want it to be as sleek as possible – which, if you have no web design experience, can seem tricky.
The Elementor drag-and-drop page builder on offer by Shoptimizer helps you put together pages easily. It even has a range of professionally designed pre-built templates you can use to get you started.
This easy-to-use page builder enables you to create unique layouts without needing to employ any coding or special skills.
Simply drag and drop the different elements into place until you have created the perfect page.
Shoptimizer Review: Checkout Process
If you want people to shop with you, then it stands to reason you want the checkout process to be as smooth as possible.
Research shows that delays with your website loading or a clunky checkout process can put customers off. This is why Shoptimizer has a distraction-free checkout process that your online customers can follow.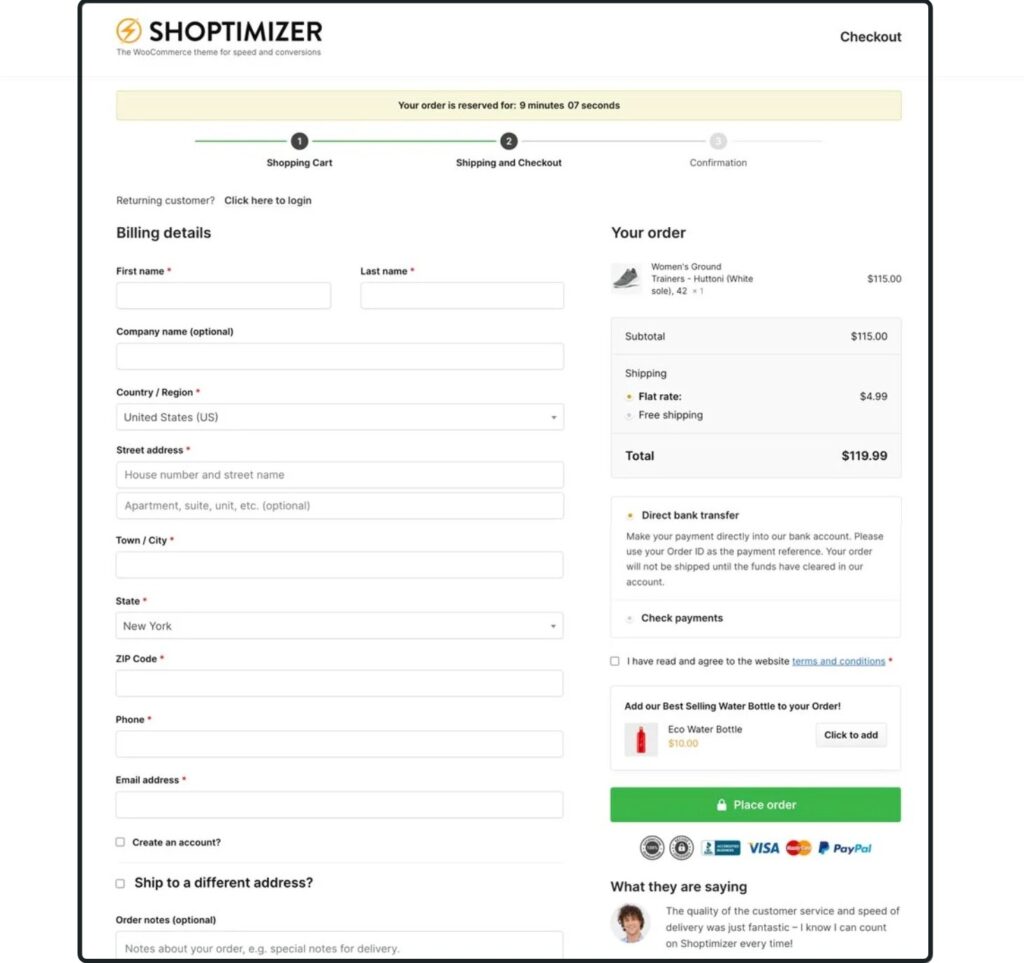 The checkout page also includes trust badges and customer testimonials to help maximize conversions.
SEO Enhancements
Shoptimizer is packed full of SEO enhancements to help boost organic traffic to your store.
It includes an additional field for product categories to enable search engines to crawl your site efficiently. All pages are optimized for mobile first, with optimized images and page load times.
Conversion Optimization Features
When you have an e-commerce business, it makes sense that you want to have a sales funnel to help you convert as many clicks into sales as possible. Shoptimizer helps with this in a number of ways.
Fast-loading websites, easy-to-use page builders, and even things like their Single Product Conversion feature are in place to help you generate sales.
As well as the distraction-free checkout, Shoptimizer also includes additional product information on the product page.
This includes shipping information, returns, and how many products are left to add a sense of urgency. It essentially answers all of the customer's questions in one place.
Shoptimizer Speeds
A fast theme is important for preventing lost sales, and Shoptimizer is known for being one of the fastest WooCommerce WordPress themes.
Faster speed helps gain you a higher SEO ranking. This results in fewer lost sales and a more efficient business—exactly what every business owner strives for.
To boost loading speed, Shoptimizer includes automatic minification of the main CSS. A critical CSS stylesheet ensures no waiting time and a perfectly rendered site for each and every visitor.
If your WooCommerce theme is bloated with a large range of unnecessary features, it can slow down your site and have a negative effect on business.
Choosing Shoptimizer is a great way for online store owners to ensure a fast-loading site with the features their customers really need.
Customization Options
The customization features within Shoptimizer allow you to alter settings quickly.
From layout, header, navigation, colors, and fonts, Shoptimizer is easily tailored to your needs and preferences.
The widgets tab gives you access to various features like audio players, image galleries, or calendars. The location for your feature can be chosen too. Side, top, and center bars are available.
You can also have extra features and changes to ensure the theme looks just how you want in keeping with your brand identity.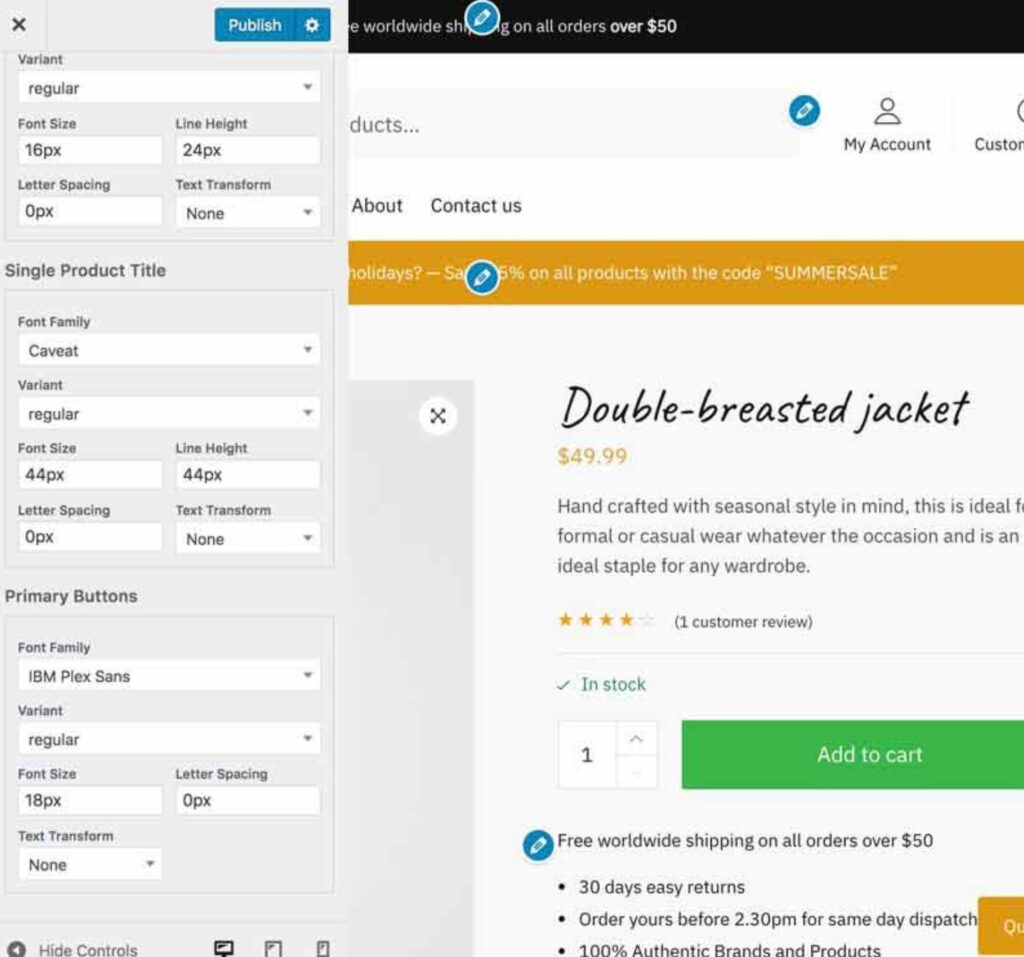 Make your theme your own by adding/removing sidebars and footers. You can even customize how your blog looks in terms of width and position of all of these. 
The Typography section of your Shoptimizer dashboard can be used to set up fonts throughout your website. Here, you can choose fonts for different sections.
This includes headings, titles, paragraphs within a post, and even the main body. The fonts are completely customizable, with the option to change letter spacing, color, and size.
Shoptimizer allows you to choose the layout for your whole website, including what appears on your website's header. Choose the top padding, search design layout, and even sticky navigation.
This helps to ensure your layout is exactly how you want. Changing it easily means you can even tweak it if you feel a change would lead to more sales.
Is Shoptimizer Easy to Use?
While it is always a matter of personal opinion on how easy (or otherwise) something is to use, most users agree that Shoptimizer is pretty easy.
You'll probably find it easy to get to grips with if you are already familiar with WordPress. Still, with so many online tutorials available, you can get by even as a complete beginner.
The ability to use drag and drop without needing to resort to coding and in-depth skills helps both experts and beginners alike.
Shoptimizer has a user-friendly admin panel accessible through your WordPress admin dashboard. Most things can be done from here.
However, if there is something that you find tricky, then there are plenty of help guides in the extensive knowledge base to get you started.
Most people generally agree that Shoptimizer is something that even beginners can use without too many worries.
Is Shoptimizer Good for SEO?
Whatever type of business you are running and whoever your target audience is, being able to rely on organic traffic is a must – which is why SEO is so important.
The great news is that Shoptimizer is great for SEO and includes several features that can put you ahead of the competition, including ensuring that your pages load quickly.
A built-in checker within Shoptimizer lets you see just how optimized each page is within your website and any changes you need to make to improve this.
Additionally, the Shoptimizer theme allows you to add content to each product category page – which can be great for SEO when used correctly.
Shoptimizer Review: Pros & Cons
As you might imagine, there are plenty of pros and cons with a WooCommerce theme as extensive as this. What is good for someone might not be what you're looking for, but having an idea of what they offer is still good.
Easy-to-use dashboard
Drag and drop builder
SEO-friendly
Discounts often available
CommerceKit and other plugins available
Arguably the fastest ecommerce theme around
Known for great customer service and technical support
Super quick page load speeds
If you don't use CommerceKit then many of the features are unavailable
No free trial
Shoptimizer Pricing
Shoptimizer has no free options and must be purchased, but it is often available with healthy discounts.
It is priced at $99 but is available with a 50% off reduction in line with their current promotion. The subscription gives you unlimited updates for one year.
Shoptimizer Alternatives
If Shoptimizer doesn't seem like it is for you for one reason or another, you'll be glad to know that plenty of alternatives are out there.
The trick is to ensure you do your research and compare them side-by-side, so you can be sure that when you do choose a WooCommerce theme, you have made the right decision.
Astra
Astra is one of the most popular WooCommerce themes around. It's known for being super fast, lightweight, and extremely customizable. This makes it a great choice for anyone wanting to build an e-commerce store.
One of the best things about the Astra Theme is that it has a free version, so you can try it for size before you commit.
Astra has a range of features, including give you customizer controls, so you can change how each product page looks. However, you should keep in mind you won't have access to all the features with the free version.
Read our in-depth Astra 3.0 review for everything you need to know about this powerful theme!
Divi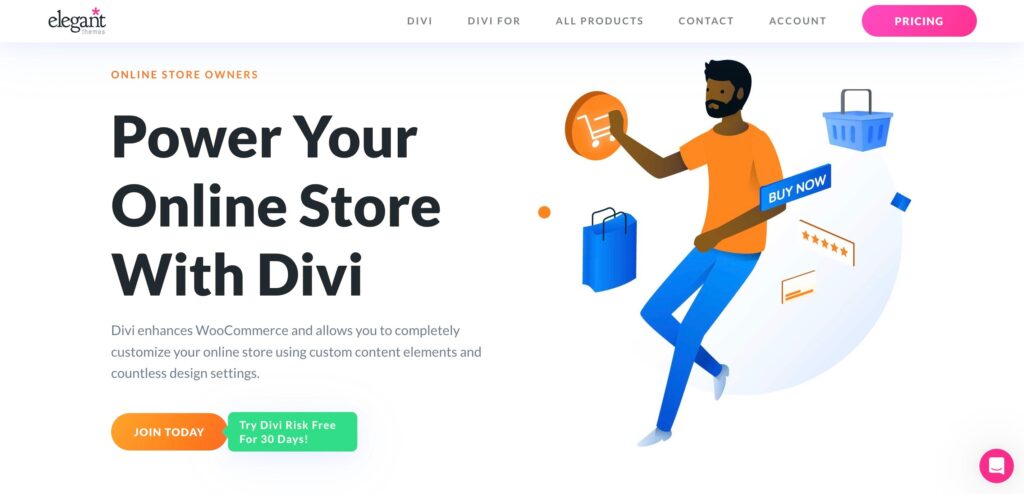 Divi by Elegant Themes often appears in lists of leading WooCommerce themes alongside Shoptimizer, because it has a range of similar features.
However, one thing that many people comment on is the page load speeds – which can be slower at times.
Recent updates have improved the speed, but many people worry that this is something that could change again in the future, so most certainly something to keep in mind.
Read our Divi Review to find out more about this versatile WordPress and WooCommerce theme.
Shoptimizer Review: Verdict
So it's time for the verdict… Is Shoptimizer worth the money?
Yes! It's easy to see why Shoptimizer is so popular. It's a great choice for anyone looking for a budget-friendly yet fully optimized ecommerce WordPress theme with the capabilities needed to form an essential part of your WooCommerce store.
The only downside is that there is no free version available. Still, with plenty of offer discounts, if you're looking for a fast WooCommerce theme that offers everything, then this is definitely one to try.