These days, there are plenty of AI copywriting tools to choose from. However, when it comes to tracking the performance of your content and proving your ROI, many of these platforms fall short. In this Peppertype.ai review, I'm going to be talking you through Pepper Content and its AI writing tool: Peppertype.ai.
This powerful content marketing platform is a one-stop shop for content generation, content updates, customer engagement, research, analytics, and more.
This comprehensive review will walk through all the features on offer, along with the pros and cons of the platform, so that you can decide for yourself if Pepper Content is right for you.
---
Pepper Content / Peppertype.ai Review

Ease of Use

Stability

Customer Service

Price
Pros
Quality content is created quickly
Easily measure the ROI of your content
Easy-to-use dashboard
Extensive analytics available
Integrates with multiple tools
7-day free trial
Supports over 45+ languages
Cons
It's a bit expensive
No live chat support option
Peppertype.ai Review: Overview
Introducing Peppertype.AI: an innovative AI content generation tool designed by Pepper Content. This powerful tool supplements the other features of the Pepper Content platform, guaranteeing that your content works seamlessly and efficiently.
With Peppertype.AI, you can track the performance of your content in real time. Discover exactly which articles are driving traffic to your website and replicate that success. No more guesswork or trial and error. Say goodbye to underperforming content and hello to a thriving online presence.
It also helps with keyword research, providing suggestions to drive as much organic traffic to your site as possible.
No matter what type of content you want to create, you'll find options with Peppertype that help.
Peppertype can create:
Product descriptions
Web content
Meta descriptions
Blog posts (including long-form content)
Ad copy
Podcast scripts
Video scripts
Social media posts
It can also help you research ideas for new blog posts and even generate new tweet ideas, so if you ever come across writer's block, this is the tool for you!
The fact it offers so much helps to ensure that it has options suitable for marketing teams, bloggers, business owners, and more.
Peppertype uses comprehensive AI technology, which allows it to understand your brand, write content geared toward your target audience, and analyze what you want to achieve from your content.
This helps to ensure that the content it creates for you ticks all the boxes—including whether old content needs to be updated in order to ensure that it is still driving good levels of traffic to your website.
Peppertype.ai's (Pepper Content's) Main Features
So, let's take a look at the main features Pepper Content has to offer.
Pepper AI
Pepper AI is a chat assistant designed specifically for marketers. It uses a range of custom-built prompts to allow users to set the goals they want to achieve.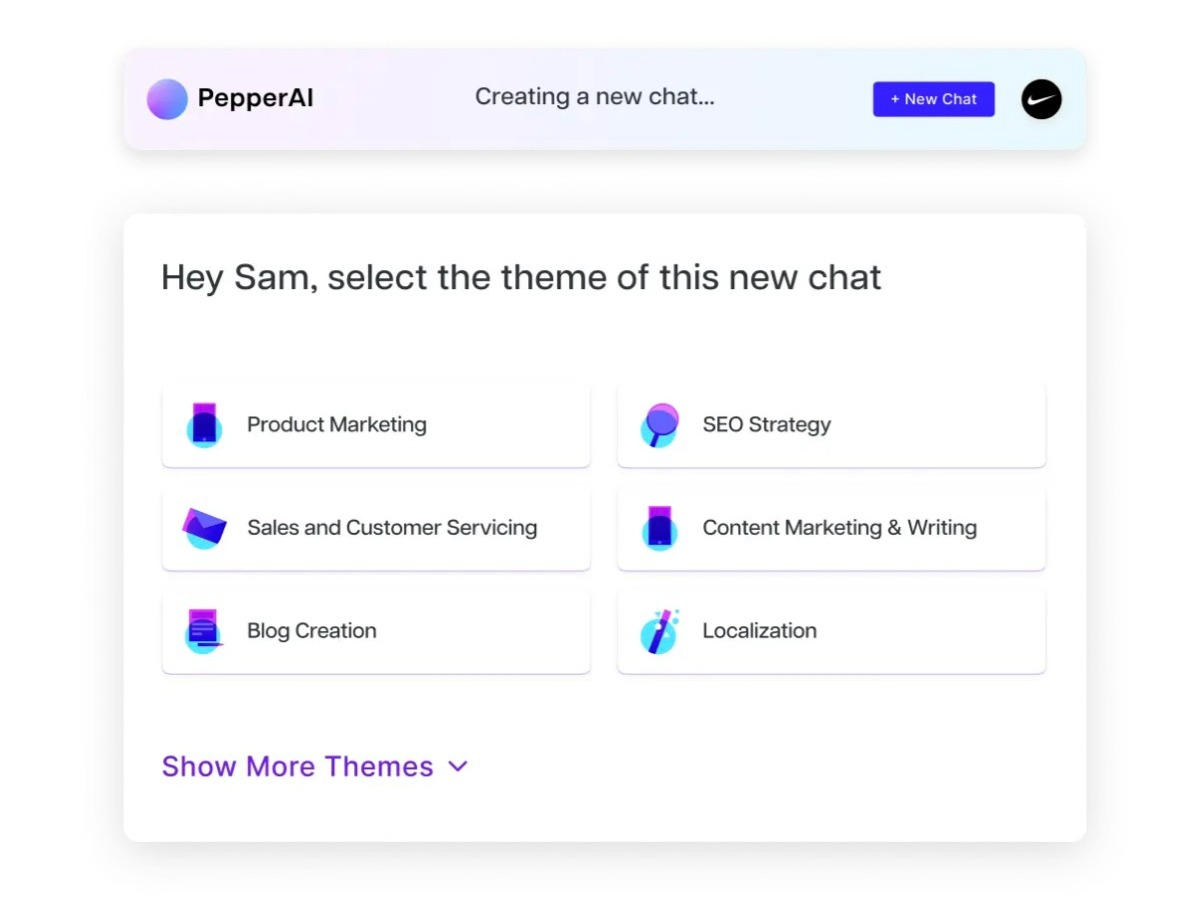 Once you have selected a main goal, you can select from other prompts that will help you achieve your goal. Pepper AI will then give you personalized content suggestions to help you reach your goals.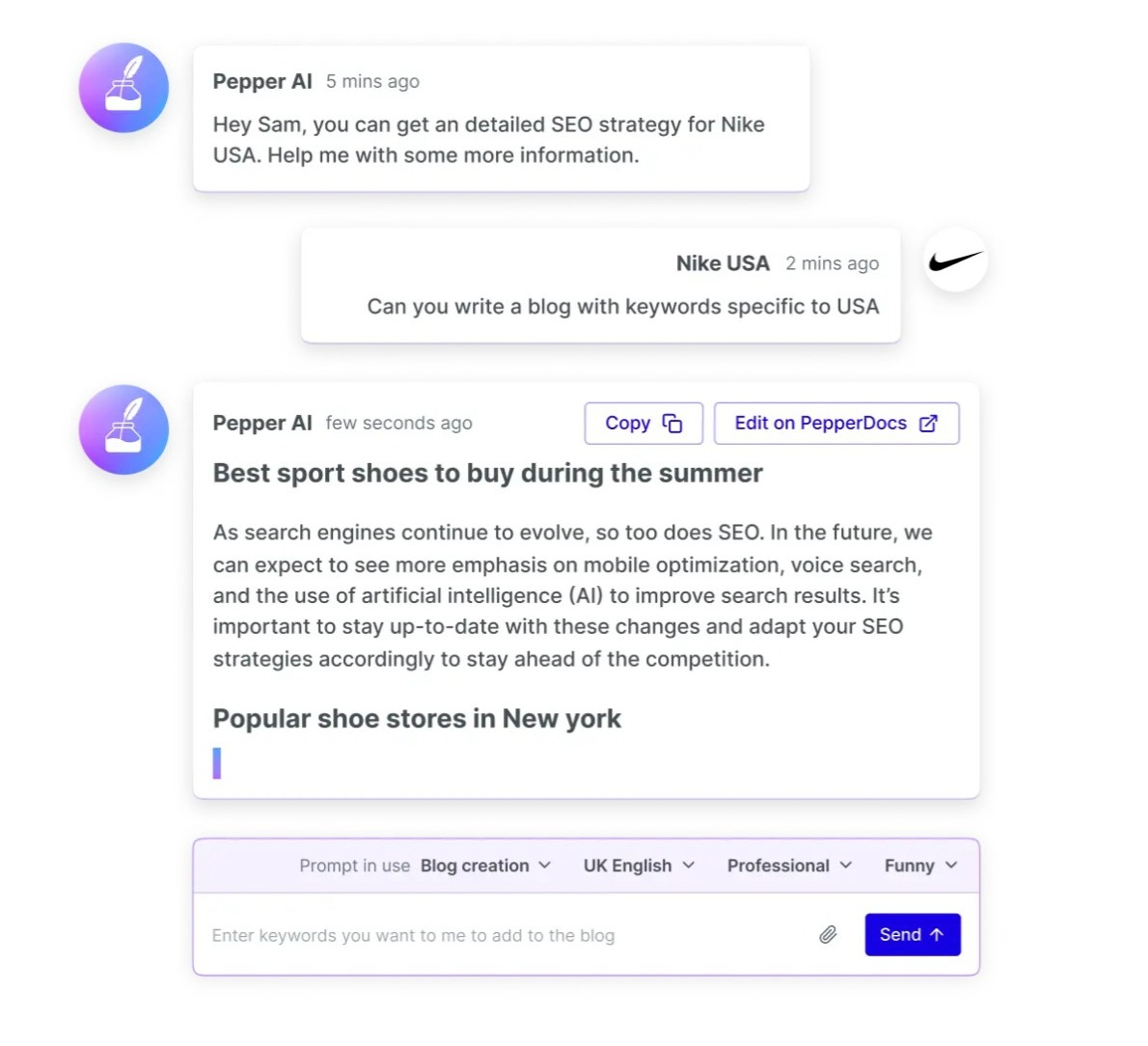 Peppertype.ai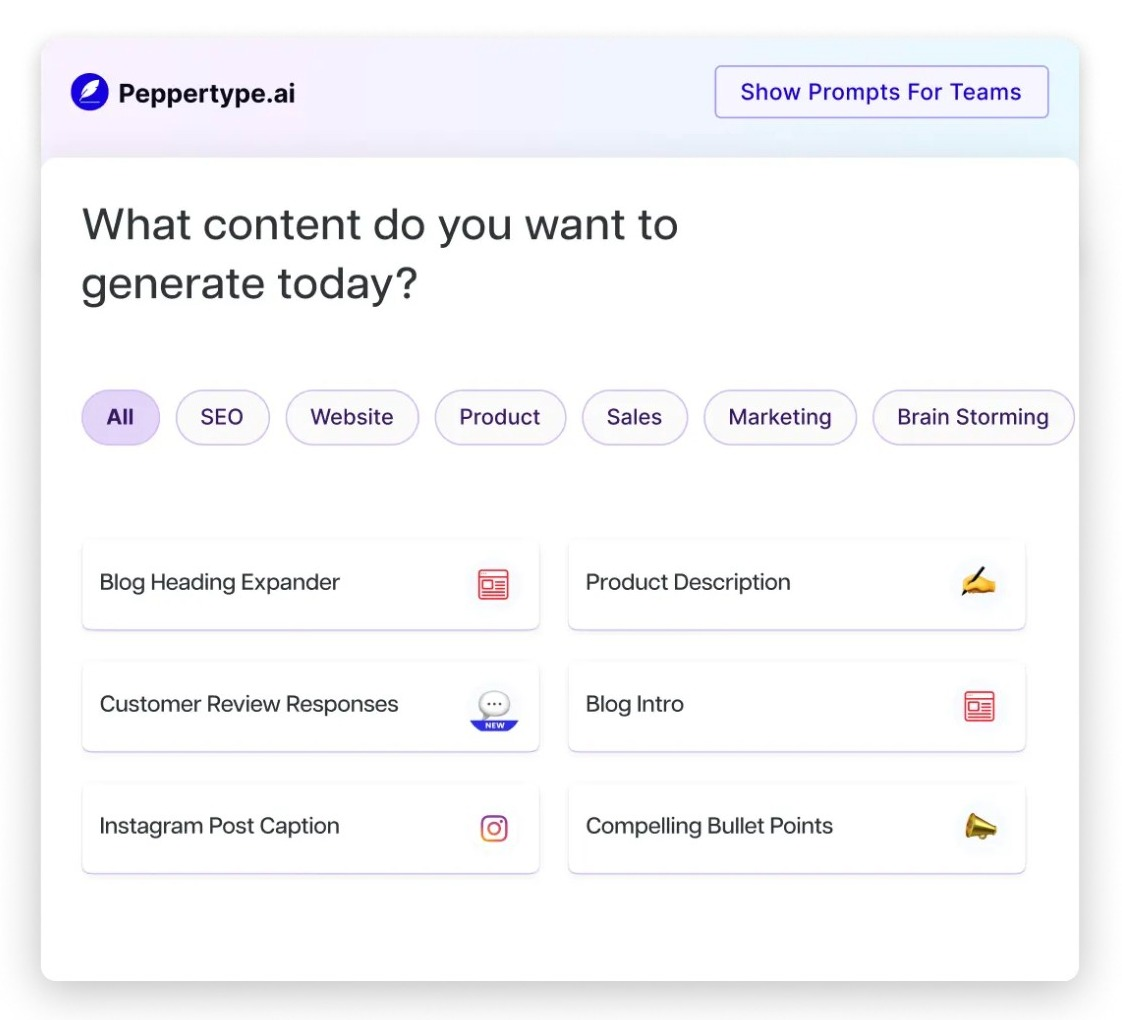 Peppertype AI is Pepper's content generation tool. This smart tool generates high-quality content in just seconds using artificial intelligence.
One of the things that sets Peppertype AI apart from other AI content-creating software is the fact that it has progressive technology. Rather than just rehashing old content, it pulls inspiration from a number of sources, which means that you always get the highest possible quality content.
When you start to create your content, you'll be able to choose your topic, pick a style, and click Create. Drawing inspiration from copywriters and the latest AI technology, the software is designed to provide you with the best possible content every time.
Content Briefs
If you work with a team of writers, you'll already know how important it is to create great content briefs. And Peppertype takes the creation of accurate, effective content briefs in its stride!
The Pepper Brief Builder benefits from careful research in its creation. The information gained from the review of 100,000 content briefs and the input of a range of industry leaders across all business sizes has been put to good use in honing the technology to produce concise, accurate briefs.
These briefs are designed to communicate cohesively to your writers. This ensures a clear understanding of the goals and objectives at the start of a project, saves time, and leads to the best quality results.
If you don't already have your own team of writers, you can find the perfect match for your project on Pepper's marketplace. Here you will find subject matter experts on a wide array of topics that have been pre-approved for quality by Pepper Content. Another thing off your plate!
Keyword Tracking
Peppertype does more than just help you create content. It also helps you decide what content you need in the future. Any successful online campaign needs to have an element of SEO involved with it, and Peppertype recognizes this.
With built-in tools to help you make data-driven SEO decisions, Peppertype can help you stay ahead of the competition in terms of content creation.
You'll be able to monitor keywords, discover new related keywords, and see where you are in terms of performance compared to your industry competitors.
Collaboration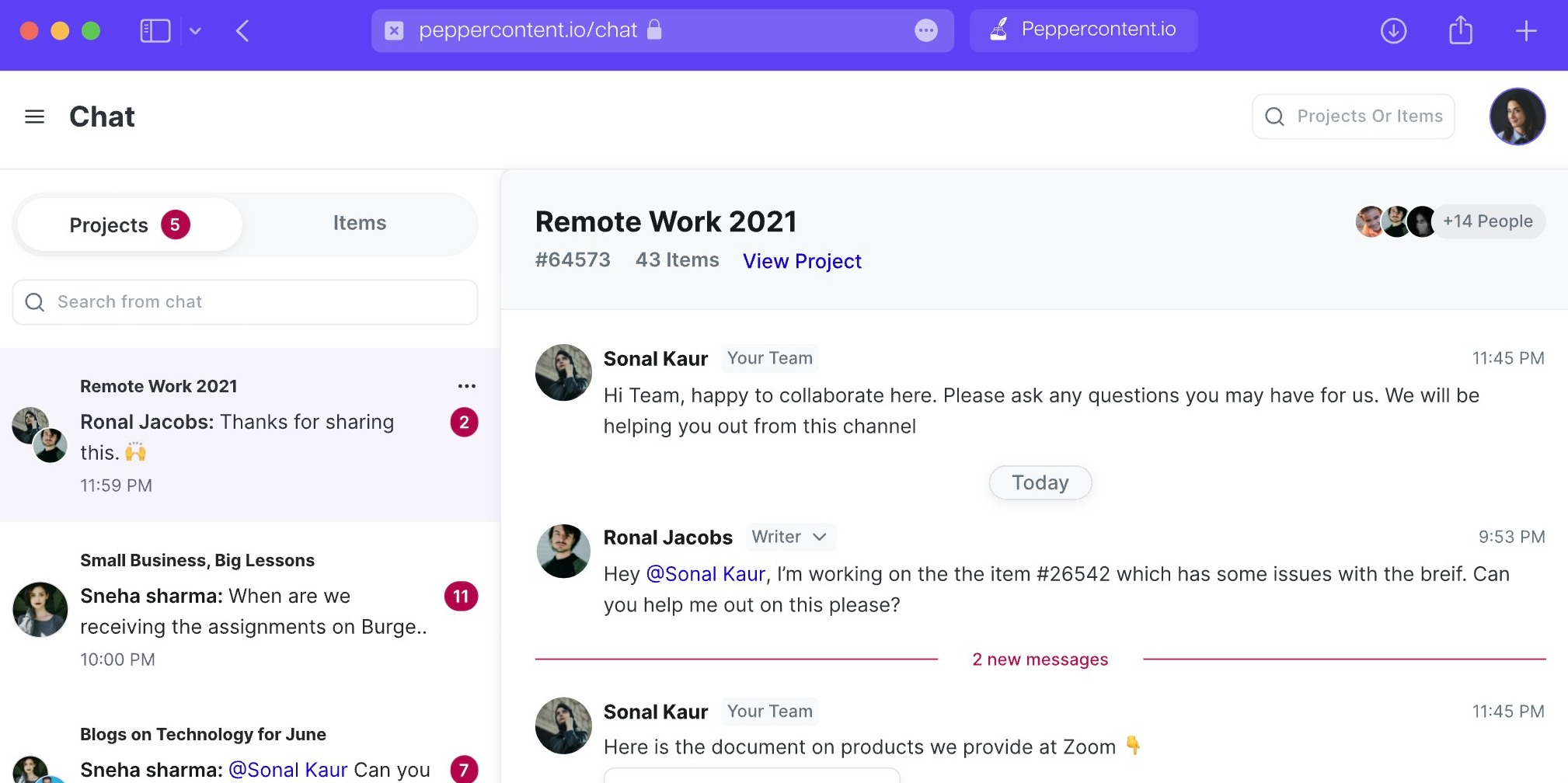 Pepper Content is great for teams, as well as individuals, thanks to its fantastic team collaboration features. The highlight of this is Pepper Chat, a space where your team can chat about different projects, tag other team members, and collaborate effectively from anywhere in the world.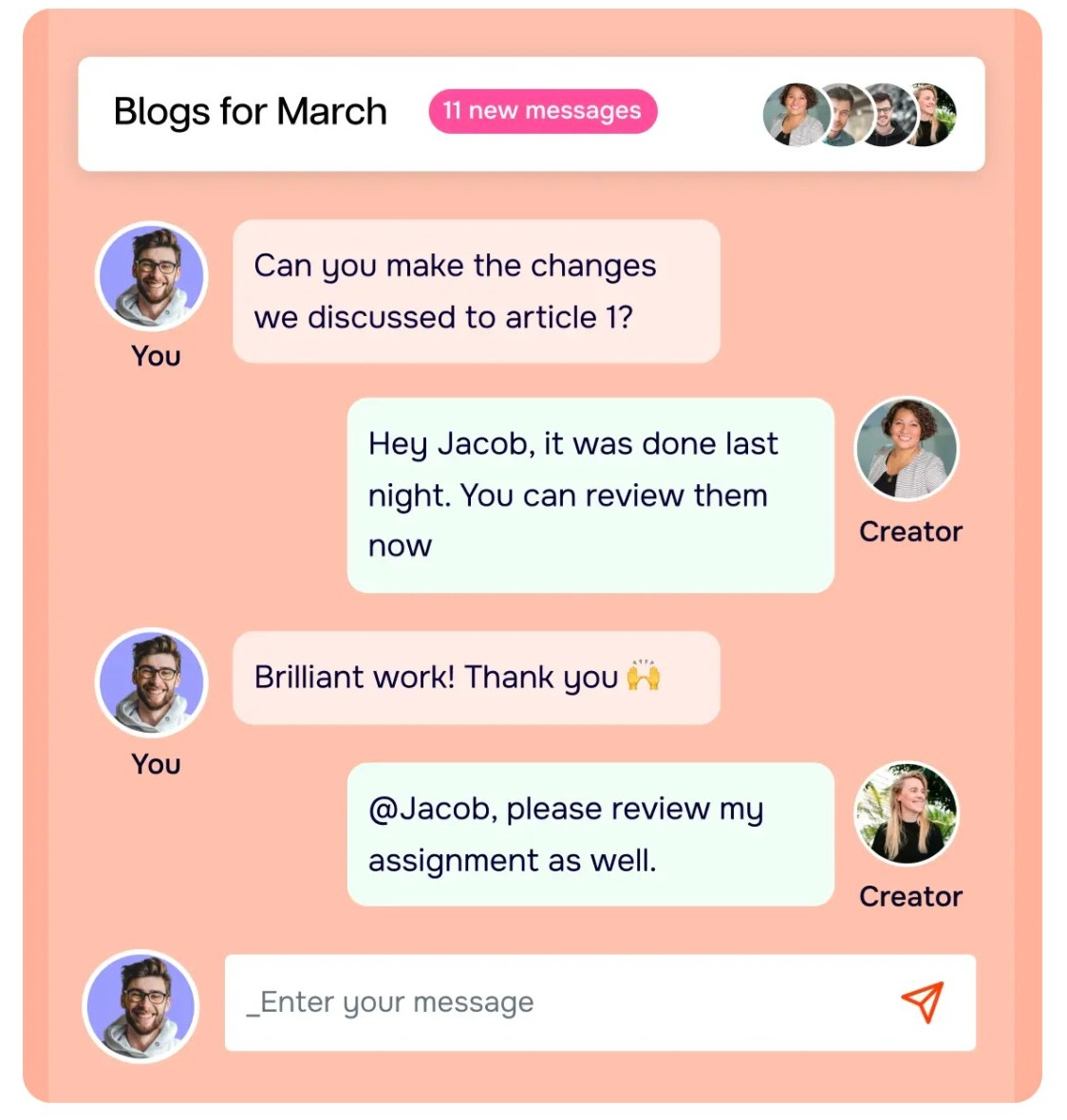 Pepper Chat enables you to create project-specific chats to eliminate clutter and keep your team focused.
Other useful features in this space include:
Video recording
Tagging relevant team members, such as social media managers, into a dedicated chat
Easily schedule calls
So whether your team members are in the next room or another country entirely, you will be able to streamline your work and collaborate on projects effortlessly.
Content Refresh
Bringing your existing content up to date is as easy as entering a few details into Peppertypes content rewriter.
PepperType.AI brings your content up to date and keeps articles feeling fresh while being efficient with your own time.
Start by using Peppertype to perform a content audit. This will enable you to see which pages are performing well and which could benefit from a refresh. This feature allows you to keep content up to date and ensure that nothing goes to waste.
You can take advantage of this to see whether you have any content gaps and check their expert insights section to see what changes you could be making.
Content ROI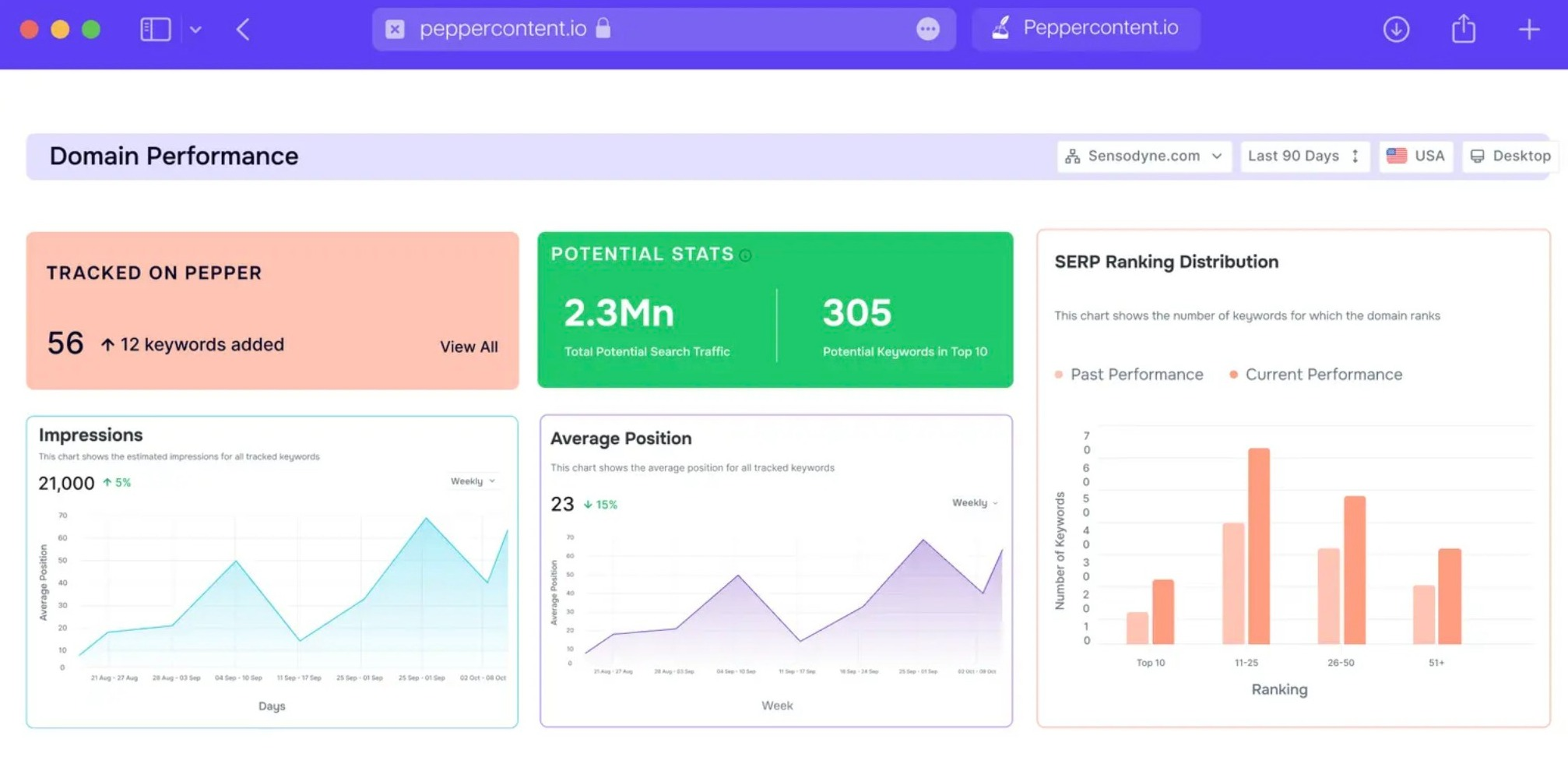 It's all well and good creating fantastic content, but you need to know that this content is generating a positive ROI.
Simply creating content and not taking note of how it performs means that you might not be doing your content justice. Instead, you can take advantage of the data that Pepper Content makes available to you so you can track your content marketing ROI.
Templates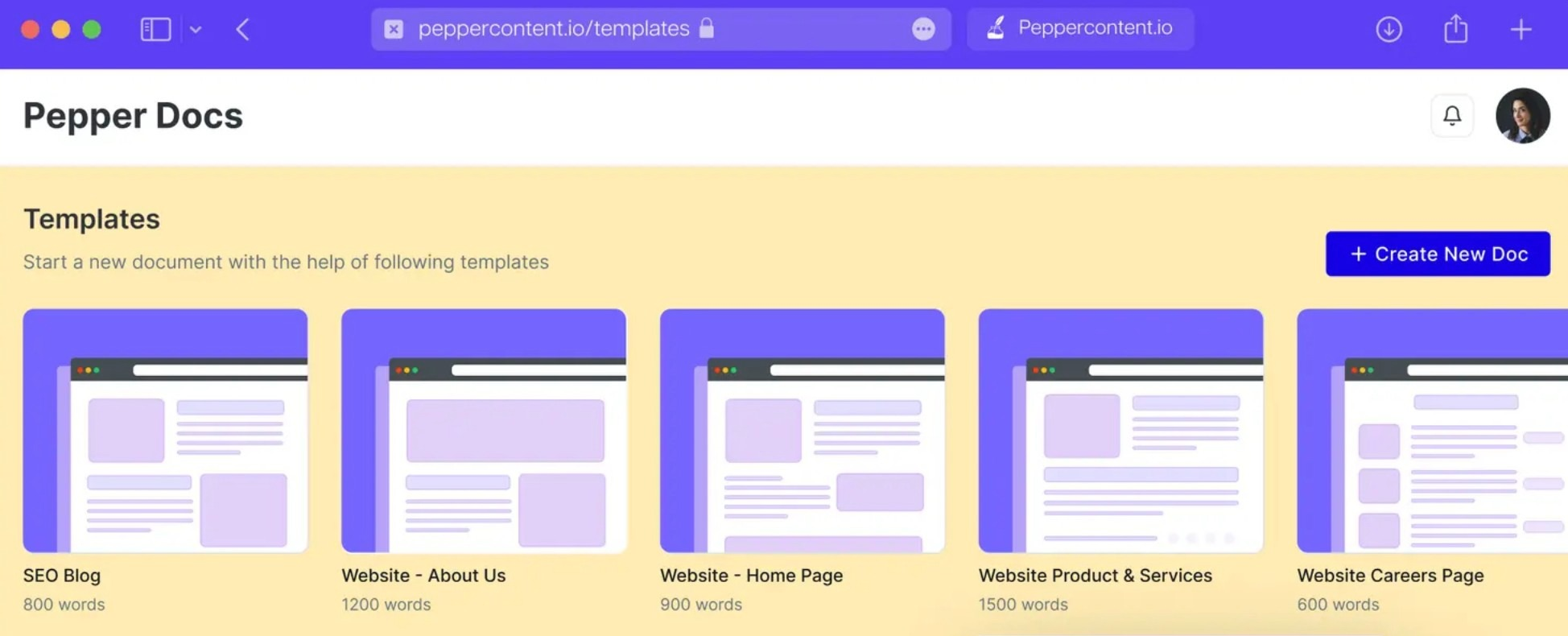 Peppertype provides a wide range of templates that you can use to generate content. Of course, you can obviously adjust the article as you see fit, but there is no denying that having a solid template to work with is a great way to get started.
Using the right template can help you keep your content on-brand and make sure you get exactly what you want every time.
Research
As well as creating quality content, Peppertype can help you research new blog ideas and organize and plan your future content.
This allows you to feel confident in the content you are putting together. Create content that compares to your competitors, research what keywords you should target for your SEO content, and much more thanks to the research tools that Peppertype offers. 
Peppertype/Pepper Content Pros and Cons
Quality content is created quickly
Easily measure the ROI of your content
Easy-to-use dashboard
Extensive analytics available
Integrates well with WordPress, Shopify, and Zapier
7-day free trial
Supports over 45+ languages
It's quite expensive
No live chat support option
Customer Support
Pepper Content has an active customer support team you can easily contact via email. They are also active across a number of social media platforms too, so there is nothing to stop you from reaching out to them via these pages if you prefer.
And if you're looking for answers to basic questions, the help center is a great place to start. This is a great way to read up about their features in more detail and find quick answers to any issues you are having.
Peppertype.ai Reviews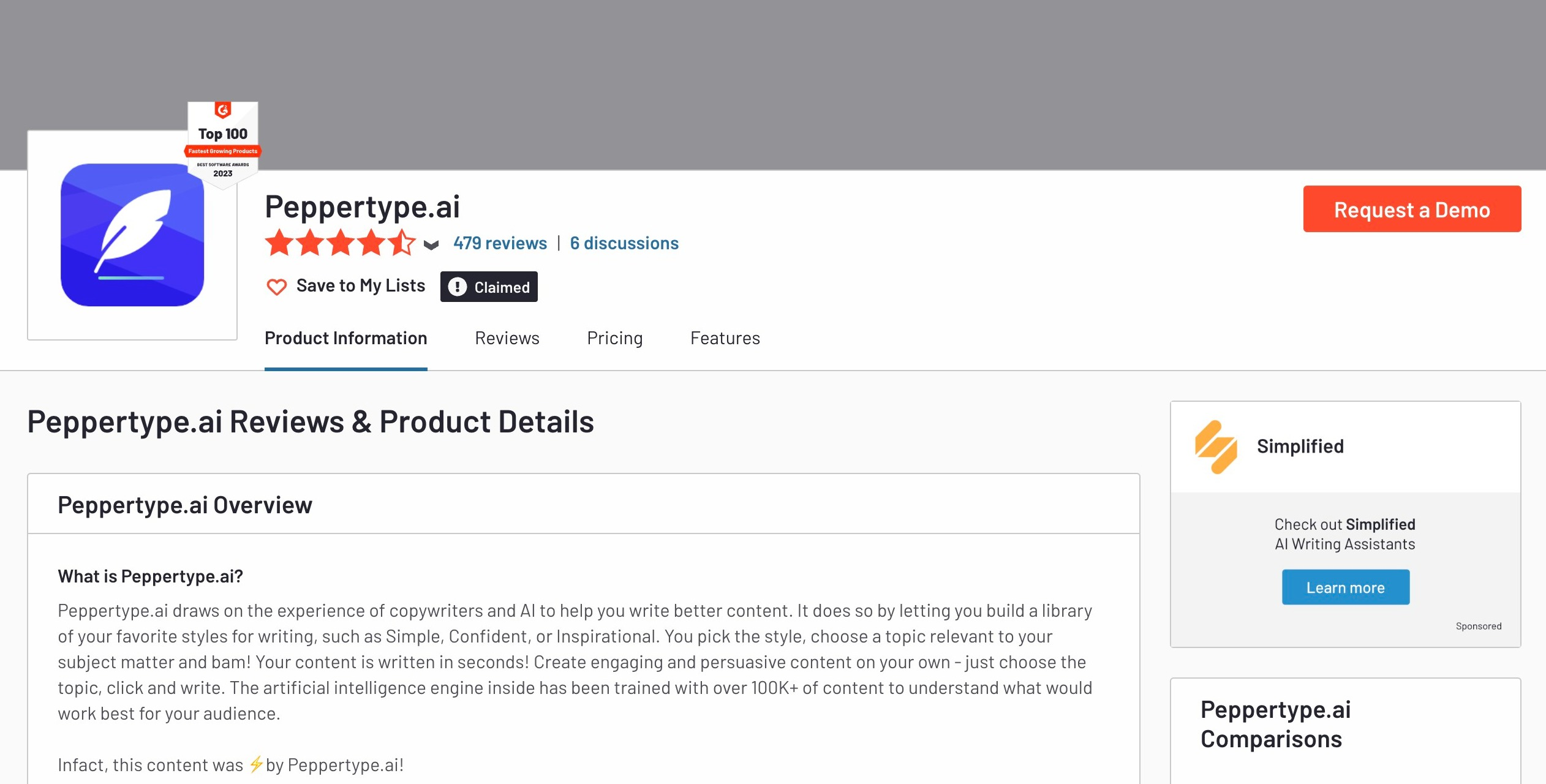 Peppertype.ai generally does well for reviews, with a very respectable 4.6 stars out of 5 on G2. However, there are a few disgruntled reviews from where Peppertype.ai rebranded to Pepper Content and hiked the price up substantially.
With the rebrand came a lot of extra features, but those who had signed up for the lifetime license-paid account did not get access to the new features, so if you see bad reviews, they are likely to be about this. Most of the other Peppertype.ai review comments are very positive, though!
Peppertype.ai Review Pricing Details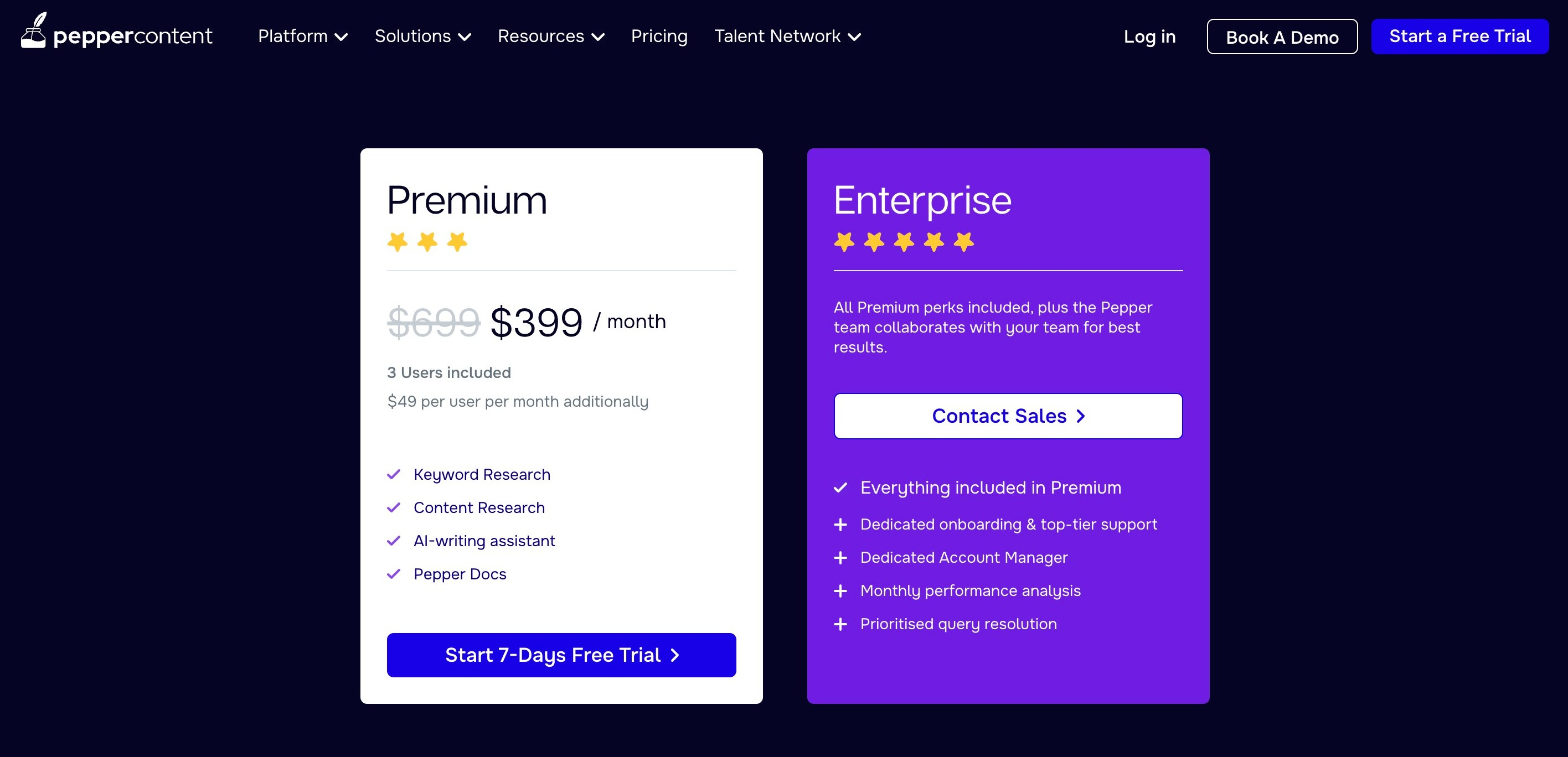 One of the positives about signing up for Peppertype is that you can try it for 7 days completely free. This gives you the chance to try out the features and make sure that they are what you need.
Once you have completed your trial and you have decided you want to continue making use of Peppertype, the cost for the Premium version is $399/month for 3 user seats. If you want to add more team members, these will cost you an extra $49/month per user. 
If you find that the Premium package doesn't quite offer everything you were hoping for, there is an Enterprise-level package available. This can be tailored to your requirements, so contact their team for a quote based on your needs.
Peppertype Alternatives
If, after reading this Peppertype.ai review, you're still undecided, check out these Peppertype/Pepper Content alternatives.
Jasper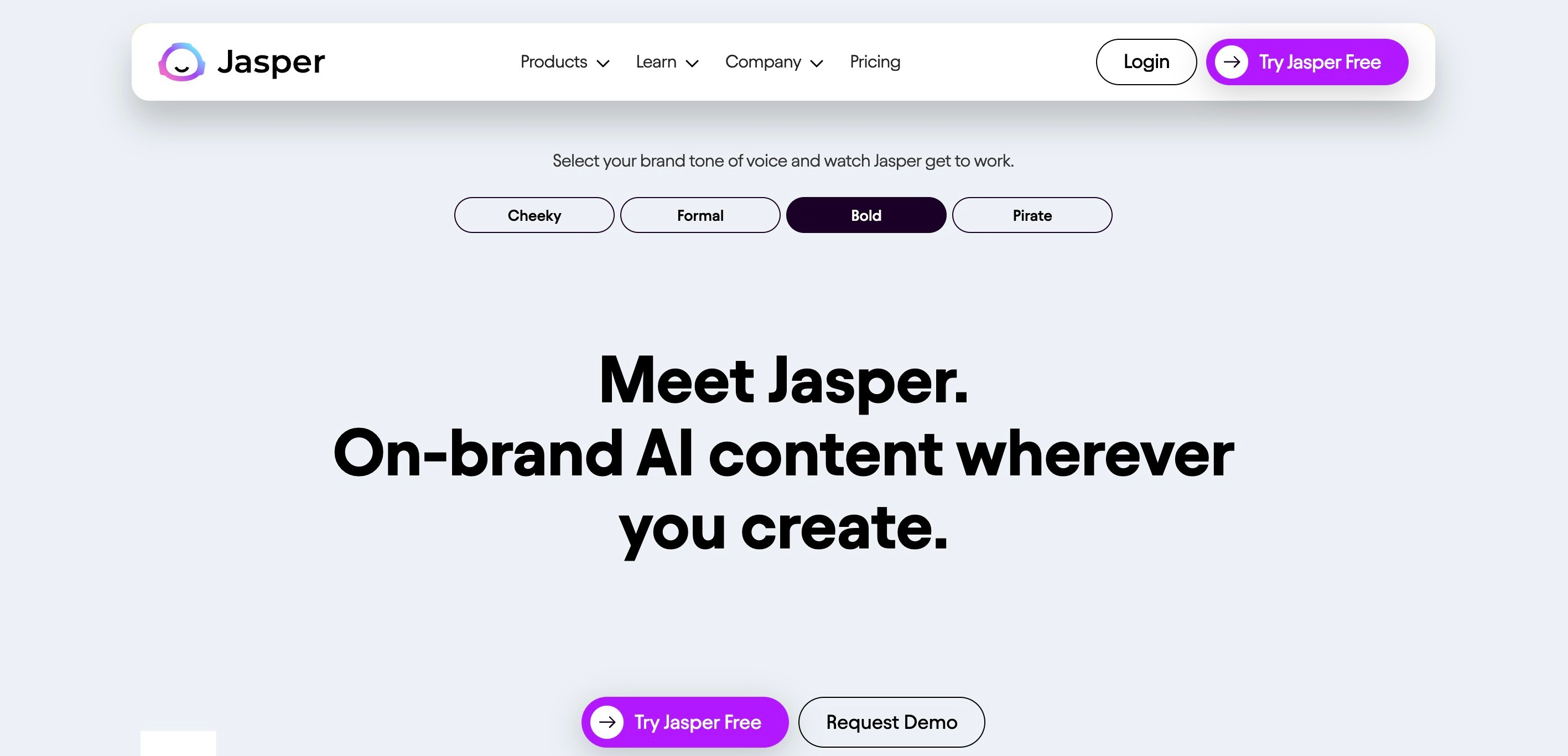 Jasper is one of the most popular AI content-creation tools around. This highly developed writing assistant has gained many supporters and works well for many purposes.
Jasper includes a huge range of templates that make it easy to produce high-quality content in just a few seconds. It produces plagiarism-free content in 25 languages and takes care of your SEO needs too.
From a full project to a content refresh, Jasper has many relevant features and is definitely worth considering if you're looking for an alternative to Peppertype ai. Read my full Jasper Review to find out more about this amazing tool!
---
Copy.ai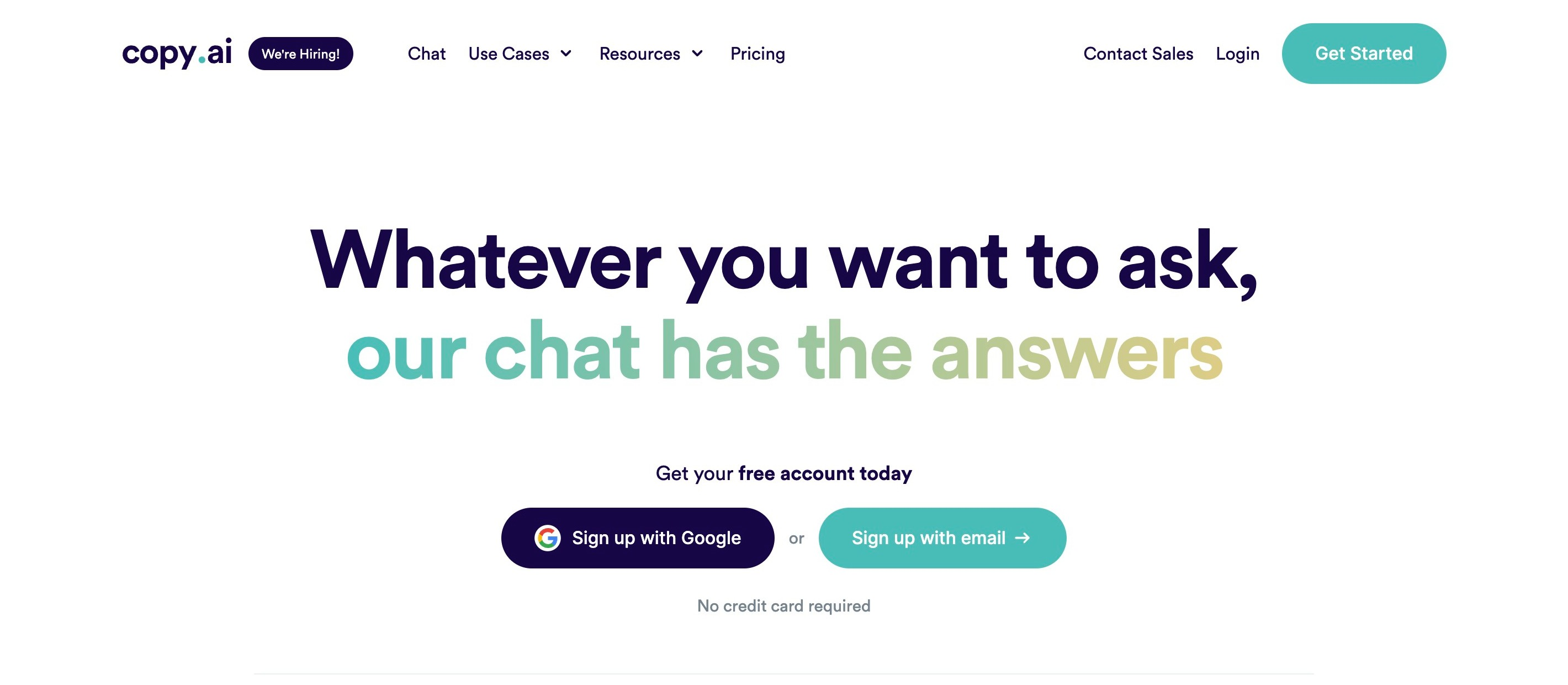 Copy.Ai is another AI generator with useful tools. Two of the best features are its ability to assist in finishing off a piece of writing or coming up with new content ideas. These are very helpful when you are struggling with content inspiration.
It integrates well with other tools, such as Grammarly. It also offers a 7-day free trial, so it could be a great option for those that want to test a few different options.
---
GrowthBar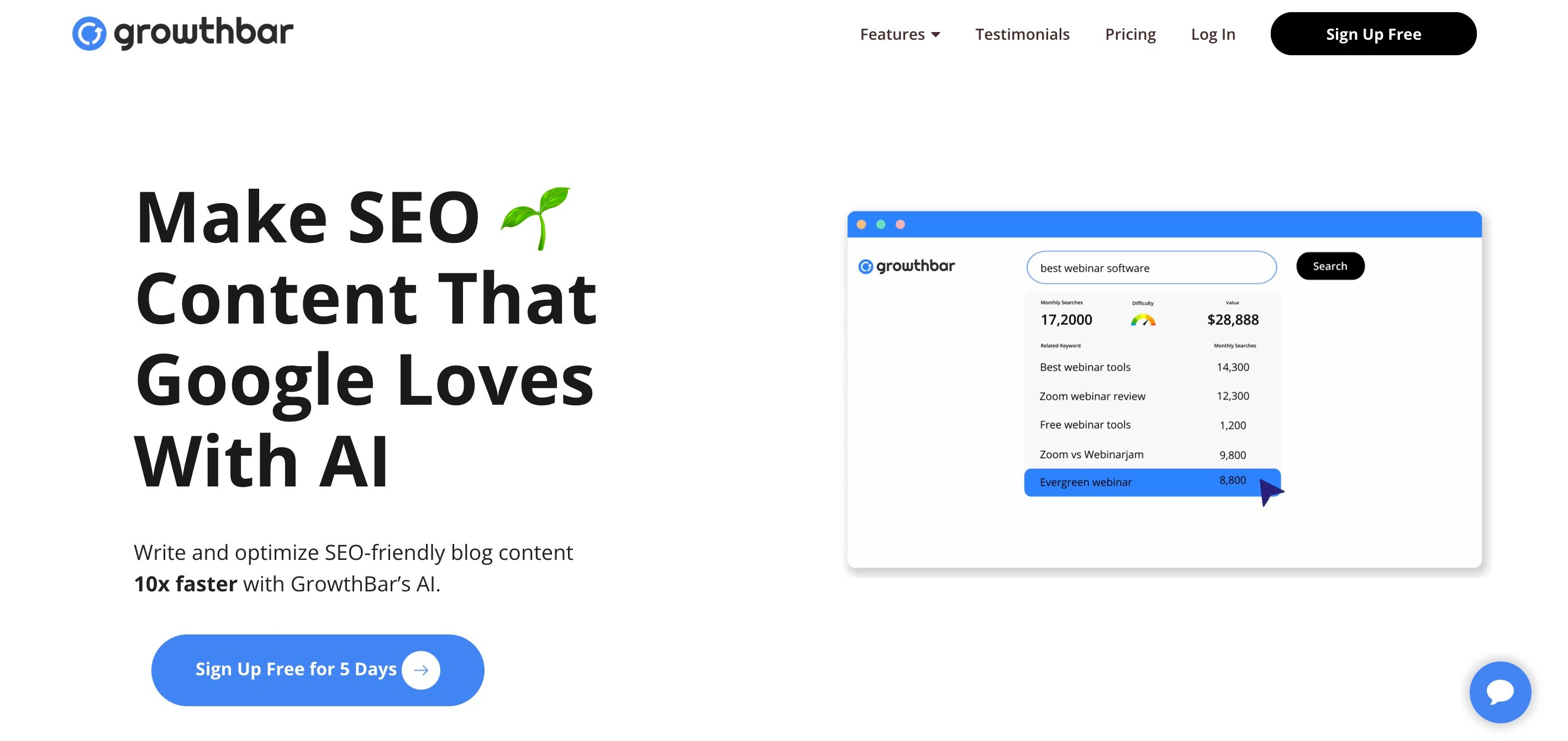 If you are looking for an AI tool that has decent built-in content optimization features, then GrowthBar is most certainly a tool worth checking out.
It uses natural language processing to help you to create human-quality AI content. It's one of the more affordable AI Content and SEO tools, which has certainly helped to contribute to its popularity.
It offers a range of features, including AI writing, paragraph rewriting, a blog outline generator, and even a competitor research tool. Read our GrowthBar review to find out how this tool could benefit you.
---
Peppertype.ai Review: Is Pepper Content Worth Paying For?
If you're looking for a tool that does more than just generate content, Pepper Content could be the platform for you. Overall, Peppertype is a great AI content system that offers a fantastic range of features.
So if you're looking for an AI content creator that also helps with SEO, generating content ideas, and measuring your content's ROI, it's most definitely a tool you should be checking out for yourself.