Low Hanging System (LHS) is a course created by Rachel Rofe that teaches users how to make money with Print on Demand. In this Low Hanging System review, we'll look at what LHS is, who provides the course, and alternative courses for launching an eCommerce business.
This article will also explore whether taking this online business course is worth your time and money.
Hint: We recommend an alternative you'll definitely want to check out.
Low Hanging System Review

Ease of Use

Integration & Automation Tools

Value for Money
Summary
Low Hanging System is a print-on-demand course promising easy profits and the ability to start an online business with little investment. However, many have expressed doubts about LHS's claims – is this really the best way to make money? Many have found that success in the POD business still requires dedication, time, and effort – so it may be worth researching other options before investing in this course.
Pros
Comprehensive course backed by an experienced eCommerce entrepreneur
Additional resources to help you get started quickly
Covers top strategies for success
GearBubble account activation paid for
Cons
Expensive upfront cost of $1,491
Upsells can be expensive as well ($1997)
Lots of competition in the POD space
No one-on-one coaching is included in the package
No money-back guarantee (this is a BIG red flag)
What is Low Hanging System? And Who is Rachel Rofe?
Low Hanging System is a complete system that promises to make you some decent money selling Print on Demand (POD) merchandise.
Sounds great, right? All you need to do is come up with catchy phrases to put on your products, slap a fancy font on them, and then market the hell out of it! Easy! But is coming up with some cool quotes and whimsical fonts really all that stands between you and online business success?
Low Hanging System is a process that promises to make money selling Print on Demand (POD) merchandise such as t-shirts and mugs. It was created by Rachel Rofe and Don Wilson, with the former being the face of it.
Rachel has experience in this industry and is making bank from it, as evidenced by her blog and multiple featured publications.
Low Hanging System Review: Key Features
The Low Hanging System is an easy way to start selling POD products online. The Low Hanging strategy shows the entire process of the print-on-demand business model in 7 steps to create a new income stream.
Step 1 – Choose a Lucrative Niche
The first step is to find profitable niches – the Low Hanging System provides tools like SpotWins software and SpotNiches software to help you find a profitable niche that will work for you.
Step 2 – Unearth Inspiring Quotes
In step two, one of the secrets to success is looking for engaging phrases and reworking them into your own design. It helps to have some creative streaks running through you, but even if you don't, you can still put your own spin on existing quotes or funny sayings.
Step 3 – Set Up Your GearBubble Account
Step 3 of this process is setting up your GearBubble account – this is completely free; you just need to pay for any integrations from Amazon, Etsy, or eBay. The GearBubble website is where your designs will get printed on the items you choose. After joining GearBubble, you can add all your designs there to be printed on products of your choosing – easy peasy!
Step 4 – Leverage Relevant Keywords
You'll get keyword research training to uncover related topics relevant to your product and see how hard it would be to rank on different platforms such as Amazon or Etsy. Knowing what keywords work best is a key part of taking the plunge into this system.
Step 5 – Set up Your Business with Amazon and Launch Your Products to a Vast Audience
This step actually isn't as intimidating as it might sound; you get going on the online marketplace you just need an Amazon Seller Account. On top of that, the Low Hanging System is said to give its users a greater chance of getting listed on Amazon sooner. 
Step 6 – Boost Your Sales by Expanding to Other Platforms
One of the things you'll find out when studying how Low Hanging System works is that Amazon isn't your only option – there are actually other online marketplaces available with this business model, so you can make money on Etsy, eBay, and other e-commerce platforms.
That way, your products will be out there on more major online sales sites, giving people more opportunities to find and purchase them and making you more money online.
Step 7 – Use GearBubble to Take the Stress out of Fulfilling Your Orders
GearBubble fulfills any orders your customers place. 
Additional Optional Low Hanging System Features and Bonuses
The Low Hanging System course includes some great optional features and bonuses to help you get the most out of your investment.
Effortless Integration gives you access to seamless integration with Amazon, Ebay, Etsy, GearBubble, and Spotify – so that you can get going selling products on other platforms quickly and easily.
The Design Forecaster software provides you with enough data to decide when and how many designs should reach the market in order to hit your sales targets.
SpotNiches and SpotWins software can help you uncover secret niches and successful products so that you don't have to reinvent the wheel. While the software is useful and saves time, it is not necessary. There are manual methods taught for finding the exact same info that the software finds.
As part of this package, they are also offering five boxes of 36 free mugs each – totaling 180 free mugs – to help jumpstart your POD business.
The Holiday Success Blueprint is a great way to make the most of this important season and maximize profits.
Plus, you get 100 'done-for-you' designs and access to an Inventory Management Feature for easy sales and order tracking.
Inventory Management helps you quickly and thoroughly track sales.
Pricing
At first glance, the Low Hanging System cost seems a bit pricey at $1,491 for the basics. If you're looking to purchase, there is no 'buy' button on the website. Rather, it appears that signing up for an online seminar first and then being "sold" by phone is necessary!
If you don't want to pay all the money upfront, you can break the cost into three "manageable" payments of $497 each, so if you're set on using this system, you could spread out your payments. However, be aware that the first installment has to be made right away, with subsequent payments due 30 days and then 60 days later.
All in all, Low Hanging System doesn't come cheap – so make sure it's worth it before taking the plunge!
Upsells
For those of you who are wondering about upsells with Low Hanging System, the answer is yes, there are upsells!
Low Hanging System Jumpstart
This will set you back a pretty penny at $1997. Jumpstart includes extra goodies like more training courses, creative bonuses, oh-so-neat Done For You Templates, and live webinars held on a weekly basis.
But if you were expecting one-on-one coaching – well, sorry to break it to you because that's not part of the package (too bad). Fear not, though, since you can still ask questions during the webinars and receive honest answers from experienced experts!
To gain the most from this course, be sure to save some extra money for ads and software to maximize the success of your new online business!
Refund Policy
Rachel Rofe once offered discounts for Low Hanging System, but that option is no longer available – signaling that a refund policy may not be in place. Furthermore, the sales page does not make any reference to returns, indicating it's likely there aren't any refunds given.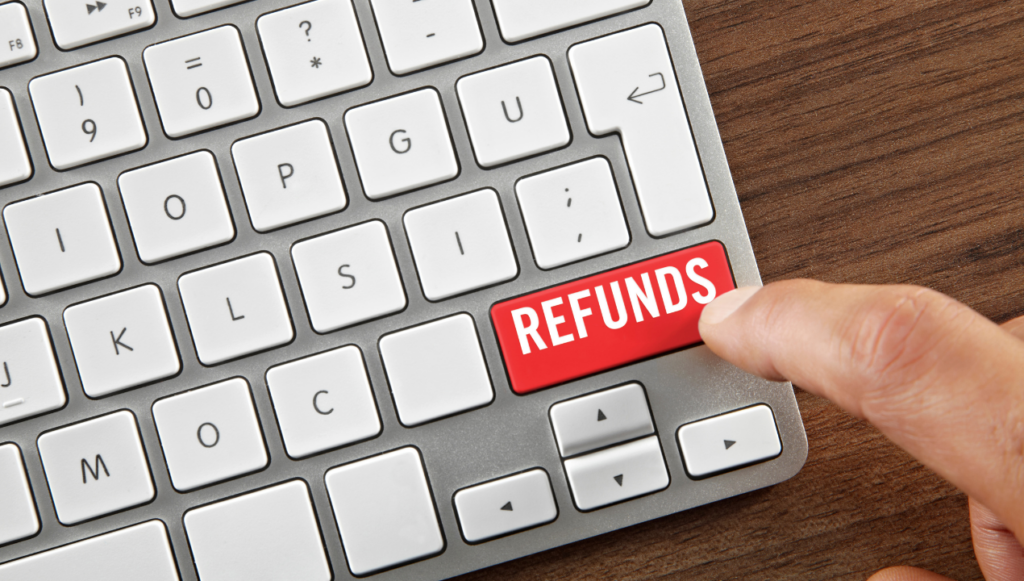 Is Low Hanging System legit?
Low Hanging System is a legitimate course. However, passive income cannot be guaranteed. Joining the course does not guarantee financial success, and getting returns from advertising investments can be difficult. Despite this, Low Hanging System is definitely not a scam and is on the level.
What Are People Saying About Low Hanging System?
After I conducted some research to learn more about Low Hanging System, I came across various consumer feedback from Quora. While their opinions can't be verified as reliable, here's what a few of them had to say: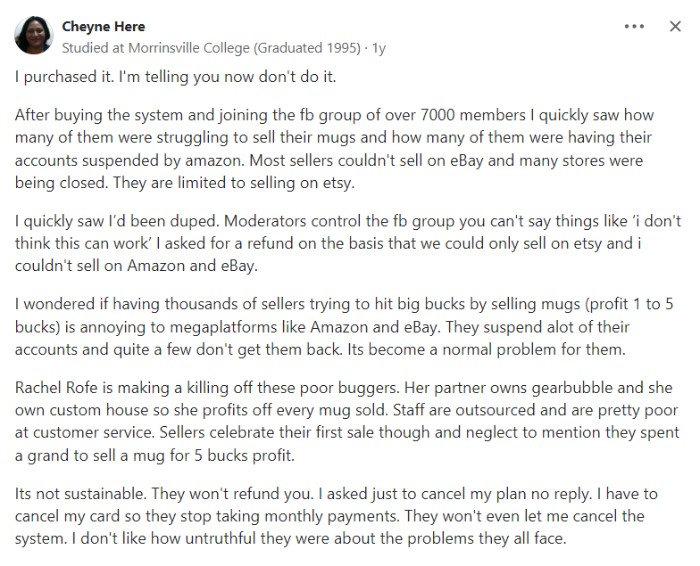 Although I did discover some positive testimonials for Low Hanging System, the only place I found them was featured on the product's sales page.
Alternatives to Low Hanging System
Here are some alternatives worth looking into.
Print on Demand With Etsy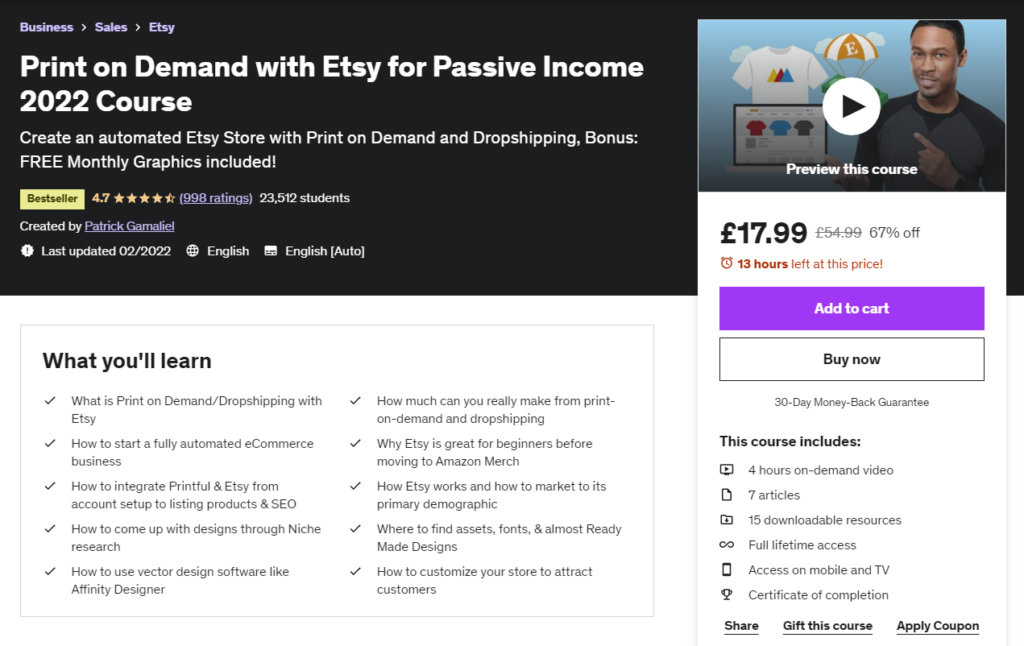 This Udemy course teaches students how to create automated Etsy stores for print-on-demand and dropshipping. It covers topics such as store customization, eCommerce SEO, integrating Etsy with Printful, and more. No special requirement is needed as it is a complete beginner course.
The course has been taken by over 23,000 students with a 4.7 rating out of 5 from nearly 1,000 ratings and is regularly updated.
---
Printful Academy
Printful offers a comprehensive beginners course that covers everything you need to know about making money by starting and running a print-on-demand business.
It comprises five modules with over 20 video lessons, covering topics such as niche selection, product pricing strategies, and optimizing your e-commerce store. It is completely free and accessible to everyone.
---
Conclusion – Can You Make Money With Low Hanging System?
The truth is, Low Hanging System's strategy is not much different from all the other POD courses out there.
The basic premise: come up with some catchy phrases and fancy fonts, list them with print-on-demand company GearBubble, market yourself aggressively, then cash in on the passive money generated.
Don't get the wrong idea; it still sounds like a great way of making money online – but if you're looking for something original or revolutionary here, don't waste your time.
Let's not be under any illusion; by investing in the Low Hanging System, you are purchasing an account activation fee on Gear Bubble and, depending on the package you purchase, free access to a year's worth of integration costs with Amazon, Etsy, and eBay.
Therefore, if you are interested in launching an online business that utilizes those services, investing in the Low Hanging System could be worthwhile.
Trying to stand out when selling physical products in the ever-growing print-on-demand business model is becoming increasingly difficult for many online businesses.
Running a successful online venture and making "passive income" with print-on-demand products means having the resources and dedication to handle customer inquiries, complaints, or refunds on short notice.
Although convenient, this method of online sales can be quite overwhelming for some entrepreneurs and requires more effort than expected.
It's essential to do your research before investing in any course – make sure you're getting value for money and not being misled by the promise of passive income or fast, easy profits.