In today's tech-savvy world, finding the best text to speech AI has become all the rage. With so many options available, it's easy to get lost in the noise and lose sight of what your best bet is. And nobody wants to be stuck with a robotic voice that doesn't have an ounce of personality in it because of choosing a sub-par program.
So we've vetted a few of the top AI solutions on the market and have compiled 7 of the best options to consider. Our list includes everything from free, easy-to-use solutions to more complex commercial offerings.
We've included a breakdown of features and pricing for each so that you can make an informed decision about which one is right for you and your business.
So let's get started and find the best text to speech AI program for you.
In a rush?
You can't go wrong with the top-rated and highly popular Speechify tool. It's not only accessible across Chrome, iOS, Android, & Mac but it's also highly customizable to meet your needs… and it's free to try!
7 Best Text-to-Speech AI Programs
Here are seven great programs that you can use to produce natural, clear, and high-quality AI voices:
Speechify
Speechify is one of the best text-to-speech AI programs available on the internet. You can use the AI platform to convert text from any format into easily understandable and effective AI voices.
What's great about Speechify is that you can customize your reading experience to suit your needs. You can choose the best natural-sounding speech from a selection of 50+ voices, the perfect listening speed, and let the platform know about your work needs to get more personal and relevant recommendations.
Key features found on Speechify include:
Convert text from multiple formats: photos, documents, PDFs, articles, social networking websites
The AI voice generator can identify 15 different languages making it a popular choice for the majority of the population
Adjust your listening speed up to 4.5x
Available on multiple devices: iOS, Android, Chrome Extension, Safari Extension, and more
Access to instant voiceovers with a few clicks: take a snap of the page you'd like to listen to, upload it on the app, and let the AI voice generator prepare its voice-over magic
Library of resources: There are great explainer videos and articles on how text to speech works, and how to extract the maximum benefit from it
Pricing
The Speechify program is very budget-friendly, offering different plans to suit user needs.
Limited (Free Plan): Get access to 10 standard reading voices, a listening speed of up to 1x, and text-to-speech features
Premium ($139/year): complete access to high-quality natural-sounding voices, adjust your listening speed, generate audio from any piece of text
Audiobooks ($199/year): get access to actor-narrated audiobooks
Want to see if Speechify is the right program for you and your business? Check out our comprehensive Speechify review to learn more about this powerful software.
---
Sonantic
Sonantic is one of the few AI voice generators that use voice generation to help the gaming and entertainment industry. Acquired by Spotify, the international music streaming platform, Sonantic uses a natural sounding voice to imitate the relevant emotions.
The AI voice platform allows users to adjust the tone of speech along with the level of emotions. The app features high-quality computer-generated voice and uses advanced speech synthesis to extract algorithms from voice recordings of human actors. Sonantic also ensures that the voice actors receive the rightful share of content license fees where their artificial voice is used for any commercial projects.
Significant features found on Sonantic include:
Human-like voices
Converting text to speech: Copy and paste your required data and see it transform immediately into AI-generated voices
High-quality voices
Emotion adjustments: Choose from any emotions you wish the AI voice generator to process, be it happy, sad, angry, surprised, etc.
Pricing
Sonantic does not offer a free version of its AI-generated speech. However, users can create a custom plan for their favorite features and pay accordingly.
---
Voicera
Voicera is one of the best ai voice generators for blog writers and content creators. It helps in building your brand by increasing its accessibility and reach. People nowadays are turning towards multitasking; they enjoy listening to articles while going shopping or working out.
Voicera provides brand owners with the perfect opportunity to capitalize. Just add your article link to the Voicera dashboard and select the accent you like. In a few clicks, you'll get your audio file as an HTML embed link which you can add to your blog.
Significant features found on Voicera include:
Choose from different speech styles and accents
Get access to different voices and 15+ languages
Create audio files that don't slow your site
Uses pay as you go credits rather than a monthly or yearly subscription
Pricing
Voicera provides users with a free plan with lifetime validity. However, this plan includes up to 5000 credits or characters, after which you can buy 100k credits for $9.
---
Google Cloud Text-to-Speech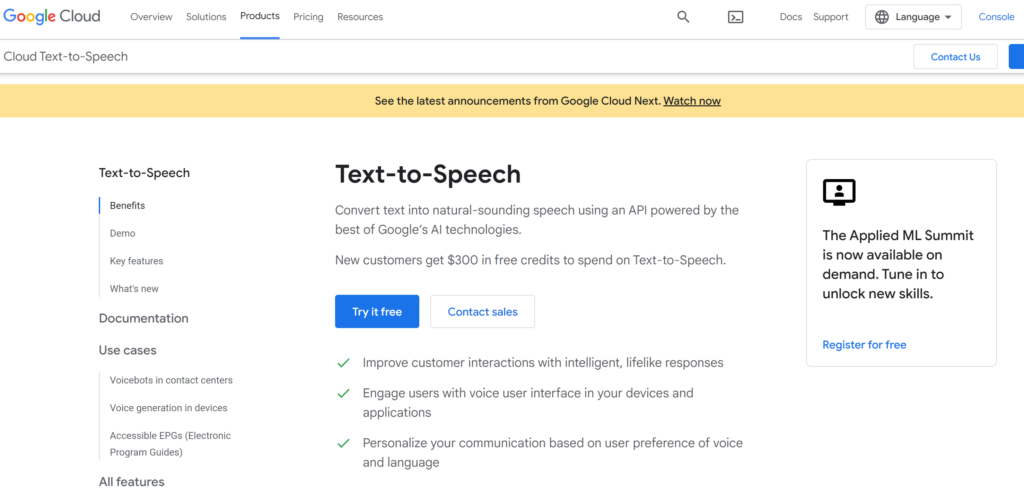 Google Cloud Text-to-Speech is an advanced AI voice generator that increases user engagement and interaction. You can use the web-based platform to add professional voices to your applications that mimic real human voices.
Apart from giving access to multiple voices, Cloud Text-to-Speech also provides the option to create a unique voice that sets you apart from your competitors. You can use your own voice to create a custom model using audio recordings and adjust your speaking rate and pitch accordingly.
Other notable features found on Google Cloud Text to Speech include:
Wide range of synthetic voices to choose from: 50+ languages available along with variants
Choose how you'd like your chosen voice to sound from a selection of different audio devices
Adjust the speed and pitch of the voice
Speech Synthesis Markup Language: Adjust SSML tags to your speech to add pauses, date, and time formatting, along with a pronunciation editor
Pricing
Google Cloud Text-to-Speech is a paid tool that offers 1-4 million characters for free each month, depending on the voice type.
Once the free plan is availed, Cloud Text-to-Speech charges per 1 million characters of text that are processed.
---
Synthesys
Synthesys is an AI virtual media platform that can easily be regarded as one of the best AI voice generators. It gives a complete solution to generate voiceovers – create videos using AI, and get access to a built-in video editor.
You can use the Synthesys AI Voice generator to create professional voiceovers. With just a few clicks, your website will generate higher engagement due to natural voices instead of robotic voices.
The Synthesys AI video generator is a great tool for creating YouTube videos, training videos, explainer videos, and TV commercials without a real actor. You can choose from 69 real human avatars and design your unique videos.
Other noteworthy features found on Synthesys include:
Supports multiple languages: Choose from over 140 languages and 374 voices
Work from anywhere in the world using the cloud-based application
High-resolution videos
Easy user interface
Pricing
Synthesys offers three paid plans with a 7-day money-back guarantee:
Audio Synthesys at $27/month
Human Studio Synthesys at $36/month
Audio and Human Studio Synthesys at $52/month
All plans give unlimited voice-over downloads, access to a complete selection of languages, and real human voices.
Want your AI audio to be even more engaging? These AI story generator tools can help you to produce high-quality scripts and boost your creative writing.
---
LOVO.AI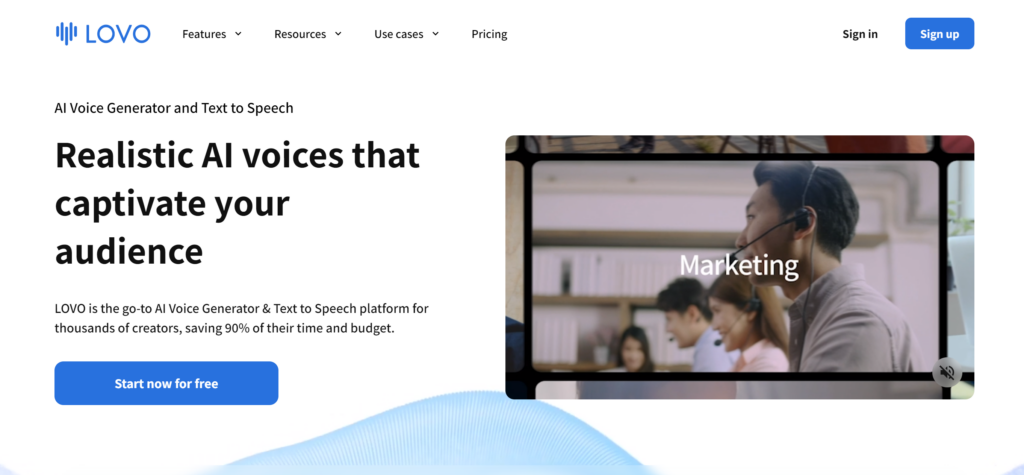 Lovo.ai is one of the best AI voice generators that has garnered multiple awards and received recognition from top producers and content creators.
Lovo.ai has recently launched Genny, which provides an easy-to-use, complete set of features that can convert text to speech and create stunning AI Videos. You can use the platform to search for the perfect emotion and match it with your content.
Other features that set Lovo.ai as a premier AI voice generator include:
Create voiceovers and videos across different industries
Edit videos with a built-in video editor: No need to transfer or import your audio files
Remove background noise and add sound effects all in one place
Use Speech Synthesis Markup Language to add emphasis or pauses in your speech
Over 500+ AI voices
Pricing
Lovo.ai offers a free 14-day trial plan where you can experience 20 mins of voice generation with five audio file downloads.
Paid plans include:
Basic at $19/month
Pro at $36/month
Pro+ at $99/month
All the premium plans provide unlimited downloads, high video quality export, voices in 100+ languages, and multiple voices with 20+ emotions.
---
Typecast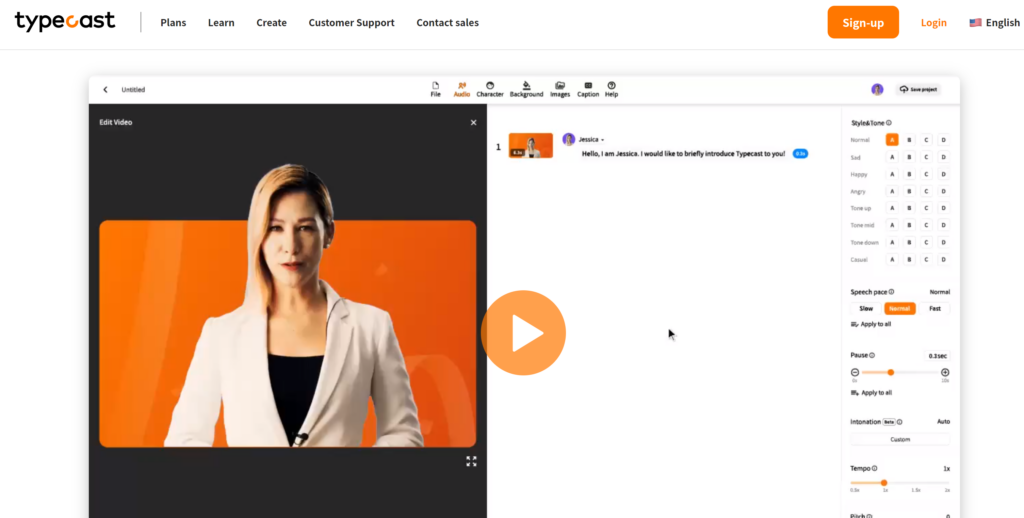 Typecast is another powerful AI voice generator that provides highly functional video editing tools.
You can visit the short training videos or try the various text-to-voice templates to decide on the best way to get started. Typecast has templates designed for gaming, education, documentary, audiobook, and education categories. Going through these will give you an idea of how to use the different features inbuilt on the platform.
Other handy features found on Typecast include:
Create text-to-speech in a few clicks
300+ voiceovers with a natural-sounding voice
Save on video production costs by using a video editor and human-like avatars
A web-based platform that is accessible anywhere
Pricing
Typecast offers a free version to individuals. It includes three minutes of monthly download time and usage of trial characters.
The paid plans include:
Basic at $8.99/month
Pro at $39.99/month
Business at $89.99/month
All paid plans provide extended download time, the use of all characters, and the option to work with external files in different formats.
What Is the Most Realistic AI Voice Generator?
Lovo.ai takes the top spot as the most powerful and realistic AI voice generator. The following features set it apart from its competitors:
Value for money: An affordable AI platform that offers text-to-speech and video editing tools
A library of voices and speech styles to choose from
High quality natural sounding voices
Create content in multiple languages
Add SSML tags to customize your speech: add emphasis, pauses, and sound effects to your script. Use the pronunciation editor to teach AI how you want it to pronounce a certain word.
Strong support from a helpful Lovo community: You can join the official Facebook group where content creators share their ideas and give valuable advice.
The Bottom Line: 7 Best Text-to-Speech AI Programs
Today, businesses of all sizes are leveraging the power of artificial intelligence (AI) to create more natural-sounding voices for their applications. AI-powered text-to-speech has been around for a while now and is becoming increasingly popular when it comes to providing users with voice interfaces.
So try out one (or more) of these best text to speech AI programs with easy-to-use features that can provide you with clear, natural-sounding voices. When paired with an AI content generator, you can produce stand-out media in a fraction of the time.
You may be surprised just how realistic the voices sound, as well as how much they can improve the user experience for your customers, employees, and visitors.