In this Pretty Links review, we are going to take a look at why Pretty Links is one of the best affiliate link management tools available.
The Pretty Links affiliate management tool is a great way to keep affiliate links organized, track them, and get reports to see what's working and what's not.
If affiliate marketing is a part of your business plan, it's important you know what is working and what isn't with your affiliate links.
Get started with Pretty Links.
Pretty Links Review

Ease of Use

Stability

Customer Service

Price
TL;DR
Pretty Links is a powerful WordPress plugin for any website owner using affiliate marketing, providing features such as link cloaking, redirects, brandable URLs, click tracking and reporting. The free version offers basic features, while the Pro version offers advanced features. It is an excellent option for both beginners and experienced affiliate marketers. Try Pretty Links Here!
Pros
Great UI so new users can be up and running quickly
Pretty Links allows you to create brandable links quickly
It allows you to cloak and shorten URLs
Can auto-link keywords across your site
Checks your site for broken links
Cons
The free version is quite limited
Pretty Links Review: Overview
The Pretty Links plugin for WordPress allows you to shorten, cloak, track, and share your affiliate links. It also allows you to generate QR codes, offers insightful reporting tools, and allows you to create branded links.
This all means you can easily and safely share your affiliate links. This is important because without a tool like Pretty Links, affiliate links are often long, hard to share, and prone to break meaning you could miss out on affiliate earnings.
Pretty Links offers a free and premium version of its plug-in to add to your WordPress site.
Let's take a look at how Pretty Links works.
How does Pretty Links Work?
Pretty Links is a link management plugin that allows you to redirect links without needing the technical know-how to make it work or a third party that can wreck the integrity of your site.
The Pretty Links plugging allows the affiliate marketer to cloak, shorten, and track links easily and effortlessly without needing to know any special coding and potential risk-breaking links or their site.
Pretty Links Core Features
Here are some of the most significant features for free Pretty Links users.
Cloaking
Anyone involved in affiliate marketing will love the ease of cloaking links with Pretty Links. Cloaked links make it easy for anyone to share their affiliate links with their own domain name.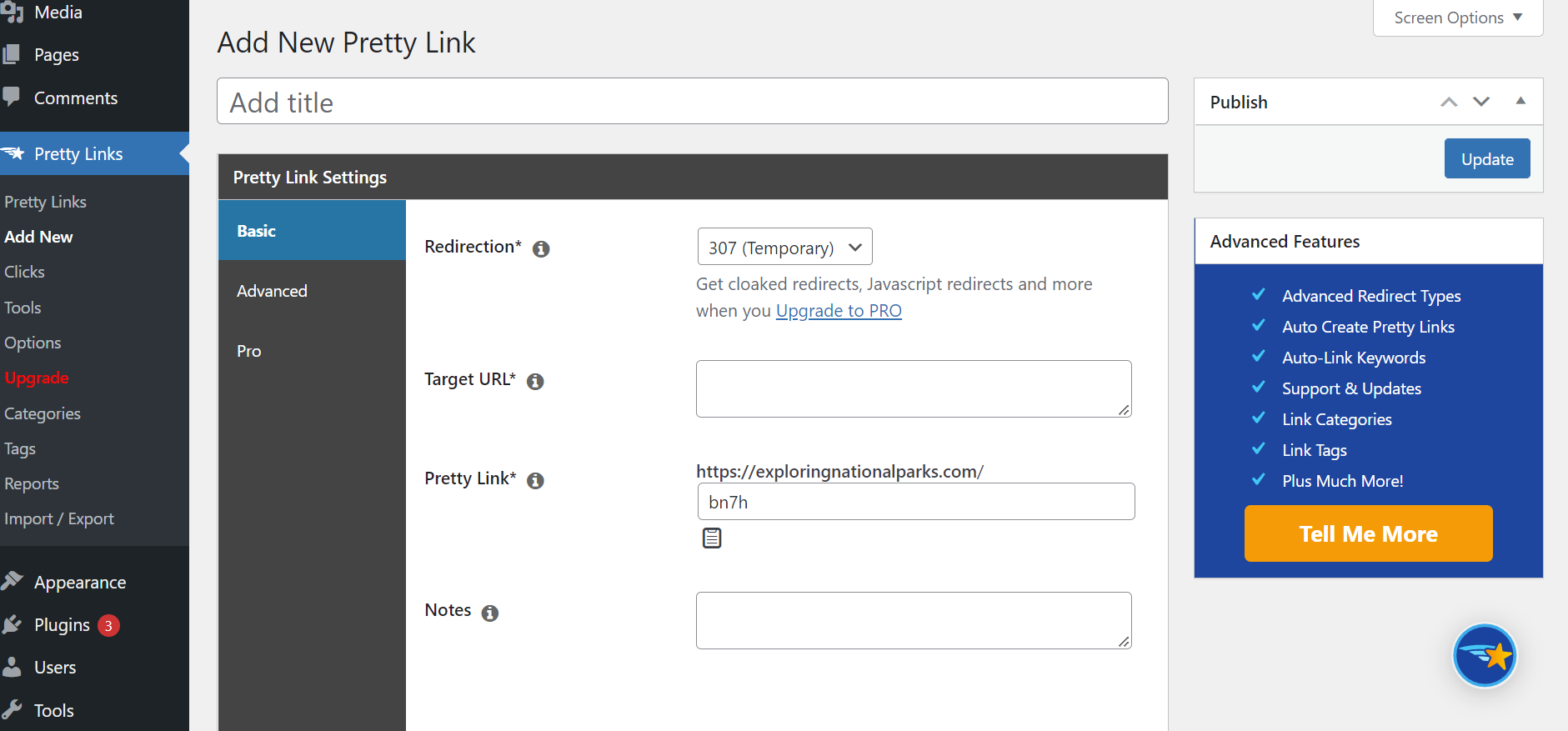 Instead of needing to remember ugly affiliate links with random letters and numbers, marketers can create branded and easily-remembered links to share with their audience.
Not only does link cloaking allow you to create short links, but this also allows you to hide your referral tags so your links can't be swapped or stolen.
Link Management
Pretty Links doesn't only manage affiliate links. Pretty links can manage any links you use to run your business, like social media links, blog and email campaigns, redirects, and more.
Additionally, you are able to do all of this from the app inside your WordPress dashboard, making it super simple to manage all of your links in one place.
Pretty links also allow you affiliate link tracking, which can help you make better decisions with the data on what's working and what's not.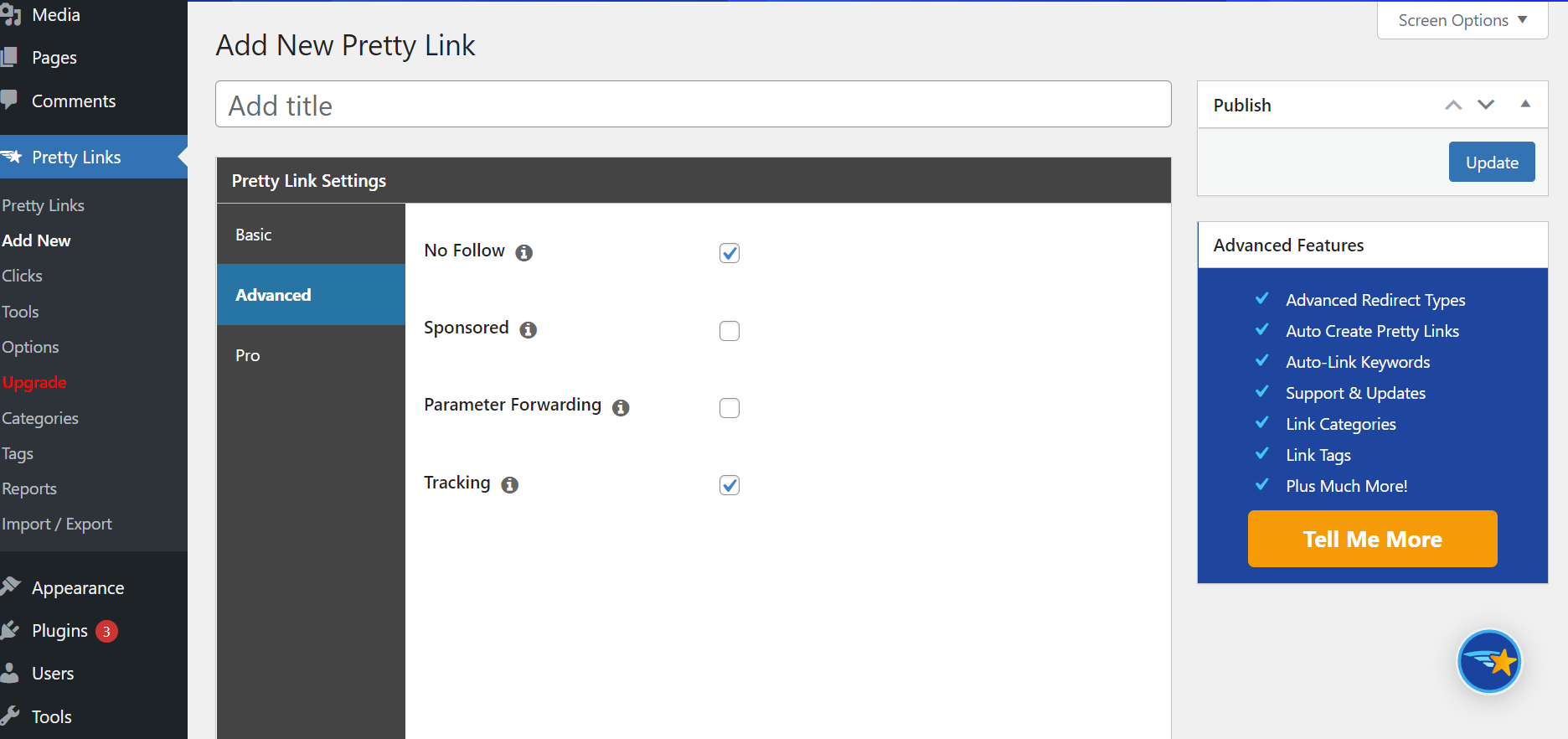 Redirects
Pretty Links makes it super easy for you to redirect links both temporarily (302/307) or permanently (301).
To access more technical features, such as framed-cloaked and Javascript redirection, you will need to upgrade to a Pro account.
Pretty Links Pro Features
The pro (paid) version of Pretty Links includes some nice benefits.
Reporting
Data is a great way to see how your efforts are performing. Pretty Links allows you to create custom reports for your links.
This allows you to gather data to determine how your affiliate links are performing. Obviously, you will be able to use this information to help you determine where to focus your efforts.
Pretty links also provides affiliate link tracking and reporting, which can help you make better decisions with the data on what's working and what's not.
Automated Keyword Linking
Automated keyword linking allows affiliate marketers to easily add affiliate links to all posts, even existing site content.
Instead of having to slog back through potentially hundreds of posts, setting up keywords with links will allow the pretty links plugin to link the keyword through your entire site.
This is a great way to add new links as you find new affiliate programs to promote.
Auto-Create Links
Pretty links allow you to auto-link keywords throughout your posts. This will save you time in having to add separate links throughout your post.
The ability to add links automatically will also create more affiliate revenue as you won't forget to add the links to your content.
Link Health
Pretty Links recently added a new feature that catches broken links. Broken links can happen for a number of reasons, and they can be a pain to track down, but not anymore.
Pretty Links will scan your site and send you weekly reports so you know where and when broken links appear.
Link Analysis
Affiliate marketing is unfortunately not set and forget it. Popping links in your articles doesn't ensure a sale, and that's where link analysis comes in.
Pretty Links will track link clicks and other behaviors to better understand how the link performs. This will allow you to decide if you like the placement or if you want to experiment to get better conversions.
Expiration date
If you know that you will promote sales, the expiration date is a great time-saving feature. This will allow you to set an expiration date by selecting a date range for the link, like for a Black Friday sale.
Even though you will eventually replace the link, it makes it a much less urgent task.
Pricing Plans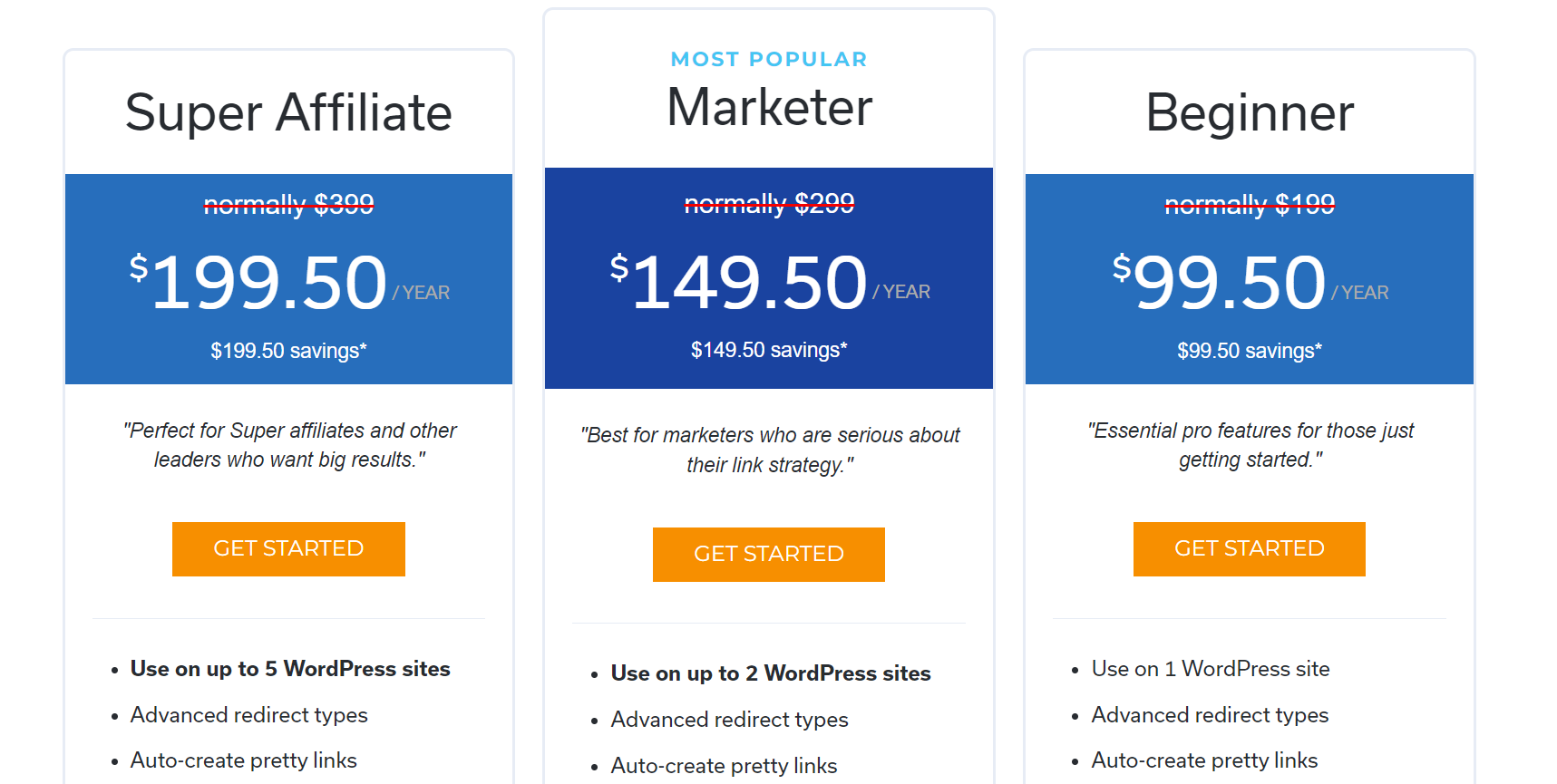 Pretty Links offers a free plugin, found in the WordPress plugin library. This allows users to create brandable links, simple redirects, cloaked links, and link tracking. If you want even more features or want to be able to use pro features on multiple sites, you will want to upgrade.
Pretty Links also offers three pricing plans for businesses of all sizes.
They offer the Beginner plan, which allows you to use Pretty Links Pro on one site. The Marketer plan allows two sites, and the Super Affiliate plan allows Pretty Links Pro to be used on up to 5 sites.
They offer a money-back guarantee for 14 days after purchase, giving you plenty of time to experiment and see if it's the right choice for you.
Getting Started With Pretty Links?
If you aren't ready to commit to the Pro version of Pretty Links, download the free version in the WordPress interface. This will allow you to check out the settings and get acquainted with all the features available with the plugin.
Creating a New link With Pretty Links
To get started with creating a new pretty link, head to the left side of your dashboard to where pretty links is located and click it.
You will then be brought to a dashboard with all the links you've recently created. Click add new at the top, and it will pull up the screen to create your pretty link.
First, you will choose your redirection type. For most cases, you usually will want a 301 (permanent) redirection.
Afterward, you will place the link original affiliate link or target URL you wish to cloak.
Next is where you add your custom URL slugs for your pretty link. It's best to stick with simple URLs to make it easy to stay organized and easy to remember and share.
For example, if you were in the affiliate program for Pretty Links and wanted to share your cloaked link, having your Pretty Link slug as www.yourbrand.com/prettylinks would make it easy to share your affiliate link in emails, blog posts, and on social media.
You can name your link under the title, which will help you to keep your links organized.
Under the advanced tab, you will have options to toggle the options for tagging the link as no-follow or sponsored and can track it as well.
Even if you don't get the pro version immediately, you can still cloak and manage links with the free version.
Pretty Links FAQs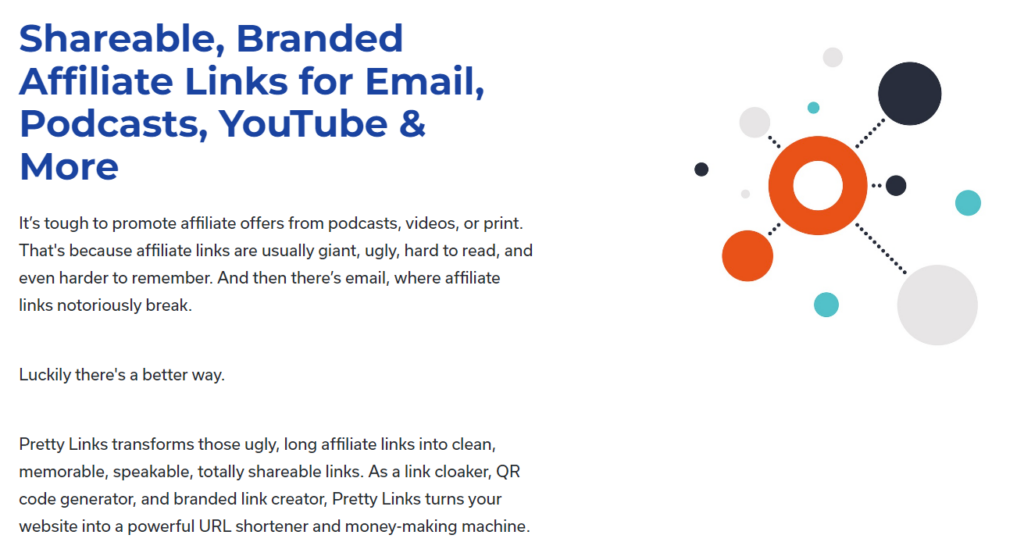 Is Pretty Links Free?
Yes, a free version of Pretty Links can be found in WordPress. To access the app's more advanced features, you will need to upgrade to a paid plan.
Can You Use Pretty Links Without WordPress?
No. Pretty Links is a WordPress plugin. It can only be used inside the WordPress dashboard.
What Are The Best Alternatives to Pretty Links?
The two main Pretty Links alternatives are Thirsty Affiliates and AffiliateWP.
Can I Migrate Existing Links to Pretty Links?
Yes, you can migrate existing links to Pretty Links. You can read more about how to import and export your links here.
Is Pretty Links Pro Worth It?
The Pro version is a no-brainer if you have multiple sites. You would also benefit from the reporting features to know how your affiliate links perform if affiliate marketing is a solid piece of your business income.
It is also a great option for beginners to be organized from the start.
Pretty Links Review – Conclusion
Pretty Links is one of the most-used link management plugins out there, and for a good reason.
The free version alone allows you to cloak affiliate links, add affiliate links with ease, create brandable links, and create redirects that can be shared across multiple platforms.
The premium plugin allows detailed click reporting and tracking of all your affiliate links will auto-create Pretty Links, create QR codes, and more for the advanced affiliate marketer.
Pretty Links has allowed us at Niche Pursuits to easily cloak and share our affiliate links. It is a must-have for any website owner using affiliate marketing in their business.
For anyone looking to up their affiliate marketing game, Pretty Links is a no-brainer for an affiliate link management plugin.