Welcome to my SimpleTexting review!
Did you know 98% of texts are opened within 3 minutes of delivery?
Compare that to the abysmal 20% open rate of email.
And thanks to Google's evolving filters, less than 30% of marketing emails reach the primary inbox.
That's why SimpleTexting is gaining traction as an effective way to communicate with customers in real-time.
In this review, I'll dive deep into SimpleTexting. I'll cover their features, pricing, case studies, and my overall experience using this tool.
On we go!
Get started with SimpleTexting right now!
SimpleTexting Review

Ease of Use

Stability

Customer Service

Price
Summary
SimpleTexting is a cloud-based SMS marketing platform that helps businesses reach customers and engage with them via text messaging. Join the thousands of businesses that have already seen success with SimpleTexting! Get started with your free trial.
Pros
Great user experience & interface
Easy automation
Legally compliant
Free incoming messages
Affordable pricing
Deep library of resources
Helpful integrations
Cons
Customer Service could be better
160 character limit
 
How Does SimpleTexting Work?
SimpleTexting is an SMS platform that allows users to send mass text messages to a list of contacts.
You can create and manage contact lists, schedule text message campaigns, and track performance with analytics.
Here's how it works:
Sign up for a SimpleTexting account to receive your toll-free number.
Import your contacts by uploading a CSV file or manually adding them.
Once your list is ready, create your SMS message campaigns, and click send.
Track their performance through analytics.
Let's dive deeper into the specific features SimpleTexting offers.
2-Way Messaging
It's simple: customers give you their phone numbers, and your business sends them text messages.
You can then reply to customers directly or send out an automated response. From there, it's up to the customer to carry on the conversation.
Oh, and did I mention you can respond to customers for free?
Use this feature to do things like:
Customer support: provide quick and efficient customer support via text.
Cart abandonment: remind customers about items in their cart and encourage them to purchase.
Appointment reminders: send automated reminders for upcoming appointments or events.
Surveys: gather customer feedback and opinions in real-time.
Offers: send re-engagement campaigns or new product drop announcements.
Think about it like this. Your customers are seeds – research says two-way communication is the water that helps them prosper.
According to an International Business Review study, companies prioritizing customer communication are 20% more likely to retain those customers.
Fred Reichheld found that companies that engage in two-way communication with their customers have a 12-15% increase in customer lifetime value compared to those that do not.
List Building
SimpleTexting gives you a sleek opt-in form for your website, ready for fans to sign up for your text messages.
When you earn consent, it keeps your business straight and narrow with compliance and boosts your delivery rates.
Plus, think about all the marketing dollars you'll save by only sending messages to only highly interested customers.
Baby Tula, the popular baby carrier brand, used SimpleTexting's opt-in form to collect thousands of new subscribers, which is great news for their business.
Mass Texting Automation
SimpleTexting's mass texting feature has got everything you need to reach your audience.
Want to send a quick blast to your audience? Bam, done.
Want to schedule it for when your audience is most receptive? No problem.
Do you want to include a photo? SimpleTexting's MMS messages feature allows you to add photos and up to 1,600 characters.
Also, personalized fields and tiny links help your messages stand out.
And, with free replies appearing in your inbox, you can respond to your audience via iOS, Android, or the web.
Here are some pro tips for making the most out of your SMS messaging campaigns:
Send at peak times: Using social media usage as an analog, we can deduce that 9am-4pm is the best time to send messages.
Less is more: Mobile Marketing Association found that 77% of consumers prefer to receive SMS marketing messages no more than once a week.
Personalization: Address the recipient by their first name or add dynamic content like location info.
A/B testing: Test different variations of your message at a small scale to uncover the top performer, which you can send to the whole segment.
Text to Join Keywords
SimpleTexting's Text To Join Keyword Feature allows businesses to easily create a unique word or phrase, such as "GROOMING" or "CATS," for customers to text to sign up for future messages.
This streamlines the opt-in process and ensures that only interested parties receive updates.
The feature also includes an auto-response message, allowing businesses to instantly send personalized replies to those who text in the keyword.
Supplement brand Eu Natural has a 563% ROI using this strategy.
They offered a free bonus bottle with purchase simply by texting in a keyword.
After customers text the keyword, they receive a thank you note and instructions on redeeming the offer.
And it's working like a charm, as Eu Natural's founder Vinay, notes, "It's a pretty high conversion rate from the text message over to our website. Pretty much everyone goes over to the website to claim their gift."
Analytics
SimpleTexting's built-in analytics is your birds-eye view of your SMS marketing program.
Specifically, you'll see where your subscribers come from, whether through a specific keyword or a web sign-up form.
You can also monitor how subscribers respond to their messages, including open rates, click-through rates, and opt-outs.
You can fine-tune your message based on which messages resonate with your subscribers and which fall flat.
Segmentation

Segmentation allows you to "slice and dice" your audience into smaller groups according to their traits. This way, you'll craft text messages that speak directly to the right people.
Whatever you do, never send a generic message in an SMS campaign! It's like sending a mass "form letter" to a bunch of strangers.
Sure, it may save you time, but it also makes a bit of a mess:
Impersonal messages lead to ignoring or opt-outs.
Generic messages lack authenticity, resulting in a poor brand image.
Segmentation, however, lifts open, click-through, and conversion rates! And that's to the tune of 45%, 30%, and 15%.
Need to target those who've shown interest in a specific offer? Just segment based on which links they've clicked.
Want to send a warm welcome to new subscribers? Segment based on their join date.
What about segmentations for the entire customer journey? For example, you can send a win-back message to inactive customers or a loyalty reward message to frequent customers.
Want to reach a specific group that signed up through a keyword or web form? You can do that too.
Integrations
SimpleTexting offers a variety of integrations that allow businesses to automate tasks and improve their SMS marketing efforts.
Some of the main integrations are:
CRM integrations like Salesforce and Hubspot allow businesses to automatically add new contacts to their SimpleTexting account and track customer interactions in one place.
E-commerce integrations like Shopify and WooCommerce use cart abandonment or purchase behaviors to trigger automated messages.
Social media integrations like Facebook, Instagram, and Twitter for gathering customer feedback and running contests.
Email marketing integrations like Mailchimp and Constant Contact allow businesses to send text messages to their email subscribers or vice versa.
SimpleTexting Review: The Pros and Cons
My experience using the dashboard was seamless, allowing me to set up my first text marketing campaign in minutes.
I also love knowing that my customers are getting automated responses. So I can set and forget my messages until they respond.
Subscriber lists and campaigns were well-designed and made it easy to navigate.
TCPA and the CAN-SPAM act compliance.
I appreciated the ability to receive incoming messages for free.
Starting price of around $25. It's affordable for small businesses to dip their toes into SMS marketing. Plus, they offer a free trial for users.
SimpleTexting provides a solid list of articles and instructional videos on its site to teach users about the basics..
Importing contacts was made easy by their various integrations, including a pre-built MailChimp SMS Marketing integration.
I've tried a few other SMS marketing platforms, but SimpleTexting's UI is a cut above the rest.
I found customer service responses slow during peak hours, but the FAQ section helped address most of my concerns.
Technical users might find the platform a bit too simplistic for my needs.
I had to be mindful of my text character limit when crafting my SMS campaigns, as going over 160 characters can add up.
Be cognizant of exceeding your plan limit, because you will pay for those messages.
SimpleTexting Pricing
Pricing for SimpleTexting is completely utilization based.
Messages: 500 ($29/mo), 1000 ($49/mo), 2000 ($79/mo), 3000 ($109/mo), 7500 ($229/mo), 15000 ($399/mo), 25000 ($549/mo), 50,000 ($899/mo).
Each plan includes free incoming SMS messages, unlimited contacts, a unique toll-free number, 7-day/week support, Mailchimp and Zapier integrations, unlimited keywords, rollover credits, 3 user seats.
Plans from $299 and above get access to the advanced automation features.
Plans above $549 get a dedicated account manager.
Lastly, annual plans earn a 20% discount.
SimpleTexting User Reviews
Beyond putting the platform to the test, I also gathered feedback from real customers to understand how it performs in the field.
Most users have had a positive experience with the software. Trustpilot shows that SimpleTexting has a 4.2 out of 5-star rating, with a satisfaction percentage of 97%.
Users praised the platform's user-friendly interface, powerful automation tools, and helpful customer support.
Many positive reviews talk about how they started using SimpleTexting to overcome email deliverability woes.
Eu Natural founder Vinay said, "We were able to use SimpleTexting to reach out and make sure that these customers actually get the message."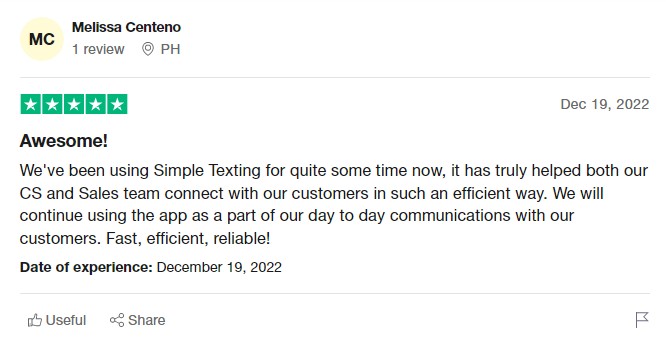 One customer praised the software for its ability to connect their customer service and sales teams, leading to an improved experience for both the business and their clients.
On the flip side, some customers report areas where SimpleTexting needs improvement. For example, some users did report occasional downtime or sending delays in certain countries.
Also, even though one customer rated the software 5 stars, his one gripe was the setup time.
One customer mentioned there were some delays in their text message delivery.
Another customer points out having to use a proxy to connect with their US customers.
Despite this, the overall sentiment toward the software remains positive. You can see that most of the customers are satisfied with their purchase.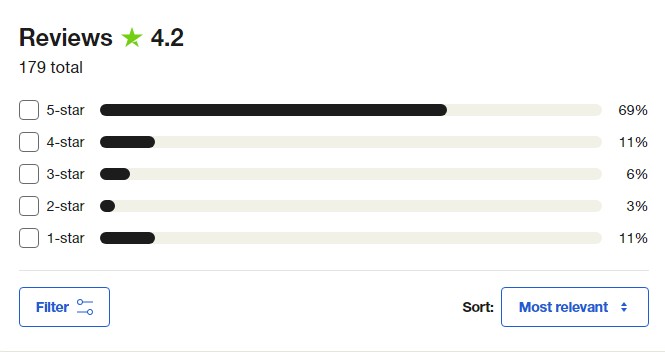 Who's It Best For?
SimpleTexting works well across a variety of industries, including:
Auto
E-commerce
Coaching
Healthcare
Retail
Finance
Real estate
Dental
SimpleTexting is a powerful ally for e-commerce brands in particular.
"Our customers really have reacted positively to our message," says Marketing Manager Jessica Carlson. 
Undoubtedly, that's an understatement. Baby Tua achieved a staggering 50% click-through rate on their last text campaign, resulting in a 1,668% ROI on their investment.
SimpleTexting Alternatives
Comparatively, both ClickSend and EZtext are solid alternatives to SimpleTexting.
ClickSend
ClickSend is a cloud-based communication platform that offers a pay-as-you-go pricing model. You only pay for the messages you send, with rates as low as $0.0249/message for under 20,000 messages.
It's a great option for businesses with fluctuating messaging needs.
EZ Texting
EZ Texting is another respectable SMS marketing platform.
One of the main differentiators between SimpleTexting and EZ Texting is that SimpleTexting offers access to all features on every pricing plan except for add-on features like contact sync integrations and advanced automation.
On the other hand, EZ Texting limits the features you can use on their lower pricing plans.
SimpleTexting offers a rollover credit system that allows businesses to roll over unused credits to the next month, while EZ Texting does not.
EZ Texting does have some cool capabilities like QR codes, which SimpleTexting doesn't have.
Read our full EZ Texting review for more.
Simple Texting Review Conclusion: Is It Legit?
Yes, SimpleTexting is legit and has my full stamp of approval.
The user-friendly platform, top-notch customer support, and impressive ROI in case studies make it a standout in the SMS marketing space.
Overall, it's clear that SimpleTexting is delivering results for its customers. We recommend giving it a try.