If you're a blogger or niche site owner, having a solid content optimization tool as part of your content process is essential if you want your content to rank. Surfer SEO is one of the most popular tools around, but if you're looking for a Surfer SEO alternative, you will be pleased to know that there are a few good options to choose from.
I've personally tried and tested all of the tools on this list, so in this article, I will be sharing the features they each offer, as well as their pros and cons, to help you decide which is the best option for you.
7 of the Best Surfer SEO Alternatives to Consider
All of these tools have slightly different features and price points. This means that depending on your business type, one will suit you better than the others. Keep reading to find out which tool is the right Surfer SEO alternative for you.
GrowthBar
GrowthBar is one of the newest content optimization tools around. I tested it extensively for our GrowthBar review, and I have to say, it was awesome.
It provides incredible value at a very affordable price point, so it's an excellent option for smaller businesses and bloggers.
GrowthBar's main features include:
Content optimization
AI writing tools
Keyword research 
Site Inspector
Rank tracker
Chrome extension
From creating a content brief to optimizing your content, you will find that every feature of this affordable Surfer SEO alternative is very intuitive and easy to use.
You can even add recommended images to your content (complete with source reference) at the click of a button. It's a great, all-in-one tool for creating SEO content quickly.
GrowthBar Pros and Cons
Easy to use
Very affordable
Easily add images to your content
Free 5-day trial available
Chrome extension
Write and optimize content within WordPress
Works best with Chrome
Only has basic keyword research features
Pricing
GrowthBar has three plans to choose from, so whether you're a solo blogger or a large content agency, there's a plan to suit you.
Standard – $48/month ($29/month if paid yearly). Includes 25 AI content outlines, 500 AI paragraph generations, track 25 keywords across 1 site, and 2 user accounts.
Pro – $99/month ($79/month if paid yearly). Includes 100 AI content outlines, 2000 AI paragraph generations, track 1,000 keywords across 3 sites, and 5 user accounts.
Agency – $199/month ($129/month if paid yearly). Includes 300 AI content outlines, 5,000 AI paragraph generations, track 5,000 keywords across 25 sites, and 10 user accounts.
Check out the plans in more detail and take advantage of the free 5-day trial click here.
Frase
Frase is an all-in-one content optimization toolkit for SEOs, content marketers, and agencies. It includes everything you need to write SEO-friendly content from your target keyword, including:
Content briefs
AI Content Writing
Content Optimization
Content Analytics
This popular Surfer SEO alternative includes its own in-built AI writing tool, which Surfer doesn't currently have. This is a great feature for anyone who experiences writer's block or struggles to create the perfect outline.
Simply enter your chosen keyword, and Frase will generate a detailed brief you can give your writers. Your brief will be based on various data points, including the top search results, 'People Also Ask' questions, Reddit, and more.
If you're struggling to write, you can simply hit the 'write for me' button. This will finish your sentence for you and can even generate whole new paragraphs.
When it comes to optimizing your content, Frase gives your content a score that will enable you to see how you measure up against your main competitors. You will also be provided with a list of keywords to include in your content.
Frase Pros and Cons
Easily find decaying content
Optimize existing content
Great for creating detailed content briefs for your writers
Optimize content that has already been published
The AI-generated content still needs a human editor
Doesn't provide a recommended number of paragraphs
Pricing
Frase has three plans available, so whether you're a blogger or an agency, there will be a plan to suit you.
Solo – $14.99/month – Write and optimize up to 4 articles per month
Basic – $44.99/month – Write and optimize up to 30 articles per month
Team – $114.99/month – Write and optimize unlimited articles every month
All plans offer a 15% discount when paid annually.
Check out our article where Frase Vs Surfer SEO go head-to-head.
MarketMuse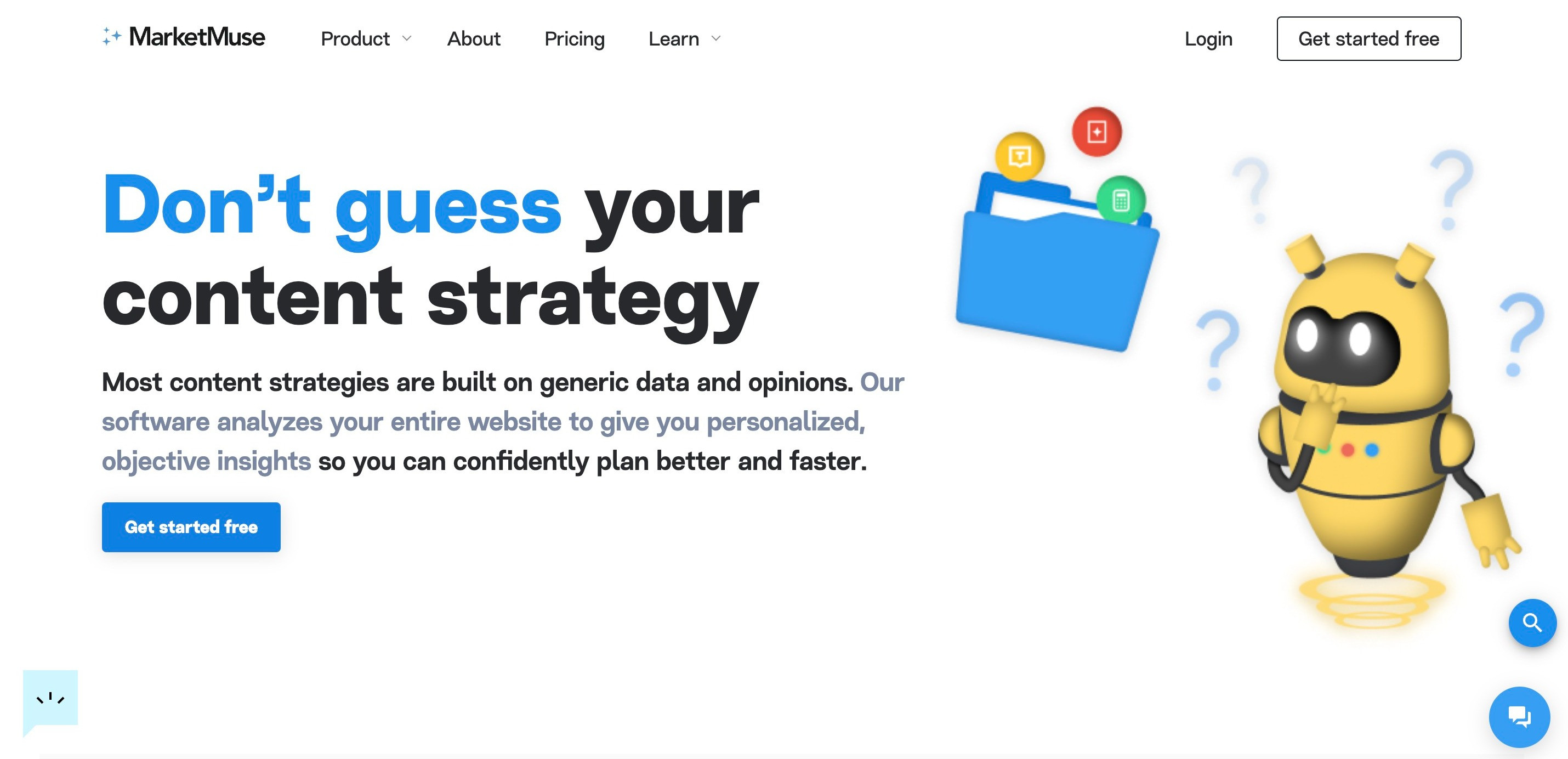 MarketMuse uses AI to help content creators analyze their content in order to optimize it for on-page SEO. It's super easy to use and makes developing a content strategy for your site effortless.
It does this by providing you with insights into how to structure your site, create content clusters, find content gaps, and prioritize the best content opportunities.
If you manage a team of writers, MarketMuse can also help you to write outstanding content briefs. You can do this by dragging and dropping your choice of title and H2 suggestions into your brief. MarketMuse will then create a brief for you, which will include:
Title
Suggested word count
Target content score
Subheadings
Questions
Related topics to discuss
Recommended internal and external links
You can then hand this over to your writer, who can write and optimize the article.
Its hefty price point of the paid plans means MarketMuse is best suited to large organizations looking to create and develop a content strategy. However, the free plan is a great option for solopreneurs looking to optimize up to 10 articles per month.
MarketMuse Pros and Cons
Free plan available
Very intuitive and easy to use
Excellent customer service
Easily find underperforming, low-quality content
Helps you develop a content strategy
Very expensive
Slow loading times
Pricing
MarketMuse has a free plan, with no required credit card details. This is perfect for bloggers and solo content creators who want to try MarketMuse and optimize up to 10 articles per month. The free plan doesn't include content briefs or content audits.
Paid plans:
Standard – $600/month ($6000/year). This plan includes up to 100 per month and unlimited projects.
Premium – $12,000/year. This plan includes unlimited queries, unlimited projects, on-demand content audits, unlimited self-serve content briefs, and a dedicated account manager.
Check out our full MarketMuse review for more details.
Semrush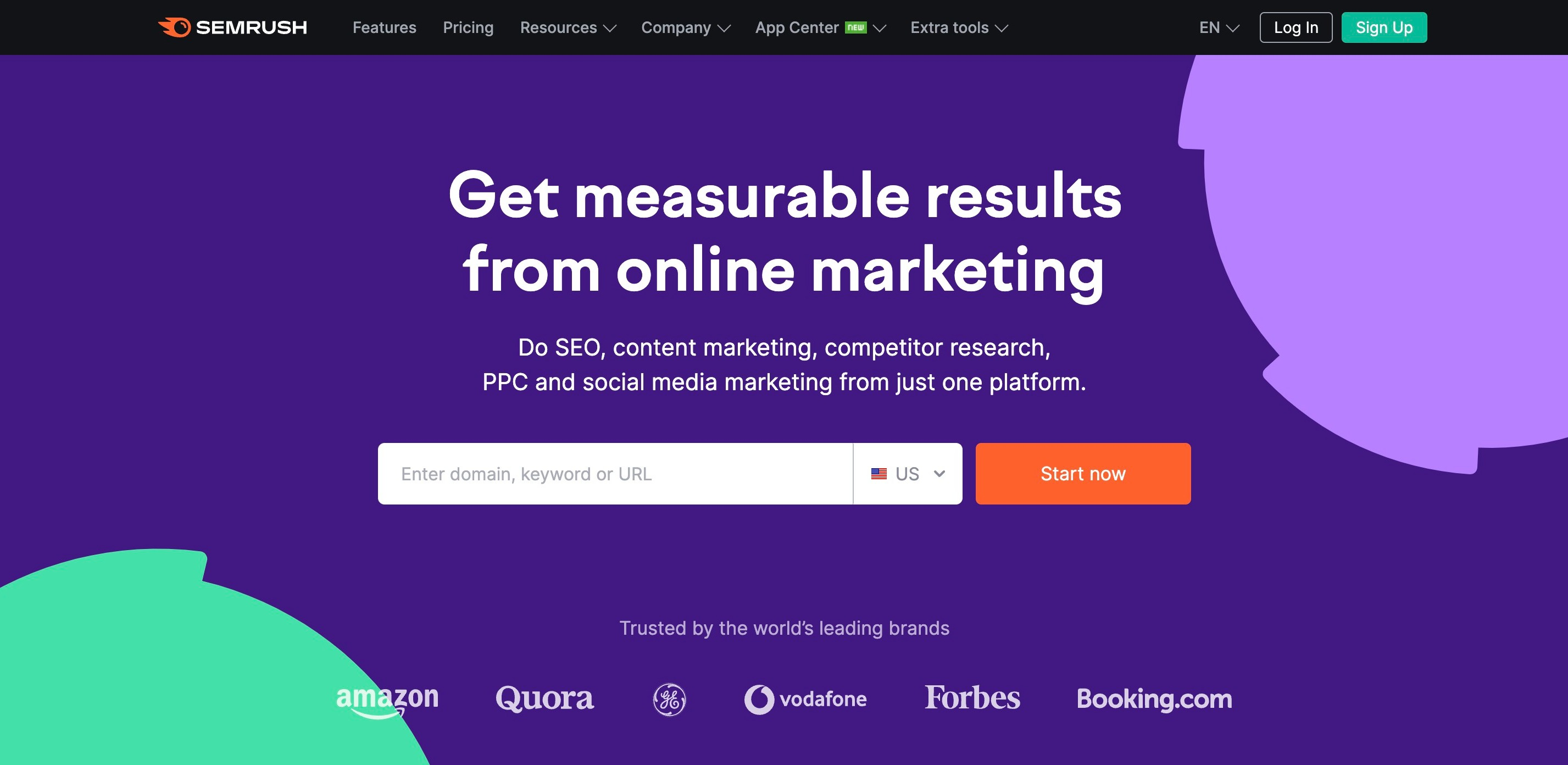 If you're looking for an all-in-one SEO tool that has everything you need, from keyword research to content optimization, Semrush is the tool for you.
Semrush's features include:
Keyword research
Competitor analysis
Content optimization
Backlink audit and analysis
Domain overview
Keyword gap
Social media management
Rank tracking
Plagiarism checker
PPC tools
And more.
Although it's fairly pricey, it is a one-stop shop for all your SEO needs. So, if you don't already have a keyword research tool, I would definitely recommend Semrush.
Semrush Pros and Cons
Powerful, all-in-one tool
Add-on for Google Docs
WordPress Plugin
Grades your content for readability
Includes a plagiarism checker
It's an expensive option if you only need the content optimization features
Semrush Pricing
Semrush's content marketing features are available on the Guru and Business plans.
Guru – $229.95/month
Business – $449.95/month
Dashword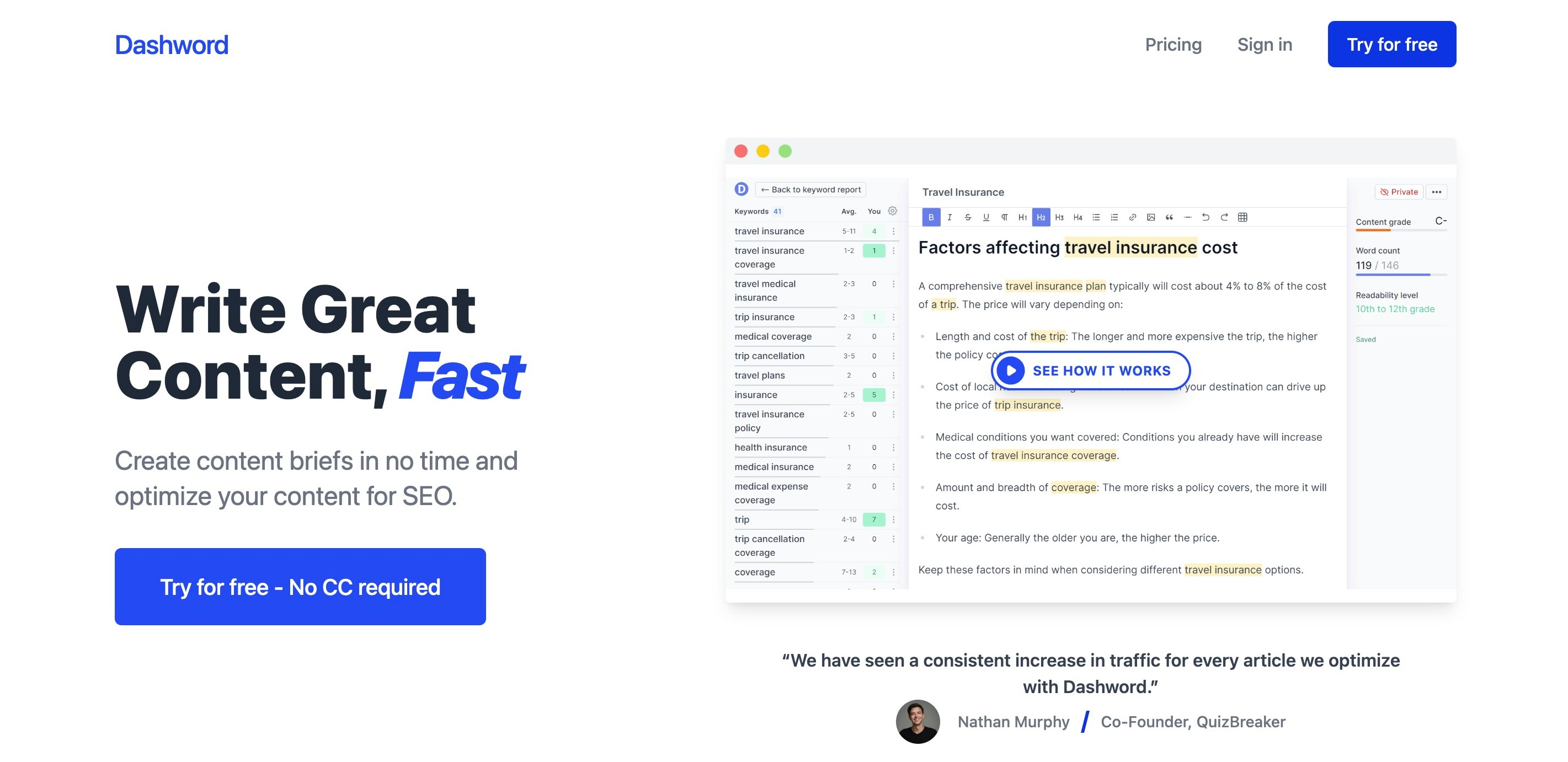 Dashword is a cloud-based writing platform designed to streamline the writing and content optimization process. It makes it easy to create well-structured briefs, optimize written content, and monitor content performance.
To get started, you simply enter your target keyword, and you will be given a report which includes:
A benchmark of the current search results
Relevant terms to include
FAQs on the topic
You can use this data to create a brief by selecting from the recommended titles, headers, and questions. Once you've got your brief ready, you can export it or share a link with your writers so they can write and optimize the article in the Dashword editor.
The content editor shows all of the keywords you need to include and updates the score in real-time as you write.
It also includes a readability score, which Surfer doesn't have. This is one of the best features, as it lets you compete against your competitors for readability and content score.
Dashword works out to be slightly more expensive than Surfer based on the number of briefs you get per month. However, the content editor is better overall, so if you don't need the keyword research and content audit features that Surfer offers, then Dashword would be a better choice, hands down.
The Pros and Cons of Dashword
Includes a reading level indicator
Easy-to-use editor
Easily to share briefs with writers
Free sample report when you first sign up
Easy-to-use interface
Keyword reports can be slow to generate
Not an 'all-in-one' SEO tool
Dashword Pricing
Dashword has three pricing plans available to suit your needs.
Hobby – $39/month.  This includes 5 reports per month, 3 user seats, and content briefs.
Startup – $99/month.  Includes 20 reports per month, 5 user seats, content briefs, and AI writer (up to 20,000 words).
Business – $249/month.  Includes 100 reports per month, 10 user seats, content briefs, AI writer (up to 50,000 words), and content monitoring.
Clearscope

Clearscope is known for being one of the most powerful content optimization tools around. However, with that comes a hefty price tag, and at $170/month, Clearscope isn't for everyone.
But, you get what you pay for, with clear benchmarks on how your content measures up against your competitors and a strong focus on readability, which most other content optimization tools overlook.
Like Surfer, Clearscope is purely a content optimization tool and doesn't include any other features. The main thing that sets it apart from Surfer, though, is the focus on readability. It recommends a reading level for your content (for example 8-9th grade readability) which ensures that your article is easy to read and understand, no matter who clicks on it.
Clearscope Pros and Cons
WordPress plugin
Google Docs add-on
Readability level and score
No minimum contract
See competitors reading level and content score
Very easy to use
Expensive
Not many integrations
No free trial
Clearscope Pricing
Essentials Plan – $170/month. This plan includes one user seat, 10 content reports, 20 content inventory pages, and one monitored domain.
Business – Custom Pricing. This plan includes five user seats, and can be tailored to your business needs.
Enterprise – Custom Pricing. This plan includes everything from Business, unlimited monitored domains, custom geo-targeting, and a custom data pipeline.
Topic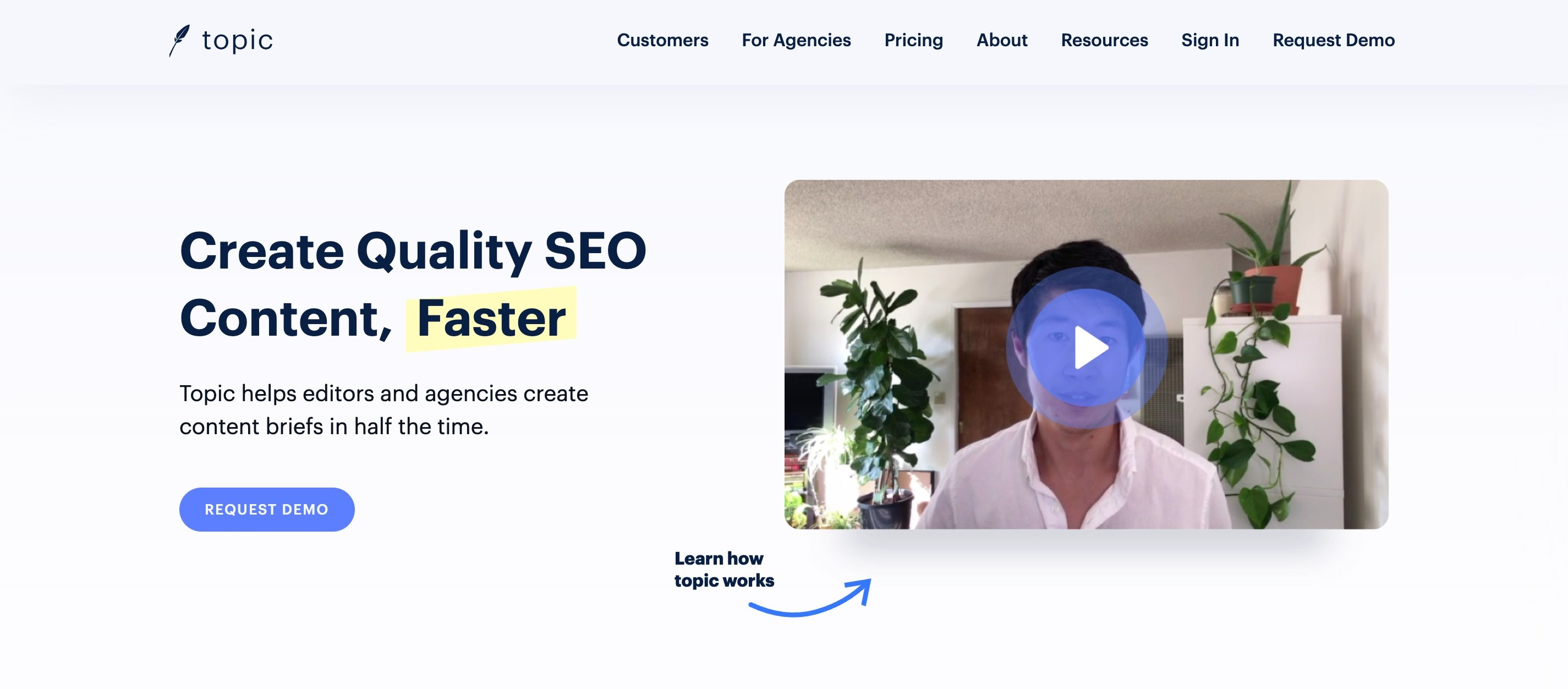 Topic is designed to help content creators build briefs and optimize their content quickly and effectively.
Simply enter a keyword, and Topic will give you all the information you need to create your brief. This includes the headings, questions, and keywords you should include in your article. It also uses GPT-3 to generate new, unique headline ideas, which you can choose from to build your outline.
Once your content is ready, you can paste it into the content to see your content score and add in any missing keywords to increase your score and optimize your content as fully as possible.
Topic Pros and Cons
Speeds up content research
Helps generate effective outlines
Ensures high topical relevance
Grades your content
Google Docs and WordPress plugins included
More expensive than Surfer
Lacks on-page SEO features
No free trial
Pricing
Topic has three pricing plans to choose from.
Starter – $99/month. 10 content briefs and optimizations per month.
Plus – $199/month. 25 content briefs and optimizations per month.
Premium – $299/month. 50 content briefs and optimizations per month.
The Verdict: Which is the Best Surfer SEO Alternative Overall?
As you can see, there are a few good options to choose from if you're in the market for a Surfer SEO alternative.
If you're on a budget, then GrowthBar is an excellent option. It gives you everything you need to outline and optimize your content, and plans start from just $25/month. It also includes a readability score, which Surfer doesn't have. It's the perfect option for solo bloggers or anyone starting out on a budget!
Another great and more affordable alternative is Frase. And it's arguably better than Surfer in terms of setting up in-depth content outlines based on what's ranking. Plus, it allows you to optimize with suggested NLP terms to include and even includes an AI writing assistant to further help speed things up.
And finally, if you're looking for a completely free Surfer SEO alternative, try MarketMuse's free plan. It allows you to 10 articles per month for free with a suggested word count, content score, and a benchmark against your competitors.