Welcome to my Niche Scraper review!
This dropshipping SaaS tool claims that it identifies winning products in the following criteria:
High demand
High margin
Low competition
Does Niche Scraper do everything it promises? Yes, for some areas (product research). But for other focus points, there is more to be desired.
No time to waste? Try Niche Scraper here!
It can help you find winning products – but don't expect miracles from it. Also, be aware that leveraging its recommended Aliexpress suppliers is not a scalable method.
To succeed with your store, you need more than just winning products – you also need marketing skills and a quality fulfillment solution.
In this Niche Scraper review, we'll pull back the curtain and reveal what Niche Scraper can and cannot do. We will look at:
Niche Scraper's Main Features
Pros and Cons
Pricing
Alternatives to Niche Scraper
Let's get started!
Niche Scraper Review

Ease of Use

Stability

Customer Service

Price

Winning Product Potential
Summary
Finding the right product to sell can be difficult, so Niche Scraper made it a mission to help make this process easier for everyone. It helps you identify profitable niches and products, as well as spy on your competition to see what's selling and how they're doing it. Try Niche Scraper here!
Pros
In-depth information on successful stores
Niche Scraper's team gives you winning products
Access to Tiktok and FB ads data
Serves as inspiration for marketing angles
More timely Aliexpress sales data (you can't access this anywhere else)
The free trial
Cons
He's a one-man-shop
Competitors have access to the same products you do (saturation)
The video maker is lackluster
You cannot scale with the suppliers Niche Scraper recommends
Niche Scraper's 5 Main Features
These are Niche Scraper's five most useful features.
Product Scraper
The product scraper analyzes millions of products to identify which ones have demand inside a market. It's Niche Scraper's bread and butter.
Inside Product Scraper, you have access to three product research tabs: 
Aliexpress Products
Shopify Products
Amazon Products
The Aliexpress product research tool helps you identify which products are selling now.
Most beginners only leverage generic Aliexpress data. For example, when they look for "Best Sellers," Aliexpress shows sales data for the last six months – not helpful!
With Nichescraper, you'll have access to this week's data (seven days). As a result, you'll spot trends faster and get a jump on the competition.
The Product Scraper gives access to three relevant metrics:
Growth: How fast is this item growing? Is it trending up or down?
Competition: How many different dropshippers are selling this item? (The ideal score is anything under 30)
Aliscore: Aliscore shows a total rating of how good the product is (combines growth rate, competition, and reviews)
On the other hand, the Shopify products tab helps you research your competition.
Let's say you have your eye on a successful store. You can piggyback off their product selection by spying on what they're testing.
Store Analysis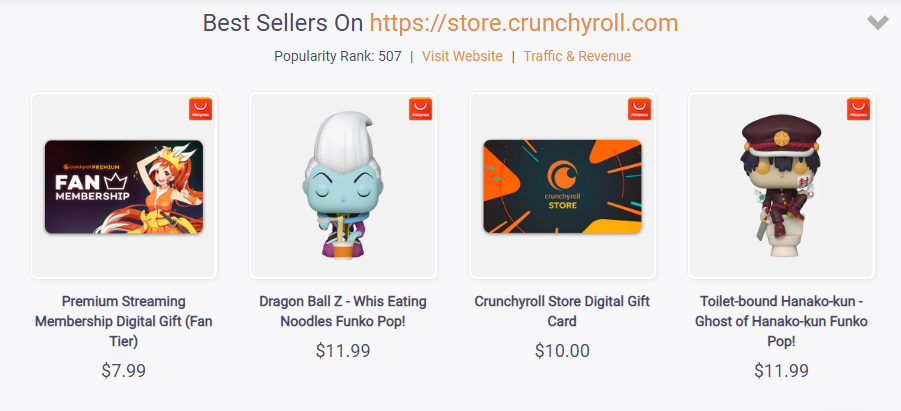 Store analysis lets you spy on another top Shopify store to reveal their best-selling products, store popularity, traffic data, sales estimates, and more. It's similar to the Shopify Products tab, except it uses stores as the search parameter.
Are you curious to know who your competition is? With Niche Scraper's store analysis, you can use a dropshipper's domain name and get access to their:
Estimated monthly traffic
Estimated monthly orders
Product list
Store niche
It's a great way to understand how successful stores operate.
Handpicked

Niche Scraper's Handpicked product feature takes the guesswork out of product selection, giving you an edge in finding hot products!
Niche Scraper's team also reviews each product alongside trends, sales, and pricing information.

Within this section, you get access to a lot of great marketing inspiration that you would have otherwise had to find on your own.
But it's also a double-edged sword. If many sellers have access to these products, they can quickly become saturated.

Within this section, you'll have access to the following:
A product description
Recommended selling price
Product cost
Profit margin ($15-$80 products)
Supplier (we don't recommend using the supplier!)
Example ad copy
Example video ad. These are great for examining comments, how customers like the product, and marketing angles.
Use this tool as a jumping-off point only! Copying what other drop shippers are doing leaves you vulnerable to competition. You also put your store at risk of Shopify DMCA notices, and it could get shut down.
Instead, think about how your dropshipping store can serve a unique purpose for your target audience.
Create customer personas and deep dive into their fears, needs, interests, and pain points.
Advertising expert Drew Eric Whitman recommends digging into the "Life Force 8" (human evolutionary needs we must satisfy to survive).
After you select a handpicked product, use these to craft a unique angle that the marketplace has yet to see.
And voila, let the Shopify sales roll in.
Adspy
Adspy also helps you find the most successful ads on Tiktok and Facebook. Again, this provides tangible proof of concept of what is selling well (and how they're selling it).
The filters give you access to the following:
Likes
Comments
Direct link to the ad
Direct link to the landing page
You can use this data to ensure your product is marketable before launching a campaign. It's perfect for brands wanting to understand what trends in their niche are hot.
Video Maker
The Video Maker tool helps you quickly create product videos without expensive video production costs.
Now, that all sounds great. But if you commit hundreds of dollars to a proper test, you need to make sure that your video stands out.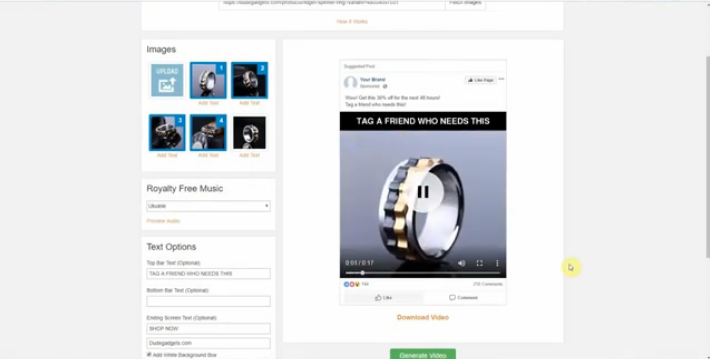 Think for a second. Do you want to cut corners on this part of the process?
To make money, you need a compelling, eye-catching ad that'll grab viewers' attention and pique their interest.
So, more importantly: can this tool create an advertisement that converts?
Maybe it can. I'd call the videos average and generic-looking at best.
Making high-converting videos requires skill and ingenuity. There's no quick fix for this one, unfortunately.
At the end of the day, your product is only as good as your story. Testing products is an expensive pursuit, especially for beginners who don't have all the skills.
Investing time and money into a quality video is 100% worth it because you will lose money on the ad spend if your video isn't up to par! That's why this tool is misleading.
Niche Scraper swung and missed with this feature.
Niche Scraper Review: Pros and Cons
Here's our take on the pros and cons of Niche Scraper!
In-depth information on successful stores.

Offers products reviewed and verified by the Niche Scraper team.

Access to viral Tiktok and Facebook ad data in one place.

Tiktok data capability makes this tool unique.

Provides proof of concept before you commit advertising dollars to a campaign.

Serves as inspiration for marketing angles.

It gives you access to more timely Aliexpress sales data (you can't access this anywhere else).

The free trial allows you to test the waters before you commit.
He's a one-man-shop.

Sellers have access to the same information (saturation).

The video maker can't create ads that convert.

Supplier recommendations. Unfortunately, these are primarily from Aliexpress suppliers. With these suppliers, you can expect long shipping times, and lack of control over the order fulfillment process.
Niche Scraper Pricing
To begin, Niche Scraper gives you a free plan with limited access to features like product finder, Aliexpress sales data, and video maker.
The Niche Scraper Pro Plan begins at $49.95/month and offers more comprehensive features such as Adspy and Shopify store analysis.
Currently, Niche Scraper is giving a discount code to access pro at $199/year.
There is also a 7-day money-back guarantee. That's quite forgiving if you decide that the tool isn't suitable for your business.
Who Is Niche Scraper Designed For?
Niche Scraper is designed for entrepreneurs, marketers, and e-commerce businesses looking to find a profitable niche and products quickly.
The tool is handy for starting, as it can help you pinpoint winning products before they become too saturated.
What Are People Saying About Niche Scraper?
Niche Scraper currently holds a 2.8-star rating on Trust Pilot, likely due to the small sample size of 4 reviews.
It is hard to draw significant conclusions from such a small sample size, so it would be wise to take this rating with a pinch of salt.
As someone who scaled dropshipping products with great success, Niche Scraper deserves a higher rating than it currently has.
Furthermore, the founder and Ex-Instagram Engineer, Eric Smith, is very responsive to his customers' questions and feedback – which certainly helps increase user trust in the product.
Admittedly, only a few people are talking about Niche Scraper.
So, I went straight to the source: the founder Eric Smith.
Eric Smith tweeted that he does his own customer service, which shows that Niche Scraper is a small operation, but it also shows he cares about its users.
He's also semi-active in his Facebook community, "Let's Talk Dropshipping," where I saw he offers value in advertising and niche-selection strategies.
One of the reasons why people might not be talking about Niche Scraper is because Eric Smith is concentrating on other ventures like Copygenius.io.
As of late, it appears Niche Scraper is growing again.
According to Eric, the Tiktok trend is attracting more Niche Scraper customers. So we can see the conversation picking up steam in the near future!
Niche Scraper Alternatives
Here are some alternative products that offer similar services in case you're still on the fence.
EcomHunt
EcomHunt is a popular alternative to NicheScraper, and for a good reason. It offers similar features such as dropshipping products finder, Aliexpress data, and Facebook and Instagram ads.
The biggest draw to EcomHunt is its product research capabilities. Specifically, I like the 'Trending' section, where you can find the latest top-selling products and viral trends in e-commerce before anyone else.
While this product research tool doesn't offer Tiktok advertising spy capabilities, it does give you more flexibility for pricing options. They also provide educational resources such as webinars and tutorials to help new e-commerce entrepreneurs get started.
EcomHunt is active in amping up features and reviewing products on its blog, which provides a lot of great insight for users.
Ready to find your next profitable product?
Please read our full EcomHunt review here.
---
Pexgle
Pexgle is a comprehensive Niche Scraper alternative. 
Using trending product data from AliExpress and Shopify, as well as competitor Facebook ad data, Pexgle's AI-powered algorithm generates daily product picks to keep your store stocked with the latest trends. 
Moreover, Pexgle continues to improve its services by listening to customer feedback and releasing new features to keep up with the ever-changing eCommerce market. That's a significant difference that separates Pexgle from Ecomhunt or Niche Scraper.
Niche Scraper Review: The Verdict
Ultimately, your goal is to find a "diamond in the rough" winning product. You want a product with a high potential to sell, one that's already proven to sell but has yet to be saturated.
Can Niche Scraper help you find that? Yes, it can! Plus, the pricing is very affordable. In any case, it's worth trying to explore its potential.
Keep in mind the dropshipping eCommerce market is rapidly changing!
Increasing customer expectations and supply chain challenges are now the norm.
Sellers can expect significant disruptions to production, like pandemics, trade tensions, wars, cyber attacks, and climate-related events.
66% of brands expect more disruptions in years to come.
You must rely on something other than your run-of-the-mill Aliexpress supplier to adapt to these challenges.
All in all – Niche Scraper is a solid resource for identifying winning products. It is not a fulfillment solution or a quality video maker, and that's okay.
Once you find that winning product with Niche Scraper, connect with a private seller who can ensure the following:
Quality
Reliable delivery times
Competitive prices.
Happy dropshipping!
Zendrop is an excellent place to source quality private suppliers.
If you specifically want to improve your eCommerce marketing skills, we recommend these dropshipping courses.