Whether you're running ads for a product you sell, or using affiliate links in your blog content, knowing exactly which links are getting the most clicks—and, more importantly, which links are actually converting—is key to maximizing your ROI. ClickMagick is a link-tracking tool that accurately tracks clicks and conversions so that you can optimize your marketing and scale your business. In this ClickMagick review, we're taking a deep dive into what makes ClickMagick stand out from other similar tools in the market, including its pros and cons, so that you can decide whether or not it's right for you.
In a rush? Don't worry! Here's a quick TL;DR.
If you're looking to increase your conversions, ClickMagick is a must-have tool. It gives you accurate click data on your ads and marketing campaigns to see what's working and isn't.
It works with all advertising and social media platforms; best of all, it's super easy to use. This tool is a no-brainer if you want to increase ad ROI.
Want to know more? Keep reading the full ClickMagick review for everything you need to know about this powerful tool.
---
ClickMagick Review

Ease of Use

Stability

Customer Service

Price
Summary
ClickMagick is one of the most user-friendly click-tracking tools around. It offers accurate data on all your tracked links, allowing you to optimize your ads and maximize your profits. ClickMagick offers a free 14-day trial, so you can test it out before making a decision.
Pros
Easy to use
Real-time mobile updates, notifications, and metrics
Tracks iOS users
Very reliable with little downtime
Integrates with Google ads
Cross-device tracking
Phone and offline sales tracking
Automatic bot filtering
Easy integration for Google Analytics and other SEO tools
Excellent customer support
Cons
There's a learning curve at first
You'll need to enter your card details for access to the free trial
ClickMagick Review: Key Features
ClickMagick enables you to easily monitor and optimize your campaigns' performance by using accurate data to make the right decisions.
It basically helps you identify which ads are working well so you can double down on your efforts. More importantly, it also highlights any ads that aren't working so that you can stop wasting time and money on them.
Here's a closer look at the ClickMagick features on offer.
Link Tracking and attribution
Whatever line of business you're in, if you're looking to share links to make money, then having data surrounding them is essential.
It's all well and good creating links you think people will want to click on, but everything becomes guesswork without the analytics to back this up.
ClickMagick offers a range of link management and link tracking features. This means that you can track your entire sales funnel and always be in control of exactly how your landing pages, blog posts, and sidebar adverts are performing.
ClickMagick can track:
Opt-ins
Sales
Items added to cart
Email clicks
Button clicks
And any other types of links you want to include in your content.
It can also track offline conversions. So even if your customer calls and makes a purchase over the phone, you know exactly which ad it was that converted them.
You can set up ClickMagick to track individual links or whole campaigns. This will give you access to a whole host of analytics and data that can help you tweak any advertising campaigns to ensure they're working as well for you as possible.
Setting up a tracking link is easy. Once you've created an account, simply click 'Create new link' and fill in the details as directed. Here you can add tracking pixels, traffic cost (to help you calculate your net profit) and adjust your geotargeting preferences.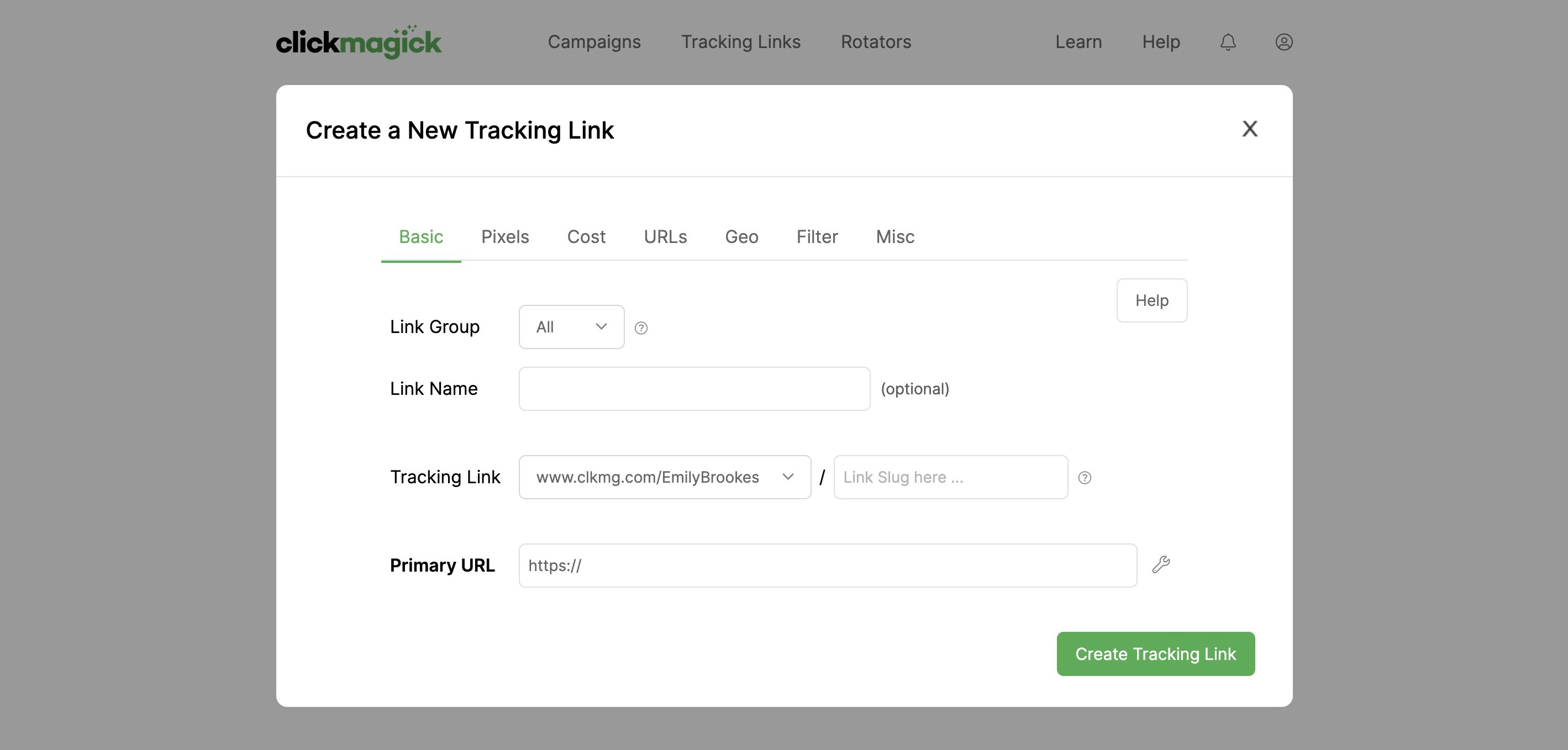 Click fraud protection
If you've ever been the victim of click fraud or malicious bot traffic, you will know how frustrating it is.
The good news is that ClickMagick provides the tools you need to ensure that your campaigns work as efficiently as possible. This includes several features designed specifically to assist you with combating bot traffic and click fraud and monitoring traffic quality.
It uses self-learning AI to ignore and isolate 99.9% of bot traffic to ensure that it can't generate fraudulent clicks. On top of this, Click Shield allows you to deal with any bots that slip through the net and anyone who may be clicking on your links for less than genuine reasons.
Ad optimization
ClickMagick's ad optimization tools give you accurate real-time data for every ad you run.
You can view:
Clicks
Conversion rate
Profit
AOV
ROAS
And once you've got this data, you can use it to tweak your ads to optimize your conversion rates. You can also quickly turn off any ads that aren't profitable and double down on the successful ones, maximizing your ROI from ads.
ClickMagick Review: Affiliate Marketing
ClickMagick has a range of affiliate tracking tools designed specifically to help affiliate marketers make more money from their links.
One of the best features is the Affiliate URL Builder, which enables you to create tracked affiliate links in seconds.
You must enter your affiliate link into the URL builder and the associated affiliate network. You can then use the tracking link it generates within your content and ads, safely knowing that every conversion will be accurately tracked.
This is a game-changer for affiliate marketers, as it allows you to double down on the type of content producing the highest conversions.
You can even use ClickMagick to create dynamic affiliate links, so if you dislike the landing page for the affiliate product you are promoting, you can create a new landing page of your own and send traffic to that instead.
Another great feature ClickMagick includes is Postbacks, which is server-to-server tracking. This is undoubtedly the most accurate way to track affiliate conversions and can give you a huge edge over your competitors.
Who is ClickMagick Best For?
ClickMagick's click-tracking software is suitable for anyone looking to optimize their conversions online.
This includes:
E-commerce business owners
Service providers
Affiliate marketers
Lead generation experts
With the ability to track entire sales funnels through the ClickMagick dashboard, it really is suitable for online marketers at all stages of their journey.
Is ClickMagick Easy to Use?
Yes, overall, ClickMagick is refreshingly easy to use. Most users agree that it isn't hard to get to grips with because a lot of what it offers is so intuitive.
However, if you are struggling, then ClickMagick has a comprehensive 'Knowledgebase' on its website. Here, you will find a number of the common queries they have and detailed answers to them.
ClickMagick is also known for having a super helpful customer support team. So if you can't find what you need in the knowledgebase, you can get in touch with a support team member who will guide you through what you need to do to solve your issue.
This is great news for anyone new to software of this nature because it means they can feel confident that they will be supported through the whole process.
That being said, just like any other software you use for the first time, there is a learning curve. However, it's all about practice and getting to grips with what different features do.
ClickMagick Pros and Cons
Easy to use
Real-time mobile updates, notifications, and metrics
Tracks iOS users
Very reliable with little downtime
Integrates with Google ads
Cross-device tracking
Phone and offline sales tracking
Automatic bot filtering
Easy integration for Google Analytics and other SEO tools
Excellent customer support
Free 14-day trial
There's a learning curve at first
You'll need to enter your card details for access to the free trial
ClickMagick Pricing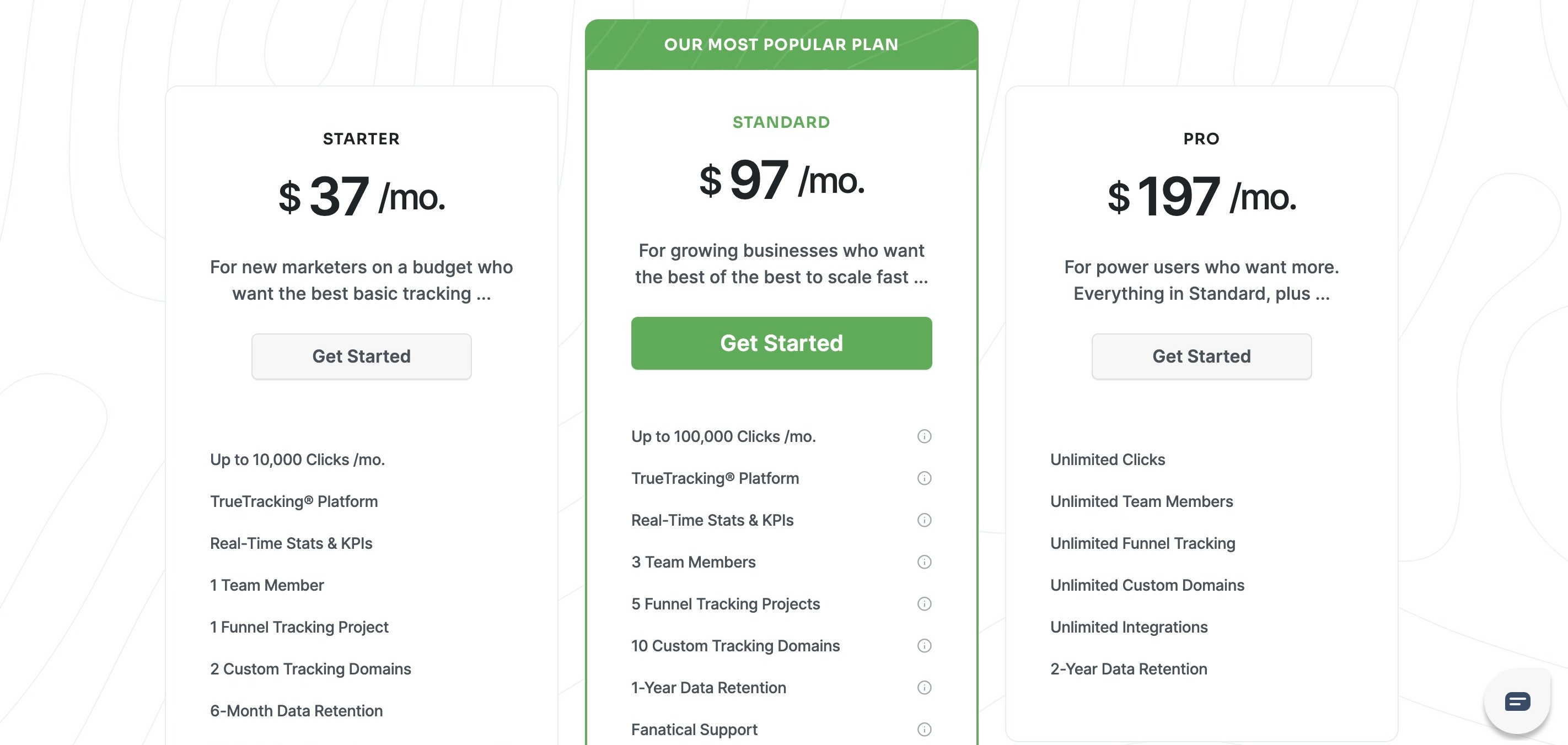 ClickMagick's plans are generally based on how many clicks you want to track each month. However, each plan has slightly different features too.
The great news is that every plan has a 14-day free trial that you can take advantage of, so trying ClickMagick and ensuring it is the right option for you is easy.
Starter – $37/month. Up to 10,000 clicks per month, 1 team member, and one funnel tracking project across two customer tracking domains. Data is retained for six months. This plan includes basic online support.
Standard – $97/month. Up to 1000,000 clicks per month, 3 team members, and five funnel tracking projects across ten custom tracking domains. Data is retained for 12 months.
Pro – $197/month. Unlimited clicks, as well as unlimited team members and unlimited custom tracking domains. Data is retained for 24 months.
You'll need either the Standard or Pro plan if you want to access features such as:
Audience optimization
Mobile app
Cross-device tracking
Offline and phone sales tracking
Click Shield for PPC
Auto cost updates
Live chat and zoom/phone support
ClickMagick Review – The Verdict: Is it Worth The Money?
Overall, ClickMagick offers outstanding value for money. It's easily one of the best (if not THE best) click-tracking tools around—primarily because of its accurate data, user-friendly interface, and super helpful support staff.
Although $97/month may seem like a lot for small businesses, if used properly, this software has the potential to skyrocket your conversions. So as long as your website is generating a good amount of traffic, to begin with, you should see a decent ROI pretty quickly.
ClickMagick Alternatives
Hopefully, this ClickMagick review has helped you decide whether or not ClickMagick is the tool for you. However, if you're still undecided, you will be pleased to know that when it comes to link tracking software there are a couple of other good options to look at.
It's always worth taking advantage of the free trials that most tools offer. That way, you can be confident that you have made the best choice for you and your business needs.
ClickMeter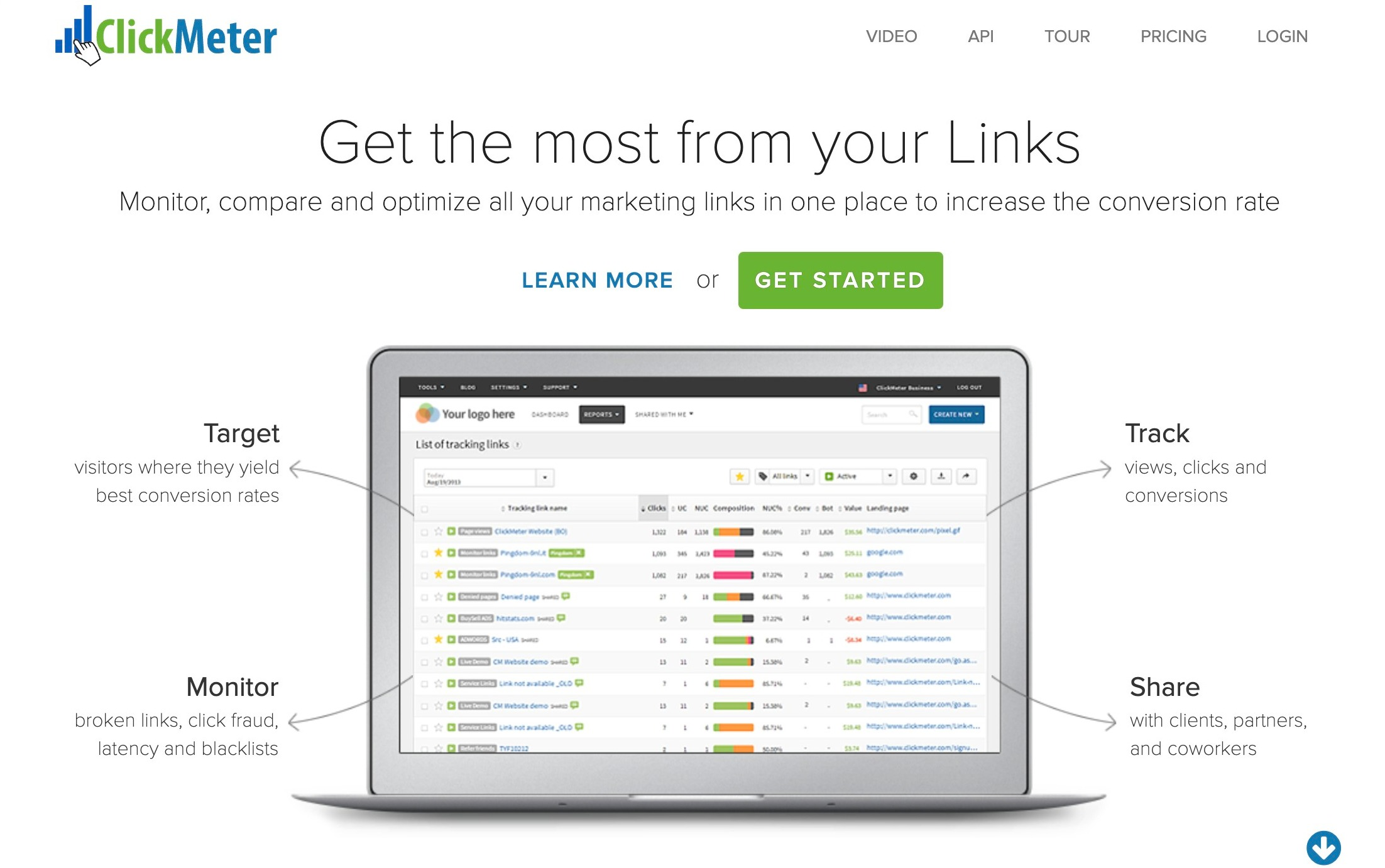 ClickMeter is a popular link tracking tool that allows you to monitor all your links in one place. Similarly to the ClickMagick tracking software, you can generate tracking links in seconds to use in your ads and content and monitor them in real-time from your dashboard. It also includes an A/B split testing rotator on all plans.
It doesn't have as many features as ClickMagick, and it's not as user-friendly. However, it does offer excellent value for money, so it's a great option for anyone on a budget.
Voluum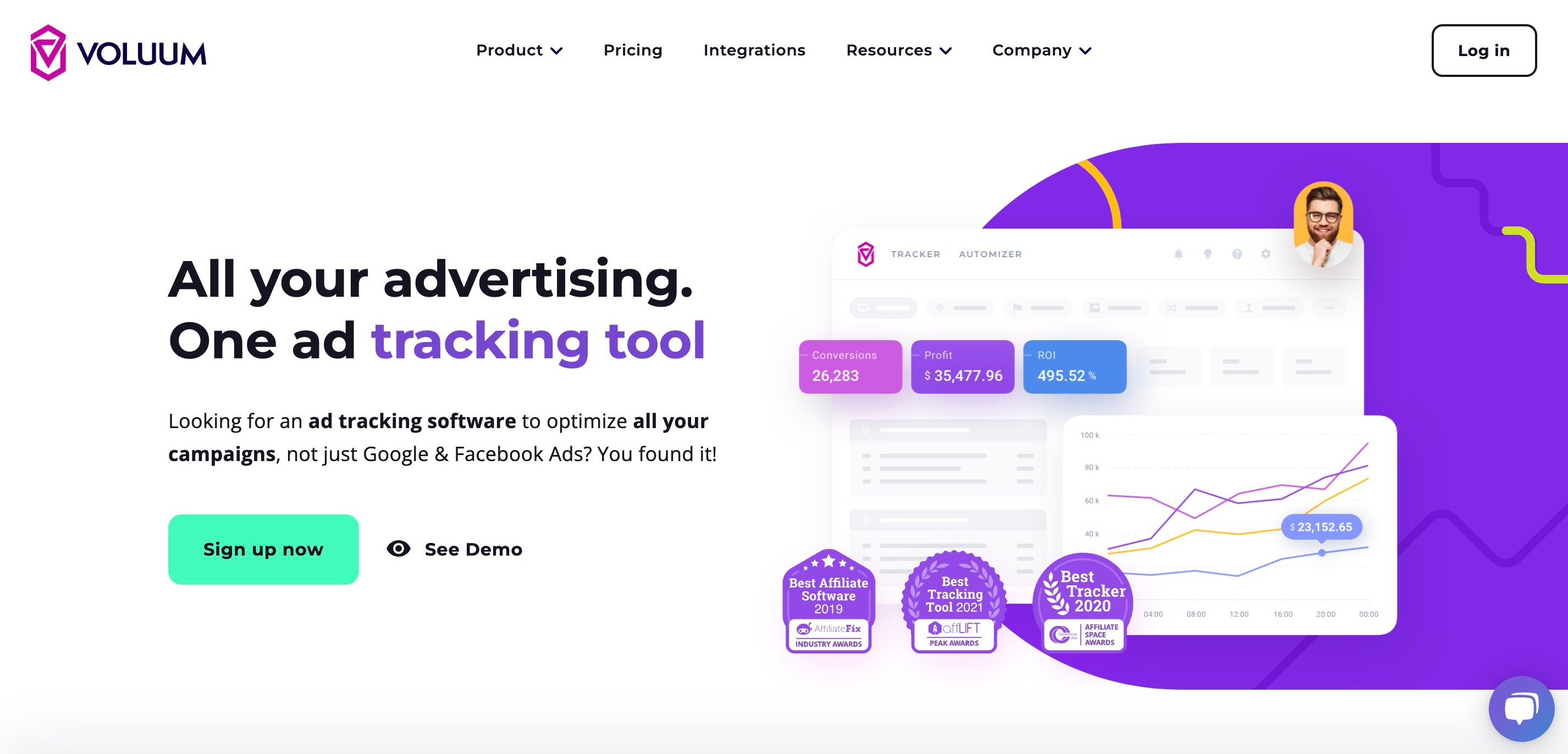 When it comes to tracking links, ClickMagick and Voluum are the two tools that are probably the most similar. Voluum is packed full of useful features, including a mobile app that is available on all plans. It has great team collaboration features and includes live support.
It is slightly more expensive than ClickMagick, but overall it's a great choice for larger businesses.