When Aleksandr Duchenchuk started his own software development company, his approach to client relations was different from the start.
For Aleksandr, it's not just about building software, it's about building relationships with people. At Moai Team, he and his now 20 employees are so fully immersed in their clients' businesses that traditional work relationships become long-lasting friendships and partnerships.
This strategy and other successful approaches allow this native Ukrainian entrepreneur to bring home $60k/month.
Keep reading to find out:
Why he created Moai Team
What his biggest projects are about
How much money he's making
What a typical client pays for his services
What SEO tools he uses
What marketing strategy works best for him
What resources and tools he uses to grow his company
His greatest challenge
How he works with charities
His main accomplishment
His biggest mistake
His advice for other entrepreneurs
Meet Aleksandr Duchenchuk
I'm a co-founder and CEO of Moai Team, a software development company. 
After 7 years in digital marketing and 6 years in product development management, I decided to start my own business. 
The name of our company comes from the Japanese word moai, which means "gather for a common purpose." We chose this name because we do not simply write code. We work closely with our clients to develop strategic solutions that help them achieve their goals.
I'm married to my best friend, who has been a huge support system throughout all the ups and downs. And we have two beagles.
Why He Created Moai Team
I worked together with Den, the co-founder of Moai Team, at several startups as a CPO and CTO. After working together for a while, we assembled our team of specialists to assist startup founders and entrepreneurs with their digital product development needs.
Moai Team has been in business for four years and has grown steadily. We have worked with clients across diverse industries: eLearning, media and entertainment, eCommerce, and more. 
We've developed a music investment platform called Djooky with 200,000 users from over 140 countries. The Android app alone has over 100,000 users. We also created a cloud-based file-sharing service with more than 3 billion files uploaded; a SaaS platform called SmartExpert, which helps companies improve employees' competencies; and Addictive Learning, an EdTech platform that helps educators launch online courses.
We also made Voicer, a customer feedback management system, and 777SCORE, a statistics portal that offers scores, statistics, and live results for sports events worldwide. It provides information from official sources, and you can easily find a game from any league, including the minor national championships. 
How Much Money He's Making
A typical check per client averages $10,000 a month. We limit ourselves to no more than 10 projects at once as we deeply delve into our client's business processes. We don't just work on the technical aspect of projects but also share our expertise from the marketing, business model, and user experience perspectives.
We have one revenue stream—turnkey software development. However, we plan to add product and technical audits and consulting. Let's see how it will play out.
It took us about 11 months to reach our first revenue peak. I work at least 250 hours per month on the business.
Currently, our clients come from word-of-mouth referrals, our affiliate network, or advertising, and there are 20 people on the team at Moai.
His Top Marketing Strategy
Our main strategy is content marketing. 
We strive to provide the highest quality information to our customers to help them find the solutions they need. And we don't just write articles—we create resources that people can use to better inform their decisions.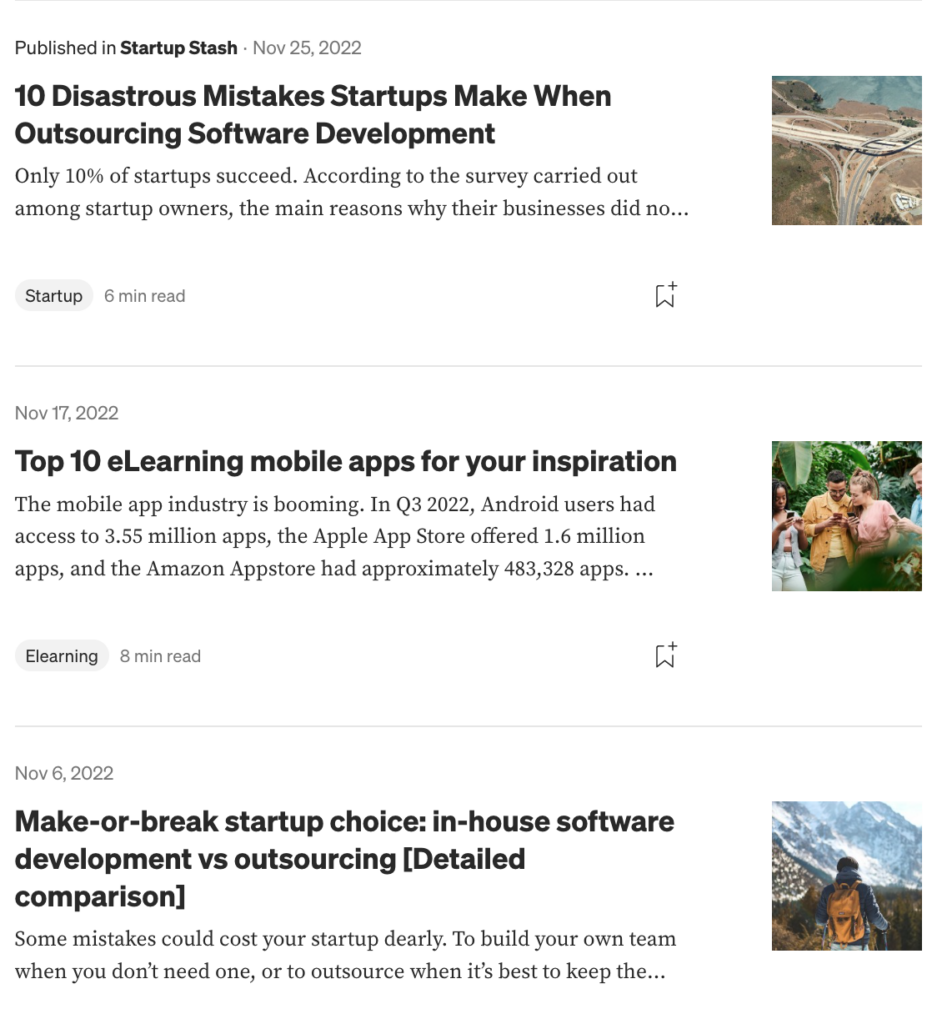 We strive to provide potential clients with maximum value even before signing a contract. We don't just sell them a service, we advise them on what they need, offer prospective clients our consulting services at no charge, discuss their ideas with them, and provide meaningful content to help them get where they want to go.
We have a lot of great articles on LinkedIn and Medium at the moment as we are rebuilding our website.
What sets us apart is that we are deeply immersed in our clients' businesses. This has helped us to establish a level of trust that has allowed us to move beyond the traditional boundaries of a technology firm. Many clients have gone from cold leads to "let's go to the bar!"
The founders personally work with each client, helping them build and grow their products. We work with 20 customers who are like family to us.  We are committed to helping our customers succeed, not just making a quick buck by accepting 1,000 random projects.
The Importance of SEO
SEO is crucial to the success of any website. It's not just about getting more traffic, it's about getting the right traffic. 
Our overall strategy is to create content that people want to read and make sure it is closely aligned with what Google wants to see in its search results. We do this by following best practices and staying up-to-date on algorithm updates.
We primarily use tools like Surfer SEO, Ahrefs, and SEMRush for this.
Breaking Into the Software Development Market
The software development market is a highly competitive but rewarding space. If you're willing to put in the work, you'll find plenty of opportunities.
The reason why we had an easier time making it in the industry is that we have a lot of experience in this field. Our ability to meet deadlines and provide quality work to our clients has been key to our success. This is why they continue coming back to us to get their projects developed by us.
We also keep up with technological developments to stay current on trends and changes within the industry. We do this by reading blogs and videos, listening to podcasts, keeping up with news, reading TechCrunch, etc.
Aleksander's Favorite Resources
Our favorite resources are the book Rework, the Atlassian blog, and the Y Combinator Startup School. These resources teach you how to be fast, flexible, and structured with robust processes.
His Top 3 Tools
We love Notion, which is a multi-functional tool—we use it as our CRM, as a database for project materials, as a development board, for HR data, personal notes, and much more. It's "entrepreneur's penknife".
We also use Miro, for planning, modeling, and ideation, and Google Suite is our other go-to for corporate mail, cloud storage, and for working with documents.
His Biggest Challenge
When the war in Ukraine started, our female colleagues went abroad, and men were forced to move from their homes to safer cities. Eventually, our team became distributed.
AVILOVA Fund is a charity that aims to replace windows for buildings damaged by explosions in Ukraine. 
Happy Family is a non-profit organization that assists refugees displaced by the crisis. More than 5,000 people are given emergency assistance daily, including food and water.
We believe that giving back is not just an option—it's part of what makes us human.
Aleksandr's Most Important Accomplishment
My most important accomplishment is that my business continues to grow during a war when my team members are scattered across the country and worldwide. 
Everyone was under shelling, under rockets; the light and internet were gone. But we got bigger and stronger.
What He Wishes He Knew When He Started
I wish I had known about account-based marketing (ABM) and how it works. 
It's a great approach for software development companies. ABM aligns sales and marketing efforts to deliver targeted advertising and personalized content to high-value accounts. 
His Greatest Mistake
My biggest mistake in my journey was leaving classical entrepreneurship for trading. Trading, not investing.
That was back in 2017-2018. I started trading cryptocurrency; I got drawn into it, but there was not enough commitment. As a result, trading did not work out.
His Advice for Other Entrepreneurs
I would say stop being afraid. Set goals and make a plan to achieve them. Never stop learning.
Regularly explore the market. Do not lose touch with reality by acting without careful consideration.