Some people's path in life might lead them to work in industries that might be a bit "dry," life insurance. But not Azhelle Wade. Azhelle knew from the start that she was cut out to excel in something a little more "fun."
She graduated with a degree in toy design and went on to enjoy a solid career in toy development. After earning 3 patents for her unique creations, holding leadership roles in multiple companies, and building up million-dollar brands, Azhelle decided it was time to pivot.
She became The Toy Coach, dedicated to helping others create and market their toys. Now she's running her business, starting a YouTube channel, and hosting a podcast, and she's on her way to earning multiple six figures per year.
Keep reading to find out:
What toys she earned patents for
What happened after the pandemic
Why she created her academy
How much money she's making
Where he income comes from
Her marketing strategies
How she uses SEO to get ahead
Her approach to keyword research and link building
How she grows her email list
The resources and tools she uses
Her greatest challenge
Her biggest accomplishment
Her main mistake
The advice she would offer other entrepreneurs
Meet Azhelle Wade
My name is Azhelle, I'm 34 years old, and I'm a toy designer and consultant from New York. I went to school at the Fashion Institute of Technology, but my major was toy design. 
I was a doll design intern at Madame Alexander and it was the most fun job ever. Eventually, my first real full-time toy job was at a company called Horizon Group USA, where I designed innovation-focused toys. 
And at that company, I earned three patents on the four inventions that I designed for toys in the arts and crafts space. 
My first patent was for a product called Zip Screens, which was sold at Walmart. It was a patented screen printing system that simplified the entire process, removing the frame, squeeze, and paint bottle typically needed for screen printing. 
Instead, it was a simple one-time-use paint packet with a plastic squeegee attached to the back of it. Users could tear, squeeze, and screen print in seconds with easy clean-up! It was revolutionary! 
My second and third patents were for an item called The 5-in-1 Friendship Bracelet Creator. At the time I interviewed a jewelry designer and learned about all of the different types of friendship bracelets someone could create and the tools they would use to make them. Then I combined all of those tools into one tool that would allow the creation of 5 very different friendship bracelets.
Her Corporate Experience
I later worked for Toys R Us as the Global Head of Design for Journey Girls, You & Me, Just Like Home, Baby So Sweet, Happy Together, and I had a dual role as the Global Product Manager for the brand Totally Me! That dual role allowed me to travel to China to finalize my products on a factory level.
The designers at that time at Toys R Us are the ones who conceptualize and illustrate what things look like, while the product managers are the ones who keep the product development schedule, figure out the materials, work with the factories, and decide what a toy is made of and how much it will cost. They travel overseas to China to make all that happen. So that's why I held those dual roles, because I wanted both of those experiences. 
After Toys R Us, I went to a company called Party City and worked on party decorations and invitations, and after that I got a job as the VP of Brand and Product at a toy company called Creative Kids. 
I worked there for a while building million-dollar brands up and I hired a team. I built out processes. But after the pandemic, my priority changed course. I decided that I wanted to try my hand at entrepreneurship. 
After building a little bit of notoriety for myself, I launched a course called Toy Creators Academy and now I have this full circle moment where I am teaching people how to develop kids' products, which is what I always wanted to do. 
Additionally, I get to work with one-on-one clients and actually help them sell and develop their kids' products. So I still get to do the design, and I get to do a little bit of sales, and I get to do some teaching. It's a lot of work, but it's a ton of fun. 
Why She Created The Toy Creators Academy
I created the course because, when I was working full-time in the toy industry, I met somebody who said they had an amazing idea for a game. I asked them to provide me with information so I could pitch the game to my boss, and they just didn't know what I needed. They needed a lot of help, a lot of guidance. 
And I just didn't have the time to help them. I tried to squeeze it into my work, but I just didn't have the time. 
So I started thinking: I wish there was a resource that I could point them to that says, "This is what I need you to do." So I created one with my boss's blessing. I created a podcast called Making it in the Toy Industry to explain to people what we need to see when you want to pitch ideas to us. That podcast grew because I promoted it by going on other shows. 
And by chatting in groups with other podcasters and through that podcast, I gained my first clients, and that gave me the time and freedom to develop the course and launch it. 
I do my best to promote with ads online to find new people that might need this program. And when I get into the program, I do my very best to make sure everybody has the best experience possible and get as many connections as I can provide and that their ideas are in front of the right people at the right time.
How Much Money She's Making
Currently, with my toy business, I'm generating 6 figures per year, and I'm getting closer and closer to my goal of multiple six figures per year.
My revenue is about 50% from my course and 50% from 1:1 clients. Toy Creators Academy started in September of 2020.
I would say I work on my business at least 6 hours a day every day. On Sundays, I might work for just 2 to 3 hours if I'm in a launch of the live version of my program. I do take Fridays off from meetings and I'm working on building a more balanced schedule for myself. I'm still in a growth phase. I'm still in the learning phase. 
We're still working with a really lean team, so I work a lot on my business but I do take a lot of breaks to be fair, because it is my business. For example, today, as I'm answering these questions, I'm starting my workday at 11:00 am, and I took the morning to run and go to get coffee and relax a little bit because I had a hard couple of days. So I do the time, but it's not on a typical schedule. 
Right now we have 5 consistent contractors working on The Toy Coach.
Azhelle's Top Marketing Strategy
My number one marketing strategy when it comes to growing my business is currently my podcast. And the unique marketing strategy that I'm probably using that others don't use as much would have to be transcribing my podcast. 
Often people say transcribing a podcast isn't worth it, but what I've come to realize is that's true if you have an interview-heavy podcast that isn't structured, like a blog post, and it isn't structured with specific key takeaways and in an organized manner. 
I found that it's better to do more solo episodes that are more scripted, and having transcriptions of those scripted solo episodes is really valuable to my SEO. Focusing on SEO so far has been a great thing in my business. 
However, I'm very aware that there are major changes coming to SEO because of AI. And I'm being agile to adapt to those changes. It's easy to want to stick your head in the ground and say, "No, I'm doing what worked forever," but what I'm trying to do as an entrepreneur is to stay on top of trends, to stay on top of changes and pivot my business in line with those changes. 
One big SEO measure that I implement which most people overlook is naming your images for SEO. Last year I did a major overhaul in my SOP and podcast to rename all images uploaded on my site so they're SEO-friendly. 
In regards to AI, I think we'll see a lot of competition coming in the next few months for blogs and articles. The important use I see for AI is to save time and money on less important tasks, like writing a description of a YouTube video, and instead use that time and money on building a really great script for a YouTube video. 
So, I think at first AI will result in an overload of excess low-quality content, but once people refocus the extra time they're getting back, we'll see higher-quality video content as a result.
The Importance of SEO
SEO is super important to my business and my overall business strategy. So many people tell me that they found me because they're looking for the name of my business. They're looking for a toy coach when I was choosing the name, the toy coach. I chose it because my own name is difficult to spell and probably difficult for people to remember when they first hear it. 
I wanted a name that was easy to remember and a name that easily explained what it is I was doing, so that's how I came up with it. As The Toy Coach that name in itself has been incredibly important to my SEO.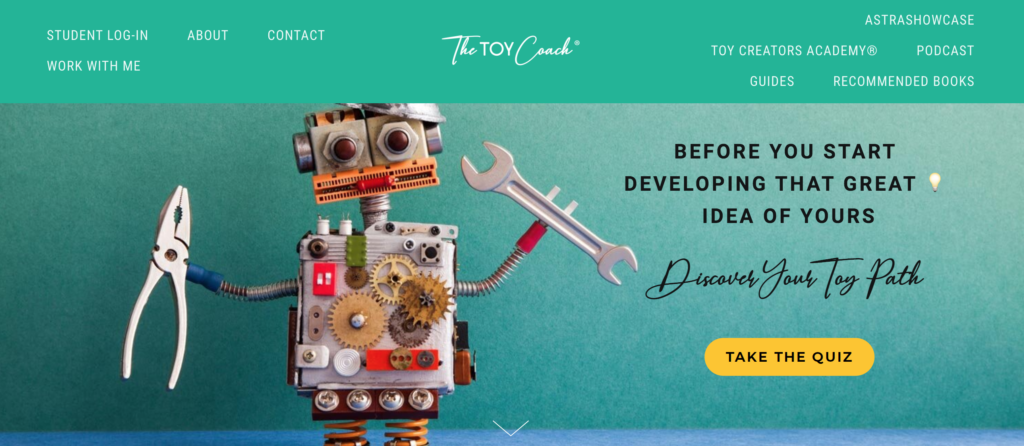 Your brand name needs to be well thought out, easy to understand, and catchy but also not overused. You don't want people searching your name and finding three other people who aren't you. 
One of the biggest benefits of having the name, The Toy Coach, is when I go on other podcasts or TV shows, is that simply by them writing "The Toy Coach" was a guest on their show, it increases my visibility tremendously. 
It's a unique name, very distinctive yet easy to remember, and just having other sites with higher site scores repost that name increases my own visibility. Let's say I get featured on a podcast that has 5 million listeners when they post the words, the toy coach to their blog. 
Their blog or their podcast already has so many visitors and viewers that now, if you search the words "the toy coach" and something other than my website would come up now, their website jumps to the top of the Google search, which is featuring an interview or a feature on me. 
So having a name that is great for SEO is not only good when you're building your own page and your own site, but it's also incredible when you start getting featured on larger platforms because they already have that built-in SEO, so that your name will come to the top with the help of their platform. 
Keyword Research 
For my keyword research process and strategy, I use a tool called Ubersuggest by Neil Patel. I love that tool. You don't really have to have a strategy because it makes it super easy. You just press a button and it does keyword research for you, tells you what you're ranking for, tells you what your competitors are ranking for, and then tells you what to write blog posts about. I love that tool. 
Link Building
I've heard link building is important but I'm not doing it intentionally. What I've tried that works is getting featured on other shows and providing value to their audience, and then they will hopefully link back to you. 
Also, I've found that reaching out to people and to other blogs and sharing my blog posts, and suggesting that they link to it because it has good information is also helpful. That being said, link building isn't is not something I'm super focused on at the moment. 
Her Content Creation Process
What I focus on most is my weekly podcast on Wednesdays. So, depending on if it's a scripted episode or an interview episode, our process differs a little bit. Essentially there's a script, whether it's a full script for my solo episodes or it's questions for the interview guest. After we do the recording, we pass it on to an audio editor who edits that. 
Then it comes back to us for copy editing, editing, transcription, and the description of the episode. And once all of that is done, the audio editor will upload it to all of our platforms. 
What I've found is that there are some tasks in your business that are best handled by an external team. For me, it was my podcast. Hiring an internal team to manage everything having to do with the podcast actually ended up being more work for me. 
What ended up being more cost and time effective was hiring an outside agency that could take over the entire podcast management process. When I first started, I couldn't afford an agency for my podcast, so I made do with a small team putting in extra hours. But eventually, we got to the point where the time and cost relationship of having a small internal team versus a larger outside agency just didn't make sense. 
I recommend re-evaluating your business every year to see if you're really putting your money in the right places, because sometimes you think it's cheaper to hire somebody and train them, when in reality it'd be cheaper to hire an agency that already has several employees that can do the job. They'll do it faster, more efficiently, and if you're savvy, for a flat fee. 
Her Email List
I have grown my email list to over 4,000 people through my podcast, TV appearances, and posting on Instagram and LinkedIn, but also probably a lot of it was built on Facebook ads and Google ads. I love Facebook and Google ads. However, I feel like I need a new training on those platforms because they've changed so much in the past year. 
But the main list builder for my business happens whenever I do a launch of my program because I do a huge training session called the TCA Launch Party about how to break into the world of toys. That's a free training, so people sign up to my email list to be a part of that. 
That's a huge list builder for me.
How Many Hours Azhelle Works
I achieved my current revenue level the first year, maybe in the first six months of business. And I've just shifted where that revenue comes from. I did one year that was highly focused on client work, like doing social media for clients, doing product development and toy development for clients. 
And then I did a year where I focused primarily on launching Toy Creators Academy, teaching my students how to develop toys and games, creating a launch party event, and creating pitch events and opportunities for them. 
And now that I'm getting ready to go into my third year, I'm doing a little bit of a combination of both. Now I'm in the adjustment phase, I'm seeing what I can do with one-on-one coaching and seeing the revenue I can generate with courses. 
Now we're in a recalibration phase where we're going to look for the correct balance as we move forward. What do we really want to focus on to double that revenue and keep us sustained so that we can keep helping people through our podcast and our YouTube channel, because so many people find that valuable, but we can only keep doing those things if we're generating enough profit.
My YouTube channel is still growing! It's in its infancy, but I love sharing quick tips and my full podcast episodes there. I find YouTube is great for shorter educational videos, so I plan to do more of those very soon.
Her Favorite Resources
For people looking to build a similar business to mine. I 100% recommend Amy Porterfield and Rick Mulready, both of those podcasts. And some of their programs helped me build the business that I have today. 
Her Go-To Tools
The most useful tools I use as an entrepreneur are: number one, Zapier, and number two, ActiveCampaign. ActiveCampaign is an incredible tool. 
Honestly, if I had discovered ActiveCampaign before Zapier, I might not even use Zapier, but it is a tool that allows you to automate a lot of things in your business. 
Say you're selling a product to a retailer and you need to check in with that retailer after 90 days of selling a product to see if they're out of stock. Zapier can automate that email to them after 90 days. Not only that, depending on how they react to that email, Zapier could automate sending them an invoice for a reorder. 
Zapier's amazing, but ActiveCampaign has a ton of automations as well. It manages my deals and my relationships. It's incredible. So those are two tools I would recommend highly.  
Her Greatest Challenge
The biggest challenge that I faced as I've grown my business has been hiring the right people and giving them the right tasks as a business owner. 
The personality is first for me, and the skillset second. I need both to be a match for you to be a great fit for my team.
Azhelle's Most Important Accomplishment
My most important accomplishment as an entrepreneur so far is being on TV. I've really loved it when I get to be on TV and promote other people's products. 
It's such a great feeling when I get to email people and say, "Hey, I'm going to be on this TV show. Do you want me to feature your product?" And they get all excited and they send me their product and then I get to show it off. It's just so much fun. And I just feel so proud when I get the opportunity to do that.
What She Wishes She Knew When She Started
When I was first starting out my business, I guess I wish I knew how much harder It was going to be to get organic reach on platforms like Instagram and Facebook. And I'd wish I knew how important it was to start on TikTok back then. And how much ads would change. I think I was very nervous when I first started to dive all in on all of those things. I was just timid and afraid. 
And I did it little by little. But now what I'm seeing is that, in the early days, I had much more traction and it was so much easier. And had I realized how difficult it was going to be to get that traction in the future, I would have done it more. 
Dive into those because you just never know. You just never know—it can all change tomorrow. So dive in now, it's the easiest it's ever going to be right now, so just do it. 
Her Main Mistake
The biggest mistake I've ever made in my entrepreneurial journey would have to just be not fully understanding contracts and commitments early on. 
I would say: ask for advice before you take any major steps, whether those major steps are turning down an opportunity or sending out a very big, important contract. Ask for advice, for someone to review it, and pay for the advice. If the person only does it for a paid fee, that's reasonable. Ask them for an hour of their time for whatever their fee is, because that is going to be so worth it. 
Damaged relationships are what you want to avoid as much as possible, and sometimes it's just a matter of having more knowledge to avoid making simple mistakes.
Her Advice for Other Entrepreneurs
For entrepreneurs starting right now, keep things lean and affordable in the beginning. Do it with a small team, use the free or cheap platforms out there for your email and for your website. 
When you identify that area, that's when I would say it's time to invest money and do it with a really low-interest loan, if you can get one. 
Use that to grow your revenue. I think most people wait until they just don't have any more revenue to take out those loans and do those things. But actually, the best time to do it is when you do have the revenue, you do see the money coming in, but you also know if you had more money, you could generate even more. 
When you take out that loan, it's kind of like you're borrowing money that you'll probably make back, but you're borrowing it so you can make even more. That would be my advice to entrepreneurs building out their own businesses right now.