Jaimee Campanella used to struggle with a familiar foe to many: time. She has held many different positions over the course of her professional life and always struggled with the same thing. She never had enough time.
Not to be defeated, she decided to take matters into her own hands and create a special program that helps entrepreneurs, moms in this case, better manage their time and find work-life balance.
She is the time strategist and productivity consultant behind the Time Power Program™, and after working with dozens of clients, she's earning 6 figures a year.
Keep reading to learn more about:
Her professional experience prior to entrepreneurship
Whether she believes work-life balance exists
What happened to her VA agency
Why she decided to create her signature program
How her program works
The strategies she uses to market her company
The books that have impacted her the most
The tools she uses to run her business
Her biggest challenge to date
Her greatest accomplishment
The main mistake she's made
Her advice for other entrepreneurs
Meet Jaimee Campanella
My name is Jaimee, and I'm a time strategist and productivity consultant who mentors and guides parents, professionals, and entrepreneurs to take control of their time. 
I'm the creator and principal facilitator of the Time Power Program™, which gives people the essential tools and strategies to avoid overwhelm and tame chaos to regain control of their time for good.
I am a mama of two handsome boys, ages 4.5 and 3. I'm also a wife to Roy Campanella III, an entrepreneur, program creator, and all-around lover of time! 
My professional experience spans over two decades. 
I have led executive trainings on productivity, organizational and communication systems, and time management. I have worked as a business manager, lifestyle manager, executive assistant, project manager, administrative business partner, event coordinator, and hospitality specialist. 
The same principle rings true in every context: those who know how to control their time enjoy success, calmness, and accomplishments.
Why She Created the Time Power Program 
Shortly after my 2nd son was born, I decided I wanted to create a business to work from home, be present with my kids, and experience a "true" sense of work-life balance.
I knew that the tools, systems, and strategies I used in my professional life would be instrumental in how I could create work-life balance for myself.
At that time, I had a VA agency, the Jaimee Campanella Company. As it and my family began to grow, I felt as though I was always fighting with time. I was disappointed with how little time I had. I started to work later hours and take work calls while I was with my kids.
Although the clients and kiddos were happy, I stopped my daily walks, personal creative time, and work I needed to do for the future health of my business.
I was tired, overwhelmed, and felt burnt out.
While experiencing success, I also experienced overwhelm and burnout. I saw firsthand that no matter how much money I was making, nothing seemed to matter because I was not present with my kids or with my business.
I was constantly cycling through exhaustion and burnout, and everyone around me was saying the same thing…
And with the VA agency, I saw firsthand how the problems and experiences I had were true for so many people. 
Everyone felt like they were busy, tired, and did not have enough time. I would give them assistants personally and professionally, create automation, create systems, procedures, you name it—but still, this was the underlying issue or challenge that I was experiencing, and everyone was complaining about! 
Too busy, too tired, and not enough time.
How She Created Her Program
I tried every solution!
I tried better systems, revising business structures, and redoing my calendar, but I still felt like I could not find enough time. I always felt like I was running against the clock and disappointed with how much time I had available.
It was at this point that I realized there was something we were not looking at that needed to be addressed. I saw that we were all high-achieving, successful, ambitious, strong entrepreneurs, but as strong as we are, we were still fighting with time. 
It was time for me to control my time and shift my relationship with it. I finally understood that I could have all the greatest and most innovative tools for time management and productivity, but if I didn't change how I approached time, time would always control me.
I could have an even greater impact on people if I shifted to a format where I was empowering them with these tools and understanding versus only providing "do-it-for-you" services.
Inspired and reinvigorated, I created my signature program Time Power to share the tools and systems and the relational shifts to time that gave me the work-life balance that I treasure.
Now I get to work with moms who want to experience being a balanced entrepreneur who can handle the stresses of work, motherhood, and everyday life with gratitude and joy.
What Her Program Entails
My program is a one-on-one virtual training and support program to teach clients how to better manage their time. 
There are six 90-minute sessions during which I teach people how to make long-lasting, sustainable shifts to achieve work-life balance. They cover topics like shifting your mindset from scarcity to abundance, clearing your headspace, mapping out your time, and making a master list of priorities.
I help women take back control of their time by using time blocking. We structure and color code our calendars, and we audit, assess, and tweak our final plan until it's right.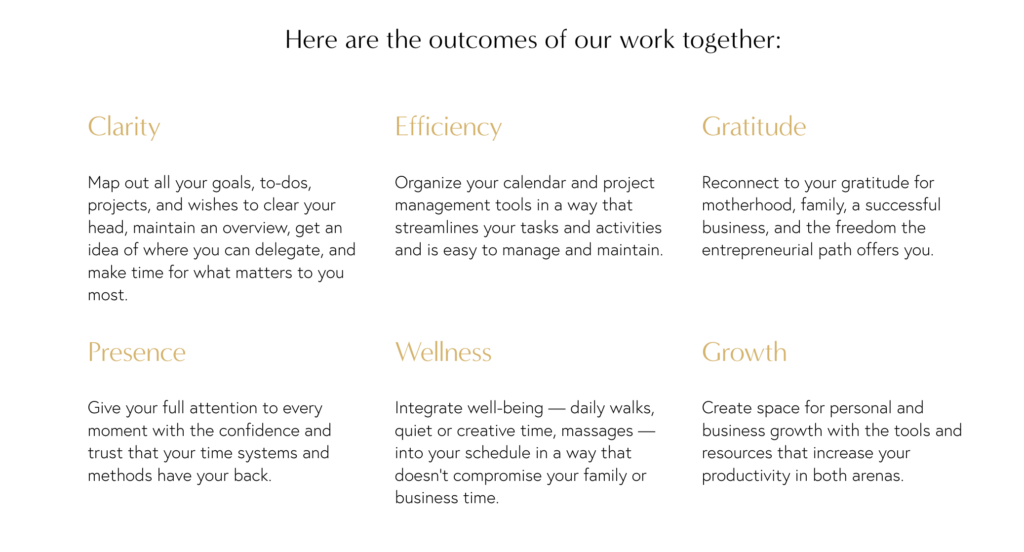 How Much Money Jaimee's Making
I'm proud to share that I run a 6-figure/year business. 
When I started as a virtual service provider, I was making $900 a month. When I scaled to an agency model, I was making $5,000 a month, and now I have surpassed that as a coach, program creator, and mentor.
Her Top Marketing Strategy
My best strategy has been targeting a specific audience, focused on the key benefits based on the audience's point of view and interests.
When I started my VA agency, my audience was anyone who needed support! I had cast my net very wide. I was exploring what I liked doing and who I enjoyed serving. 
After creating my Time Power Program™, I decided to niche down to serving moms who ran their own businesses because this was my journey, and people could relate to my evolution. I wanted other moms to have the same experience I was finally achieving!
As for finding clients, the best source is word of mouth. 
Another great organic source for clients has been joining paid mom groups, groups where you're surrounded by like-minded, high-achieving professionals who are all open to investing in themselves. 
I have run FB ads and have had some minimal results but nothing like the connections I have made through direct people-to-people contact.
Overall, it took me 1.5 years to reach my current revenue level.
Jaimee's Favorite Resources and Tools
There are 2 books that I would highly recommend: Manifest Your Life of Greatness, by Parizad Srivastava, and The Credible Brand, by Lindsey Wigfield.
At the risk of being repetitive, time is really the most precious asset we all have. Money comes and goes, but time—we can never turn the clock back and get more of it. 
So to use my time efficiently as much as possible, here are the top 3 tools I use daily to stay organized in my life and business!
The Time Power™ family calendar – I use the calendar to visually display the schedule for the next 2 weeks at glance with all the information everyone in my family needs to know. 
Google calendar – I use my google calendar to map out how I will spend my time from waking up to sleep! All my business meetings and tasks and all our social commitments.
My google calendar is the guide I use when updating my family calendar.
Asana – This is where I track the specific projects, tasks, and goals for my personal and professional life. Asana is where my ideas are captured, strategized, and executed.
Jaimee's Biggest Challenge
While I experienced success, I also experienced overwhelm and burnout. I realized that no matter how much I'm making, nothing seemed to matter because I became less present with my kids and my business. 
I was in constantly in a cycle of exhaustion and burnout, and everyone around me was saying "I'm busy," I'm tired," or "I don't have enough time." 
I tried every solution, but I still felt like I was running against the clock, and I felt so disappointed with how much free time I had. 
Until I addressed this challenge, I always felt like my business was running me rather than me running my business. 
Her Greatest Accomplishment
I am proudest of creating a program and product that mom entrepreneurs can use on their own to run their personal and professional lives with joy, momentum, and gratitude. 
What She Wishes She Knew When She Started
As we began researching how to start a business, we learned that the process is not as difficult as it seems and that it's really just a matter of knowing where to look. 
I hired experts along the way as I created, developed, and reiterated in my business. 
I started with a brand strategist who helped me create my brand assets: my logo, my brand style, and my messaging. I have talent that includes the support of business coaches, digital marketing strategists, online business managers, social media managers, email marketing experts, etc 
I welcome people in their areas of expertise so I can focus on my areas of genius. I'm all about saving time and being productive, so I am willing to invest in the support I need to take my business to the next level. 
I remember when I first started, I spent hours and hours and hours trying to design my website. And I threw the towel in after weeks of results I was not happy with. 
I learned from the start I wanted to invest in bringing people on my team that can do things with skill, expertise, and craft and save myself tons of time, effort, and frustration. The results are always better this way!
It's also important to understand that there are so many resources out there that can help you start your own business successfully
Her Main Mistake
Entrepreneurship is a journey that requires hard work and sacrifice.
The biggest mistake I've made in my entrepreneurial journey was not taking the time to evaluate my schedule and balance it with my family and the business.
Her Advice for Other Entrepreneurs
I have 3 pieces of advice to share:
Being successful takes a lot of effort. You have to be ready to take risks and be passionate, and believe in yourself. 
Be clear with your visions and goals, and stay positive. 
Establish a really good support system and invest in coaches and mentors.