Have you ever wondered if you're using the best video search engine for your needs?  With so many at our fingertips, it can be overwhelming to know where to turn, so it's often easier to stick with the usual YouTube and Google. 
This article will highlight why using different search engines can seriously up your video search game and bring you better chances to find what you're looking for. 
So whether you're a casual viewer or a professional creator, join us and unlock the full potential of your video search experience.
15 Video Search Engines To Try
You may not know that The Wall Street Journal published a report in 2020 claiming that YouTube videos get preference over competitors in search results. (Google owns YouTube.) Of course, Google engineers denied this claim. However, they recently updated their search for videos so that it includes a few videos from more than just YouTube.com.
Check out our list; you may be in for some nice surprises. And yes, we have included YouTube and Google – they are the biggest.
YouTube
YouTube serves as both a video search engine and a website. The ever-present video content and YouTube's user-friendliness have made it the second-largest and best search engine after Google.
You can play around with it but be warned; you'll fall through the YouTube rabbit hole and lose hours and hours watching strange stuff. I usually do research using YouTube and stay away from time gobbling content. But for this article, I played around a bit.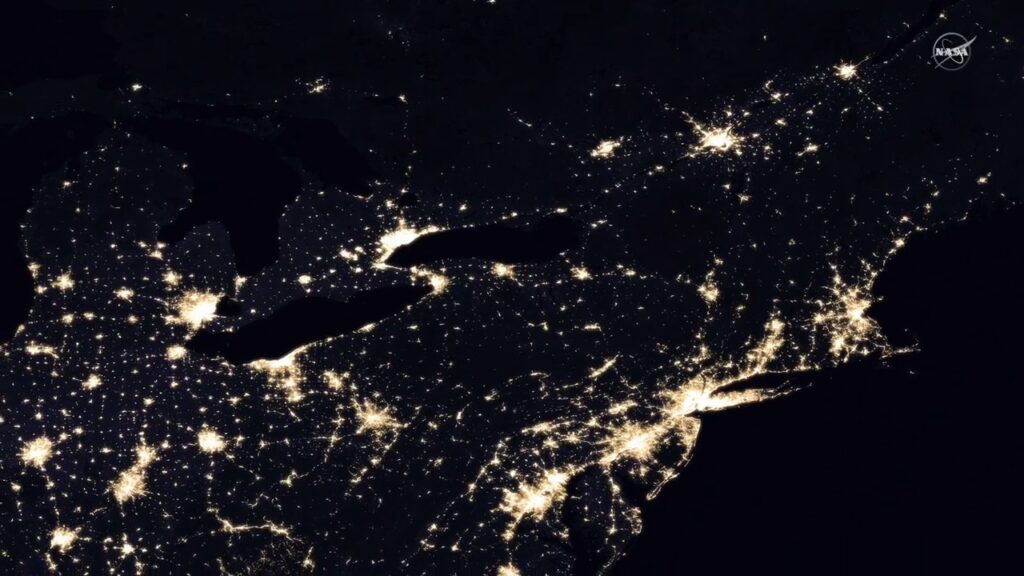 I tried funny videos, obscure sports, the creepiest images ever, UFO sightings, and anything I could think of. I also got into academic mode and looked for videos on chemistry, anatomy, emergency medicine, physics, and more.
YouTube is a video search engine where you can find almost anything!
YouTube Quick Statistics
Here are some interesting quick statistics:
There are around 800 million videos on YouTube
One in four people visit this video search engine at least once a month to watch videos or listen to music 
Over 45 million people subscribe to YouTube premium and music 
Half of all internet users visit YouTube 
Nearly 450 hours of footage are uploaded to YouTube every minute 
YouTube has over 2.1 billion active users per month
There have been a ton of new features added to YouTube. Based on your interests, search history, and subscriptions, its home page suggests ranking videos for you to watch.
The staggering numbers above also represent huge opportunities for YouTube video marketing. And if you use the right tools to help grow your channel to reach the optimum number of views, you can make a good living.
Find out how you can make more money with YouTube affiliate marketing.
TubeBuddy
For my money, TubeBuddy is the tool to go for if you already have a YouTube channel or are considering launching one. It's a powerful YouTube SEO and keyword research tool. And it will assist you in optimizing, managing, and growing your YouTube channel. Find out more – read our TubeBuddy review.
There's also no need to switch back and forth to an external tool since it's available as a Google Chrome browser extension.
---
Google
Google is the most widely used video search engine worldwide and will likely keep that position. It has a massive video library and a dominant 91.15% market share.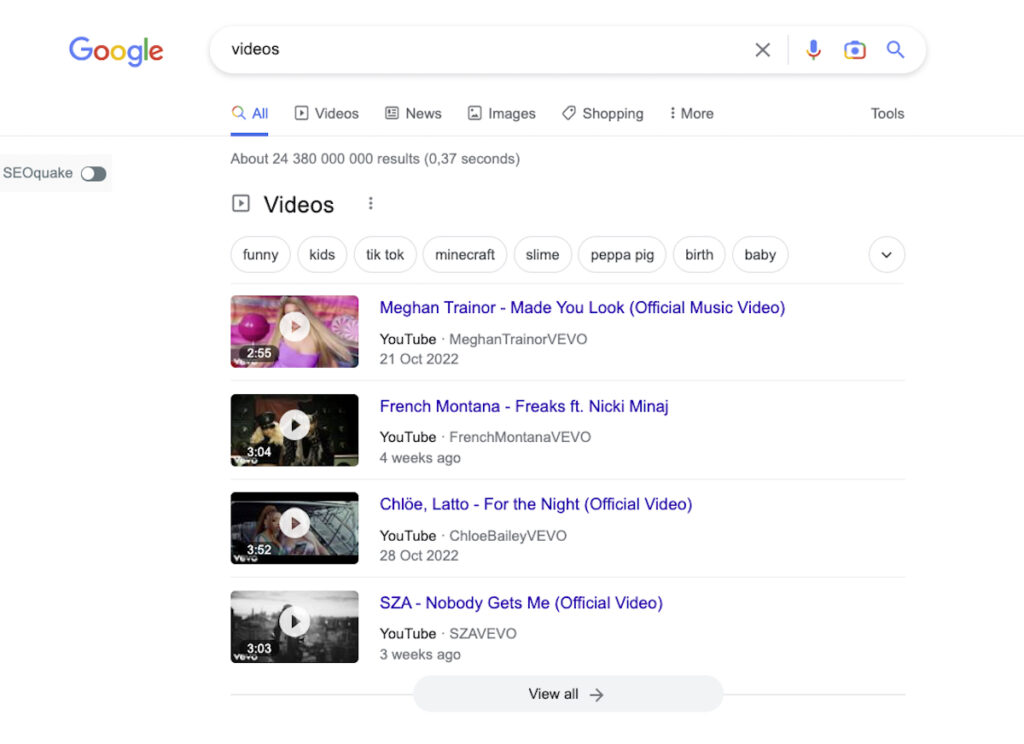 With over 8 billion videos indexed, it has the largest search engine database in this category. Users have a far better chance of finding the video content they want.
Additionally, Google's algorithms are pretty good at prioritizing videos based on relevance which means that users generally find what they're looking for.
You can use a variety of Google search filters to select the ideal video, including:
Duration of the video
Posted date range
Quality (high quality or any quality)
Whether it's closed-captioned
Source (website or web page)
You can access a few more Google video choices, such as looking for films in a specific language. Simply head over to settings and select Advanced Search. As I mentioned above, you get so many choices it can be very difficult to find exactly what you want. And that's the ideal time to head off to check out other video search engines.
---
AOL
Few people know AOL's video search capabilities, yet it is a reliable alternative for anyone seeking a range of search results.

This search engine is comparable to Google and Bing, but it has fewer filter choices (filtering by the source is not an option). AOL's algorithm doesn't favor YouTube. This makes it an excellent option for people looking for different video content and sources.
AOL's algorithm is not the most accurate one available, so you might need to delve a little deeper into the results to find what you're looking for.
---
Baidu Video
The Chinese video content platform Baidu Video dominates the Chinese search engine market with billions of searches per day. Baidu isn't just a search engine; it is a sizable Chinese tech giant that specializes in services and goods for the internet. It's also growing fast in the field of artificial intelligence (AI). Baidu has grown to become one of the biggest internet and AI firms in the world.
Simply put, if you want to access or thrive in the Chinese market, Baidu is a platform you cannot avoid. Baidu, sometimes referred to as the "Chinese Google," is currently ranked as the fourth most popular website worldwide.
Baidu doesn't offer an English version, so the results strongly favor Chinese sources even if you search using an English keyword. You can use a VPN or Google Translate to understand the interface.
---
Yahoo
With a 3.39 percent market share worldwide, Yahoo! is fourth on the list of the biggest search engines.
The fact that Yahoo's algorithm is notably different from those of its competitors is one of the main benefits of using it as a video search engine. As a result, your SERPs will be very different from those of other video search engines.
Here's something really cool. The Yahoo Video app for Android TV users. It is a free personalized video channel that allows you to browse the topics of most interest in Yahoo News, Sports, Finance, Entertainment, and Live Events.
Yahoo News – Skullduggery TV, unfiltered, and special news reports from HuffPost.
Yahoo Sports – The Rush, The Bounce, The Spin, highlights, and recaps from NFL, NBA, MLB, and more.
Yahoo Finance – Bell-to-Bell Coverage, Market Movers, special stock analysis, and reports.
Yahoo Entertainment – In the Know, Daytime Now, and the latest celebrity news and interviews.
Live Events – Berkshire Hathaway, Makers Conference, Build Series interviews, and breaking news.
---
Bing (owned by Microsoft)
Of course, Bing is tiny compared to Google, but you shouldn't dismiss Bing when it comes to video content. When you're having trouble finding the exact phrasing, the smaller search engine makes it easier for them to identify specific products and websites.
The user interface on Bing is slick and excellent for viewing on mobile devices. A brief preview of the video appears when you hover over the decently sized thumbnails on the Bing video search results page (SERP). Clicking the link will allow you to view the video, complete with audio directly on Bing rather than being directed to the video's website.
So what makes Bing stand out? The accepted opinion is that Bing is the preferred porn search engine. The subject will eventually pop up if you check out a few of the Microsoft boards on Reddit.
The fact that Microsoft has adopted a more liberal "we respect you as an adult" stance toward filtering infringing videos than Google, even with filtering switched off, is part of the explanation. Whether you search for "baseball" or "boobs," Bing merely presents you with videos related to your topic from other websites.
Bing's rewards program is another defining characteristic. Subscribers have the opportunity to accumulate points and redeem them for gift cards. Although that specific service is only available in the US, Bing also offers a tremendous global social integration program due to its partnerships with Facebook and Twitter.
---
Vimeo
It should be no surprise that Vimeo is a favorite for creatives, given that filmmakers started it.
Vimeo is used by everyone, including musicians, advertising companies, and video content creators. The video selection is pretty wide, from serious filmmakers giving viewers teasers of their movies to short films and plenty of funny videos.
It offers a fantastic user experience and outperforms YouTube with its high-quality videos (4K Ultra HD, to be exact).
And it can also help content creators make some extra money. If you pay for the Vimeo Pro plan, you can rent or sell your content, or users can subscribe to your channel.
The quality of the platform's videos sets it apart from the competition. Vimeo has more stringent rules for videos people can upload, but you can be sure that every clip you can view will be of great quality. Unlike YouTube, you won't find tons of spam and random, low-quality videos.
One more thing I love about Vimeo as a video search engine – it doesn't bombard you with ads.
---
Dailymotion
The French-based Dailymotion website was established in 2005. You can post videos to Dailymotion that are up to 2GB in size, 60 minutes long, and have 4K resolution.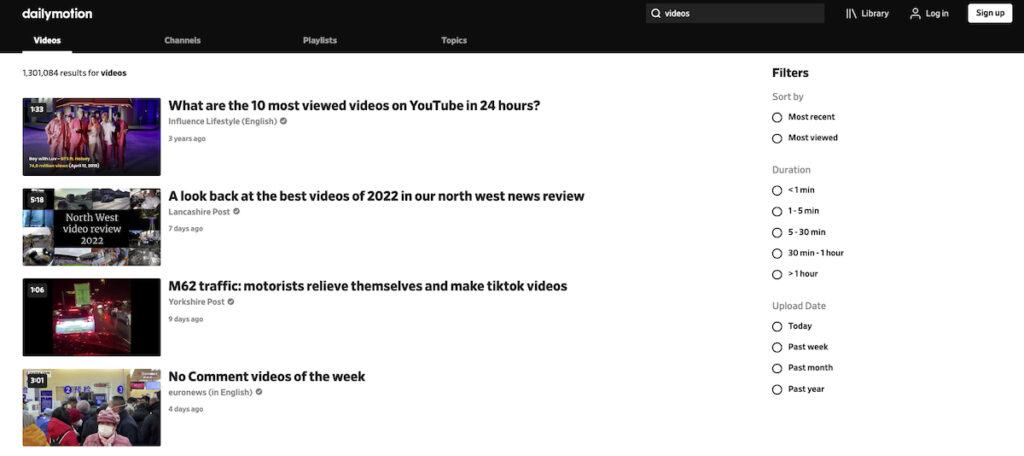 Dailymotion is popular in Europe, Asia, and Africa and receives over 3.5 billion monthly video views. You can use the video platform to upload your videos, but you must first register.
What makes Dailymotion stand out? It includes a live-streaming section. You can chat with your primary audience in real time. The live streaming capability is adaptable because you can go from a single event to high-definition 24/7 channels. You can link your live stream on your own website or social media.
Even better, you can monetize live streams on Dailymotion. Real-time analytics are available to show you how well you are doing while the stream is still running.
---
DuckDuckGo
Using conventional search engines like Google and Bing isn't for everyone. People use DuckDuckGo due to privacy concerns and this is what sets the search engine apart from its competitors. Your video searches on DuckDuckGo are entirely private.
DuckDuckGo search produces ads based on keywords rather than profiles of user data acquired. And it also doesn't gather any information that can be used to identify specific users; instead, it bases its results on aggregate and anonymous data.
The search engine's straightforward layout makes using it quite easy. Simply enter your search term in the field provided and click Videos to find videos. DuckDuckGo's search encrypt will hide your search result from internet service providers.
A fun feature: you can change the geography of your search to see the results as they would look in the nation of your choice.
---
Veoh
Check out Veoh if you want access to a huge collection of different videos, movies, and musical selections. You can use this platform to search videos using custom queries. Or you can explore several user-generated and independent video categories.
Veoh can't even come close to competing with YouTube, etc. And its content, while there is plenty of it, is pretty outdated. But it does contain a neat feature that qualifies it for our list.
Veoh allows you to search by the language of the video and subtitles in addition to duration and genre. So, for example, if you want, you can find Spanish Action and Adventure videos with English subtitles.
---
Ecosia
Ecosia video search engine donates more than 80% of its earnings to lowering the planet's carbon footprint. This video search engine may be a cool 'feel good' alternative the next time you search for a video online.
By including a search counter in the upper right corner of the display, Ecosia gamified its web browser. You can keep track of your impact and count the number of trees you've planted.
This function makes internet browsing fun and can even tickle your competitive spirit to push the numbers as high as possible. Watching it rise is entertaining and might even become addictive.
---
Twitch
Twitch isn't exactly a classic video search engine, but it is perfect if you enjoy playing video games. If you're searching for a live-streaming platform with a strong emphasis on sports and video games, then Twitch is the way to go.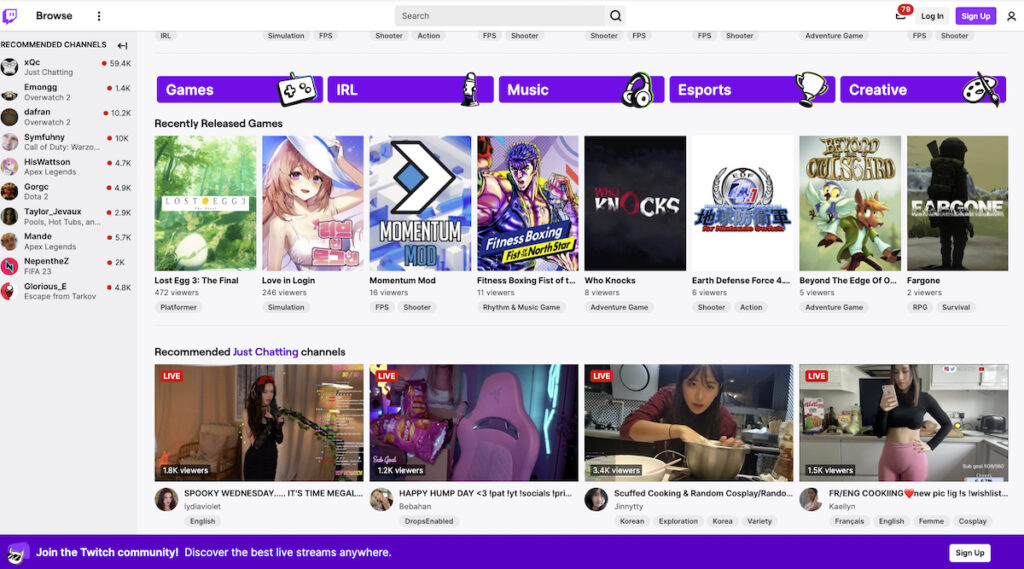 Twitch was built when Amazon acquired the business in 2014 and launched Twitch Prime, which provides free games, subscriptions, ad-free broadcasting, and more.
Twitch is popular for several reasons. It's streamed live, broadcasts several esports competitions, and is interactive. You can be part of a community and learn to improve at games by watching others. There's a massive selection of games to watch and tons of content unrelated to gaming. Finally, it allows content creators to make money doing what they love.
You can also archive your live streams and make them accessible to users for 60 days after the live broadcast.
---
Shutterstock
Shutterstock is a search engine for pictures, illustrations, vector graphics, 3D models, stock videos, music, and audio files. You can also look for videos based on images. Drag and drop your image into the search bar, and Shutterstock will offer stock videos with related themes.
Shutterstock offers more than 80 million high-quality photos, video clips, and songs. Product Users of the website can post their photos and videos for usage in various projects.
If you're looking for images or videos (free and paid) for any project, Shutterstock is the place to go.
---
Yandex
Yandex is the equivalent of Google in Russian. It's a popular search engine in countries including Russia, Ukraine, Belarus, Kazakhstan, and Uzbekistan. The English-based library also has a video search function, but it is not very comprehensive.
The popularity of Yandex can be attributed to the fact that it was created mainly for the Russian language. Russian is hugely different from English since it uses a distinct alphabet. Yandex can understand the language and deliver relevant search results in a way that Google can't.
Although these possibilities pale in comparison to what other search engines have to offer, if you're looking for Russian content, Yandex is worth a try.
But for how much longer is another story. Russia's financial sector has been severely impacted by unprecedented Western sanctions in response to Moscow's invasion of Ukraine. And Yandex has been hammered by this. It looks as though the Russian internet giant may be owned by the Kremlin in the near future. We'll have to see.
---
Facebook
Facebook is another important source of videos. It's the third most popular website after Google and YouTube. The company's video-sharing and viewing platform, Facebook Watch, is accessed by more than 1.25 billion monthly users.
Unfortunately, the Facebook search engine can only look at Facebook stuff. So the results from your friends' pages will appear first, followed by those accessible to the general public.
Even though more Facebook users view images, videos generally generate the highest levels of engagement. You can watch all sorts of different kinds of videos on the platform. For instance, Facebook live streams may last up to eight hours. According to Facebook, if other video formats are 15 seconds or less in length, most viewers will watch them through to the end.
I wouldn't use Facebook to do research, for example, but watching friends' videos or new video posts can be fun.
How To Run A Reverse Video Search
Although no search engine will reverse-search a whole video, you can do the same with reverse-picture search engines. Here's how you do it with Google. You'll need to take a screenshot of the video and then use Google's reverse image search feature
Look for a standout frame in the video (i.e., a section that seems unique from other videos).
Pause the movie. 
Take a snapshot of the frame you want to save by pressing Ctrl + PrtScn on a Windows computer or Shift-Command-4 on an Apple or Mac. 
Select the camera icon on Google Images. 
Use the Google image search option. 
Upload the image. 
Google will display the screenshot's search result (if available).
Some other search engines that you can try for reverse video search are:
Wrapping Up Video Search Engine
Search engines are fundamental for the internet by making billions of web pages findable. But, since none are perfect and the Internet is enormous and constantly expanding, using many search engines to uncover obscure websites makes sense.
The main advantage of using more than one video search engine is that even though many top search results will be the same, there will also be noticeable differences. Plus, the blind spots of a specific search engine won't become your own. Each engine uses different algorithms and produces slightly different results. You'll get a wider variety of answers to the information you are searching for.
The next time you're looking for inspiration, keep the video search engines we've discussed in mind and have fun exploring!