An eBay price tracker can help resellers level up their business from dropshipping to selling rare items at auction. These price trackers exist to help give eBay sellers the information they need to properly price their items and ultimately have a successful online business.
To help you choose the right one for you, let's dive into the top five eBay price tracker services for resellers.
The Best eBay Price Tracker Services for Your Reseller Business
You don't have to do everything on your own as an online seller on eBay. To help make your pricing decisions easier, here is our list of the top 5 eBay price tracker services:
Terapeak
Terapeak is a great tool all eBay sellers have access to since eBay owns it!
Using a tool made by the site you're selling on is a great place to start. This site provides pricing and sale information for up to one year in the past for each item. You can also filter listings by condition and country.
When you have to conduct research on topics like the best things to sell on eBay, it's nice to have a tool that's already available and easily accessible.
How to Access Terapeak on eBay
To access Terapeak, visit your Seller Hub and find the "Research" page.
Are you looking for more reselling opportunities on additional platforms? Our list of 12 sites like eBay will help you get started.
---
WatchCount
WatchCount is one of the most comprehensive price-tracking tools for eBay sellers. It enables you to search for current and sold listings based on various factors. These factors include sales prices, items with the highest number of watchers, listings with the most bids, misspelled titles, and more.
The best part of all is that it's free!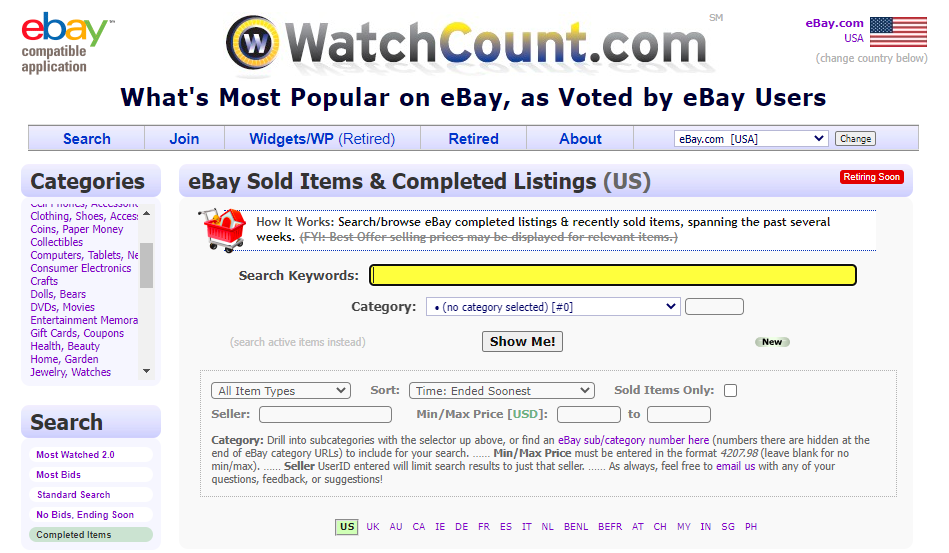 The additional features that WatchCount provides can help give resellers an advantage. By knowing which listings have the highest number of bids and watchers, resellers can understand which listings are most popular or if an item isn't very popular at all.
Another important feature of this app is being able to check for misspelled listings. This means that you could find items that other resellers and price trackers might not catch!
---
Average Finder
Average Finder is another eBay price tracker that shows your item's average price based on what's currently listed. You can still search based on active and completed listings and by country.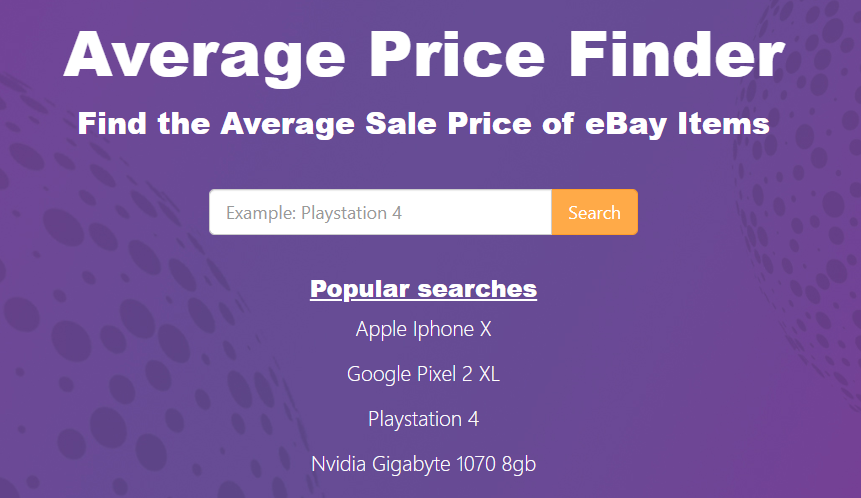 One of the unique reasons Average Finder is a helpful tool is that it also shows you the average shipping costs for the item. This can help you see what other sellers list as their postage costs and what buyers are willing to pay. Shipping costs can make or break a sale, and this can give you insight into how you should price your shipping.
---
Mark Sight
Mark Sight is an insightful tool for resellers who primarily run auctions for their reselling business. It will show you accurate results, the best time to start and end your auction, sell-through rates, the average number of bids, and more.
In addition to being an eBay price tracker, MarkSight also provides educational resources for resellers. Instead of figuring everything out on your own in your reselling business, you can turn to these articles for in-depth information.
MarkSight does have a free option, but its more in-depth and resourceful features are not part of the free access. This will have to factor into your decision to invest in it for your reselling business.
This tool provides value in a different way from the other eBay price trackers on this list, but it's still valuable to include for those resellers who rely heavily on auctions for their businesses.
---
CheckAFlip
CheckAFlip is fifth on our list of eBay price trackers. This site lets you compare current and completed eBay and Amazon listings. It will show you the average sold price for both new and used versions of that item, including how many new and used listings there currently are.
What makes Check A Flip unique is that it gathers its data in the moment, meaning you might need to wait up to one minute for the results to tabulate.
This is a more basic eBay price tracker, but it could work for your needs depending on what your reselling business requires. If you're looking for a straightforward tool for tracking prices, CheckAFlip could be right for you.
Ways Resellers Can Benefit from Using an eBay Price Tracker
Whether you're searching for a deal or looking to gather market data for your listings, an eBay price tracker provides a variety of benefits. Creating an account with one of these helpful price trackers could make the difference between a successful reseller endeavor and one that doesn't perform very well.
Let's explore the top three ways resellers can benefit from using an eBay price tracker.
Gain Insight on How to Price Your Items
One of the reasons buyers and sellers alike enjoy purchasing items from eBay is that you can find truly unique and niche items. However, knowing how to price rare items can sometimes be difficult when you're a seller. This is where an eBay price tracker can be beneficial for sellers.
An eBay price tracker will show you your item's current price data and pricing history. This gives sellers a more thorough understanding of how they should price their eBay items.
Product Flippers Can Find Great Deals
Depending on your goal for the platform, one of the biggest benefits of using an eBay price tracker is finding great deals! Finding the best deals as a buyer will also help you when you're reselling these items.
Users can tailor their notifications to meet their specific price requirements. This means they will be notified when an item becomes available at their desired price.
For example, you can set up a notification for a specific item with 15 minutes left in its auction and is under a certain price. This means that you will be notified about items with great prices and potentially low competition.
You can also create a notification when new listings become available on the app. This means you will be one of the first to know if one of your desired items becomes available at a great price. Sometimes novice sellers list items way below their market value, or sometimes they just want to move them quickly, so they underprice them. By having these notifications set up, you can benefit from low prices.
Update Your Pricing to Protect Your Margins
eBay price trackers can be particularly beneficial for drop shippers because they allow sellers to update their pricing in real-time. If you dropship items from Amazon and the price increases but haven't increased your eBay listings, you could potentially lose money on your items.
On the other hand, it also alerts you to price drops so you can offer sales to your buyers and stay competitive in the search results.
A price tracker could make all the difference when eBay dropshipping!
Final Thoughts on Finding the Best eBay Price Tracker
An eBay price tracker can help improve your reselling business by protecting your margins, alerting you to great deals to flip, and helping you find the right prices for your items.
If you're an eBay seller who hasn't previously used one of these tools, now is a great time to start! Your future sales reports will thank you.