Welcome to my SaleHoo Review!
Dropshipping is a great way to test the waters of e-commerce. No inventory = no problem, right?
Wrong!
Without reliable suppliers and quality products, your business runs like an unmanageable game of whack-a-mole.
Ecom vets know what I'm talking about.
With constant quality control issues, low stock levels, and customer chargebacks, you might wonder, do these headaches ever end?
Yes, they do! And once you solve these issues, you can scale with confidence.
That's why I'm so excited to review a powerful e-commerce app like SaleHoo.
It offers access to thousands of verified suppliers, comprehensive product research tools, and streamlined order fulfillment – all in one platform.
In this SaleHoo review, I take a deep dive into everything it has to offer. I'll answer critical questions like:
How does SaleHoo work?
Can it help you find a legitimate supplier?
Is it easy to use?
How much does it cost?
How does it stack up against alternative tools?
Most importantly, you'll understand if SaleHoo delivers on everything it promises.
Let's get started!
Salehoo Review

Ease of Use

Customer Service

Price

Supplier Quality

Product Research Capability

Product Quality
Salehoo Review Summary
Salehoo is my #1 recommendation for sourcing products, connecting with suppliers, and automating your fulfillment process. Compared to its counterparts, Salehoo has a broader selection of products from reliable suppliers, better customer support, and it remains cost-effective. Get SaleHoo here!
Pros
Trustworthy suppliers

The salehoo pricing model gives you options (lifetime, monthly, annual)

Hand-selected products with high profit margin

Low cost suppliers

Very helpful customer service
60 day moneyback guarantee
Cons
Since you're working direct with suppliers, it's unclear how Salehoo can help as an intermediary if there's a dispute
Only Shopify integration for the dropship feature
SaleHoo's Main Features
SaleHoo is a one-stop shop for dropshipping entrepreneurs. Here's a breakdown of SaleHoo's main features:
SaleHoo Directory
SaleHoo's Directory tool is a whitelist of 1.6 million certified suppliers and 8 million quality products.
Your supplier is the backbone of your dropshipping business.
To win the e-commerce battle, you need:
Reliable vendors who will deliver on time and at the right price.
To deliver quality products and experiences so customers buy again.
SaleHoo CEO Simon Slade puts it perfectly:
"Nearly 90 percent of shoppers will stop buying from an online store if they hear of one bad experience."
Thankfully, SaleHoo verifies each wholesale supplier to make sure they're trustworthy.
Taking a blind chance on suppliers could have crippling repercussions, leading to:
Negative customer experiences
Lost merchant accounts
Suspended ad accounts
PayPal holds
Hits to your Amazon Seller Rating
Not to mention, it could also put your brand's reputation in jeopardy.
Before settling on a supplier, you can verify user reviews and contact them using their contact information.
I recommend reaching out to your supplier multiple times a week before buying as a litmus test to see how responsive they are.
Supplier Directory Verification Tips
Go through the customer's buying experience
Ask your SaleHoo supplier questions
Test their support capabilities
Order sample products
After going through this process with 3-4 suppliers, you should find the best wholesaler for your business. You'd be surprised how many dropshippers forgo this step.
As someone who's gone through trial and error with suppliers, I can tell you this peace of mind is worth its weight in gold.
Salehoo Lab
Within the directory, you also get access to the Salehoo lab. You can use the latest e-commerce research tools to identify market trends and opportunities here.
Dropshipping expert Ethan Dobbins raked in $280,000 at $90,000 profit using Salehoo Labs to uncover a trending new product.
He urges dropshippers to "look at what's selling right now – see what the market wants."
You can leverage this information from Salehoo Labs to expand your business on Shopify, eBay, Amazon FBA, or wherever you operate.
Salehoo Dropship
With Salehoo Dropship, I've got to admit – I'm pretty much sold! You don't have to spend hours browsing through subpar products when you can use this nifty feature and find high-profit items.
Plus, Salehoo Dropship lets you automate the entire process with its integration with the popular e-commerce platform Shopify.
Salehoo's Dropship feature is like the directory, except it plugs directly into your store. So it's simple to connect the two. Once that's done, you can browse through all their products.
They even take it a step further. Their team of experts has an entire product vetting process – each product has at least 3 times more profit potential than cost. 
From there, I like to use the price slider to snag top-quality items at the best price to improve my margins even more. Talk about hitting two birds with one stone.
Pro tip: The "trending suppliers" section is another underrated gem.
If a supplier reaches trending status, you can see which suppliers can handle the volume, deliver quality items, and meet customer expectations.
Even more useful is that these suppliers have insider insight into what products are hot in your niche. They often suggest an upsell add to your funnel, resulting in a higher average order value.
Salehoo Educate
Salehoo is more than just a marketplace and dropship service. It also provides access to an extensive library of educational resources.
Salehoo Educate includes tutorials, advice from industry experts, and business tools designed to help you succeed in e-commerce.
With comprehensive courses on building an online store, launching a website, and growth strategies, you can go from beginner to pro in no time. 
I especially like the live case study of an actual product launch, which gives us a glimpse into the mindset of one at the top of the e-com game. 
Salehoo Review: The Pros and Cons
A directory of more than 8,000 verified suppliers and over 16 million products.
Comprehensive product research tools to help you identify promising items quickly.
Customer support goes above and beyond and makes you feel like family
Customers say the e-commerce training and resources is beneficial
The Salehoo support team is top-notch
60-Day money-back guarantee. Customers also verify they honor this refund policy
If there are any supplier disputes, it's unclear how Salehoo can help as an intermediary.
The Dropship platform only integrates with Shopify
Salehoo Pricing
You can buy each of Salehoo's features through a monthly or annual plan. In addition, one feature offers a lifetime plan.
Directory Pricing
Annual: $67
Lifetime: $127
Full wholesale directory access
Market Research Labs
Monthly sales trends
Advance search filters
Unlimited 1-1 support
Special member's forum access
60-day money-back guarantee
Dropship Pricing
There are two levels for the dropship feature.
Access Basic for $27/month (or $270 annually)
Up to 2 users
One store integration
1 click import (up to 500 products)
The premium goes for $97/month (or $970 annually)
Up to 3 users
3 store integration
1-click import (unlimited)
and a dedicated account manager
Educate Pricing
You can access the Shopify course for a $47 one-time payment, and it includes the following:
Expert knowledge from 7 figure Shopify sellers
Case studies with proven success
Bonus guides
Personal email support
Lifetime access
100% satisfaction guarantee.
They also offer an Amazon course for a $47 one-time payment which includes the following:
Expert advice from 6 figure Amazon FBA sellers
Advanced product research strategies
How to find the best manufacturers (guide)
Fulfillment advice
Bonus guides
Personal email support
Lifetime access
100% satisfaction guarantee.
So, there you have it – Salehoo's entire offering in a nutshell!
Who is Salehoo Best For?
Salehoo is best for customer-conscious entrepreneurs who want to ensure their customers receive quality products and reliable shipping times.
For those just getting started in the e-commerce industry, Salehoo can guide them through setting up accounts with suppliers and understanding best practices.
It's also best for seasoned entrepreneurs who want to add another layer of due diligence to finding reliable suppliers.
Perhaps you want to elevate your existing dropshipping business to something more professional. Salehoo can help you get started with private labeling and premium shipping options.
What Are People Saying About Salehoo?
421 people reviewed Salehoo on Trustpilot, and only 3 were negative.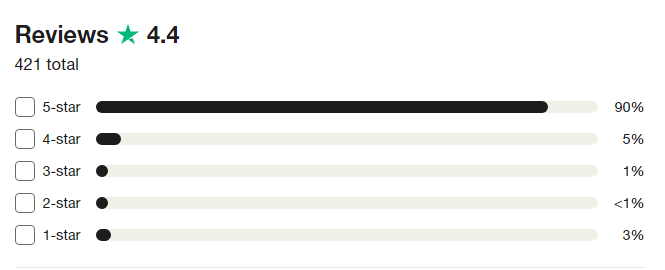 That's an impressive 97.6% satisfaction rate, which I haven't seen in my 4+ around dropshipping.
According to the Better Business Bureau, Salehoo has been in the game for over 17 years. They have yet to receive one complaint on the BBB website, where they hold an A+ rating.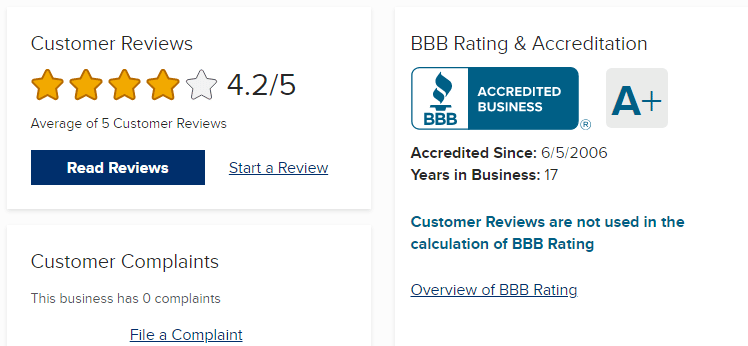 One customer highlights Salehoo's "helpful advice the company offers free of charge."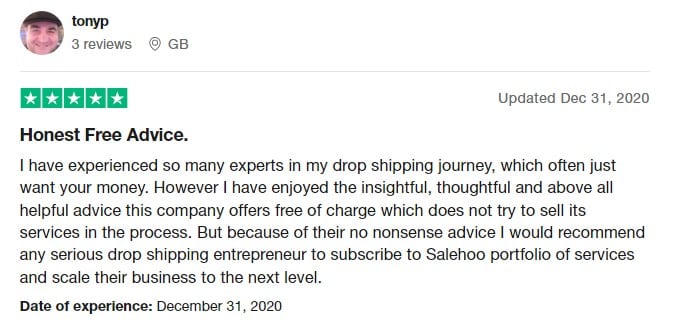 I can attest, she hit the nail on the head. Their blog features resources such as best-selling niche lists, holiday marketing strategies, and profitable store case studies.
Another common theme in the reviews is the fantastic customer service. One customer, Michelle, said in her review, "the customer service is top-notch, and they practice what they preach."
One user rated gave the entire experience a "100/10", highlighting the "incredible" customer service and "useful" mailings.
In my experience, great customer service is hard to come by in the dropshipping industry. So it's refreshing to see that Salehoo is delivering on that end.
It's clear from past customers that Salehoo is dedicated to helping you succeed on your dropshipping journey.
When it comes to companies, actions speak louder than words. I'm always impressed when a business is willing to show its commitment before someone becomes a customer.
Companies willing to provide helpful information and support pre-conversion demonstrate an authentic desire to help, not just make money.
That's when you can see how devoted the team behind the service is.
Salehoo Alternatives
What if SaleHoo doesn't fit your needs? Here are some of the top Salehoo alternatives to consider:
Zendrop
This alternative to Salehoo is an all-in-one platform that connects dropshippers with reliable suppliers.
Here are a few highlights:
Zendrop's premium US-based shipping services.
Customized branding options provide a unique look and feel.
Subscription box capabilities
With Salehoo, you can organize custom branding for your subscription boxes and manage your subscriptions. You simply have to find a supplier within the Salehoo directory who can handle this service.
Zendrop's premium shipping, subscription box capabilities, and branding options are impressive.
However, despite their capability in this area, we still recommend Salehoo because it offers a more comprehensive tool with the ability to order each feature separately.
With Zendrop, you have to buy access to all modules at once.
Salehoo also unlocks lifetime access to their supplier network – a significant benefit Zendrop doesn't have.
Zendrop is still a quality service (I rated them 4.4/5 stars) – check out the Zendrop Review here.
Spocket
Spocket is a supplier and product-sourcing app. It allows you to find winning products, connect them to your store, then ship them to your customers automatically.
Salehoo only integrates with Shopify, which isn't the ideal solution for everyone.
Spocket is a great alternative that offers integrations with multiple e-commerce platforms—including Shopify, Wix, Woocommerce, Felex, and Bigcommerce. They even have eBay integrations on the horizon.
Spocket also has a more extensive EU Supplier network. So you should go with Spocket if you cater to the European market.
Spocket offers a 14-day free trial (something that Salehoo needs to include). But again, Salehoo offers lifetime wholesale supplier directory access. Salehoo's support and educational resources are killer too.
If you are a US customer using Shopify, I recommend Salehoo over Spocket. However, if you dropship from another e-commerce platform or focus on the EU market, go with Spocket.
Please read our full Spocket review here.
Salehoo Review Verdict: Is Salehoo Worth It?
Yes, 1000%. SaleHoo is worth it.
Many entrepreneurs face challenges when selling online, including finding reliable suppliers, sourcing winning products, and staying up-to-date with industry trends.
With SaleHoo, these challenges become much easier to manage.
The SaleHoo platform can be your secret weapon if you're interested in dropshipping or product sourcing. The real value lies in the verified suppliers and all the educational resources they offer to help you find a profitable product!
If you're looking to supplement your dropshipping knowledge, we've also reviewed 19 of the best dropshipping courses on the web.