Are you looking for the perfect brand image to set your business apart from the competition? In this Tailor Brands review, we'll explore why small businesses have come to rely on this platform for creative branding solutions. And we'll take an in-depth look at what makes Tailor Brands stand out from its competitors.
We will explore its features, pros and cons, pricing, and more to give readers a better understanding of this innovative platform. So let's get started!
Get started with Tailor Brands here!
Tailor Brands Review

Ease of Use

Customer Service

Price
TL;DR
Overall, Tailor Brands offers an innovative platform that simplifies the process of launching a business.
With its easy-to-use interface and comprehensive suite of features, Tailor Brands provides users with the tools and guidance they need to make their business a success. Best of all, its affordable pricing plans make it accessible for businesses of all sizes.
Whether you're launching your first business or an experienced entrepreneur looking for ways to streamline operations, Tailor Brands is definitely worth checking out.
Pros
Easy-to-use interface and tools that make launching a business a breeze.
Comprehensive suite of features, from logo design to LLC formation tools.
Affordable pricing plans for businesses of all sizes.
Step-by-step guidance and resources to help users succeed.
Cons
Limited customization options for the design tools.
Some features may require additional fees or subscriptions.
Additional services, such as legal advice and accounting help, are not provided.
About Tailor Brands
Tailor Brands was founded in 2014 to simplify and automate logo creation. Since then, it has become an all-in-one business platform that helps people around the world turn their ideas into successful businesses.
Its comprehensive suite of features includes a logo maker and design suite, website builder, LLC formation tool, and more. All these features come together in one platform, which makes launching a business a breeze.
The branding platform is powered by its AI-driven technology which helps users create professional designs with ease. It leverages powerful algorithms to generate custom logos and other design elements that are tailored to each individual user's brand.
Tailor Brands also offers step-by-step guidance and resources that help users navigate the process of launching a business, from brand design to back-office solutions. With millions of designs created and 30 million users, Tailor Brands is revolutionizing how businesses are launched.
Is Tailor Brands Legit?
Yes, Tailor Brands is a legitimate business platform that can help you launch your business with ease. Its comprehensive suite of features and tools makes launching a business a breeze. And its AI-driven technology ensures that users get the best designs for their new brand.
Starting a business can be an intimidating process, but Tailor Brands makes it easy with simple setup and support. Their suite of tools and advice from their knowledgeable experts will help you create a recognizable logo and website design, form an LLC for legal protection, and launch your business without any doubts or worries.
Plus, they provide guidance as you continue to scale and grow your business. Tailor Brands is the perfect place to plan for and go forward with any business endeavor!
Tailor Brands Features
This company offers a comprehensive suite of features to help users start and grow their businesses. These features include:
Logo Maker: Create custom logos in minutes using powerful AI-driven algorithms.
Design Suite: Customize and create designs for business cards, websites, brochures and more.
LLC Formation: Get your business up and running quickly with this easy-to-use tool.
Website Builder: Create a professional website for your business in minutes.
Step-by-Step Guidance: Get the guidance and resources you need to launch your business successfully.
Tailor Brands Pricing
This isn't particularly clear on the website, and there are a lot of variables, so let's take a closer look.
How Much Does The Tailor Brands Logo Design Service Cost?
Tailor Brands logo maker offers three distinct subscription plans to choose from, each tailored to suit your needs.
Basic plan: $9.99/month or $3.99/month for the annual plan
Standard plan: $19.99/month or $5.99/month for the annual plan
Premium plan: $49.99/month or $12.99/month for the annual plan
All plans come with high-resolution logos, full ownership of your logo, and social media logo sizes. The Standard plan includes additional professional features such as vector EPS files of your logo, a business card and stationery tool, and a special seasonal logo generator. The Premium plan offers even more features, such as access to social media analytics and automations.
There's also an extra discount on the online logo maker if you purchase a two-year subscription.
If redesigning or tweaking your logo every month isn't a necessity for you, then the logo design service may not be something that needs to be used often. However, before canceling your plan after only a few months of use, remember to download all necessary items first in order to ensure you have everything needed for your online presence moving forward.
No matter which subscription plan or service you choose, Tailor Brands aims to make branding an effortless process that will leave you in awe and highly satisfied with the end result!
How Much Does The LLC Service Cost?
When it comes to finalizing your Tailor Brands LLC purchase, you have a wealth of options that can change the price depending on your preferences. The checkout page offers full transparency, so you won't be met with any unwelcome surprises. This allows you to make an informed decision about what's best for you and your wallet!
When setting up your business with Tailor Brands, you will have some options to choose from. Some of the available features are:
Expedited filing
Registered agent service
EIN (Employer Identification Number)
Operating agreement document
Annual report submission
Don't forget that there may also be a State Fee, the amount of which you can easily determine on your State's official website.
How Much Does The Trademark Service Cost?
Tailor Brands offers a Trademark Service which involves two fees. The first is $299, which covers Tailor Brands' services, such as their direct hit search of the USPTO (United States Patent and Trademark Office) database, electronic filing of your trademark application with the USPTO, and full support from their team.
The second fee is paid to the USPTO directly and amounts to $350 per class of goods or services you wish to cover. After completing your purchase, one of their representatives will be in contact with you to help guide you through the remaining steps required by the USPTO to finalize your trademark registration process.
What Are People Saying About Tailor Brands? 
Tailor Brands has a Trustpilot score of 3.8 based on over 3,300 reviews.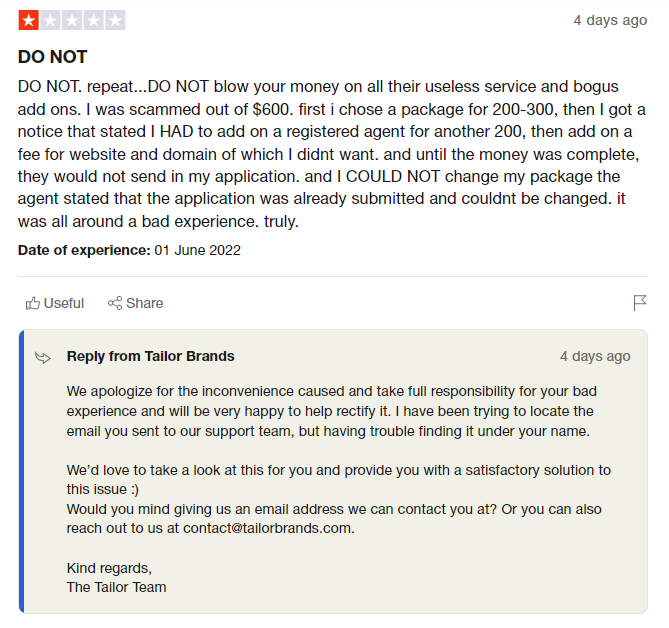 Negative tailor brands reviews mention that the LLC formation service was problematic and slow due to missing information, and has poor customer support.
However, there are also many positive reviews about Tailor Brands that praise its user-friendly interface, helpful resources, AI-driven technology, and great design elements.
Overall, most customers appear to be satisfied with Tailor Brands' services for setting up a small business, with 66% giving them a 5-star review.
Tailor Brands Alternatives
Hatchful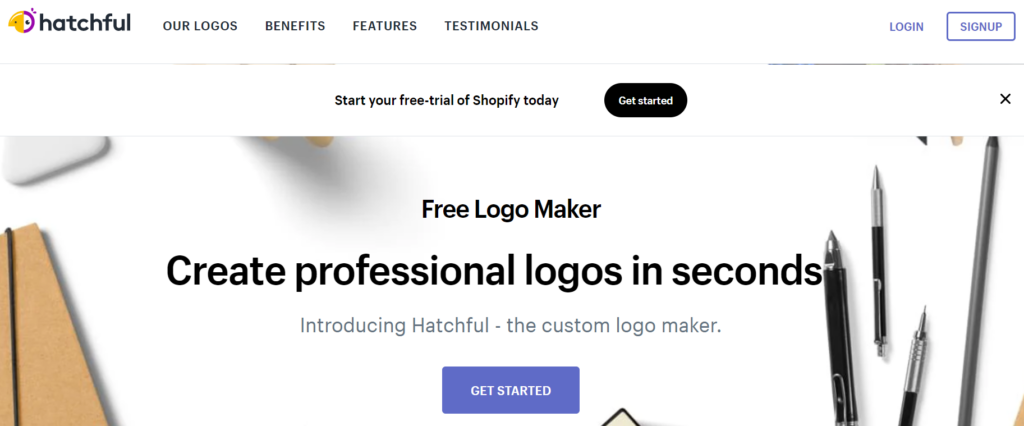 Hatchful by Shopify is an AI-powered logo design tool that allows users to create professional logo options in minutes.
This branding tool also includes pre-made templates and easy customization tools. So you can quickly create a unique logo and other design assets for your business.
It's part of Shopify, so if you are a business owner but don't intend to sell directly from your website, it might not be the best solution for you.
Looka
Tailor Brands alternative Looka is another automated logo maker that lets users create custom logos and other design elements in minutes using AI-driven technology.
This logo designer offers powerful templates to get you started. Or you can upload your own images for added customization to achieve the perfect logo.
Looka also offers website builders and other design tools to help you launch and promote your business with a cohesive brand identity.
99 Designs
99 Designs is an online marketplace where designers can showcase their work and be hired to create custom graphics for businesses.
If you want to hire a graphic designer to create a custom logo, it's one of the best places to get a logo designed if you want quality bespoke designs from experienced graphic design professionals.
Check out our thorough 99 Designs review for more info.
Tailor Brands Review: Conclusion
Tailor Brands is a comprehensive branding solution tailored for businesses of all sizes. It offers powerful features and resources to help users create stunning logos, websites, brochures, and back-office solutions in minutes.
With millions of designs created and 30 million users, Tailor Brands is revolutionizing how businesses are launched.
Overall, our Tailor Brands review finds it to be a legitimate business platform with user-friendly features, helpful resources, and great design elements.
If you're looking for an easy-to-use logo maker or a website builder, Tailor Brands could be the perfect choice for you.
However, if you need more customized branding solutions, there might be better alternatives out there that will provide you with a more individualized experience.
No matter what your needs are, we hope this Tailor Brands review has helped you make an informed decision about which branding platform is best for your startup. Good luck with your business!