Designing the perfect site for your business or personal blog means that you have to choose the proper hosting plan. WordPress is one of the most popular options – and for a good reason! It features robust plans that offer a lot to newbie website builders who don't want to spend tons of time writing code. But should you go with WordPress premium vs business? 
Both the WordPress premium and WordPress business plans have some great features, but you need to know how to boil it down to the bare bones. 
If you've been on the fence about which plan suits your needs the best, this detailed breakdown will give you the start you need. 
Let's get started. 
Features of WordPress Premium vs. Business
From storage space to security, there are tons of different categories to consider when deciding between WordPress premium and business. Here are the top considerations you'll want to make when starting your website. 
Storage Space
Does your site have tons of information that you need to store to keep things running smoothly? If so, you may consider opting for the WordPress business plan. It has substantially more storage space than the premium option. 
The WordPress premium plan has a storage space of 13 GB, which is more than enough for many people who are using it to maintain their blog posts.
However, if you're serious about website building and need storage, the business plan offers 200 GB of storage.
Both are an upgrade over the personal plan, which has a meager 6 GB of storage. 
---
Free Themes
Another benefit to choosing the WordPress business plan over a premium plan is that you get more access to themes and plugins that suit your site. Premium themes on a WordPress premium plan are not free and will require a one-time payment to use them for the design of your site. 
On the other hand, a business plan allows access to these premium themes – free of charge!
You can also upload custom themes to your WordPress business site. 
You may still encounter some of the themes for WordPress websites that are paid only. That being said, you have substantially more options to choose from with access to the premium themes.
It's much more likely that you'll be able to settle on something that makes your site feel custom and in line with your branding. 
---
Plug-in Options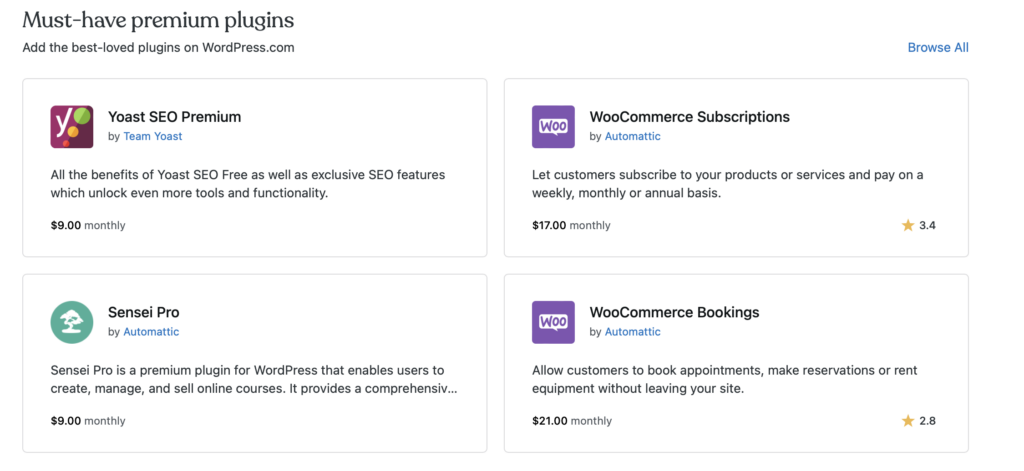 Themes and plugins are some of the most sought-after attributes of the WordPress business plan. In addition to having premium themes, you also have the option to install plugins with the business plan for your WordPress website.
WordPress Premium comes with some standard plugins automatically, but it may not be as robust as you wanted. 
On the other hand, WordPress business allows you to install plugins like: 
Yoast SEO or Rank Math
WooCommerce
OptinMonster
Elementor
Easy Digital Downloads
WordPress business is also the only option with Google Analytics integration. Google Analytics is a must-have for your site if you want to track traffic and gain clear insight into your site. Learn more about what a Google Analytics integration could mean for your site here. 
---
CSS Customization
If you want to truly customize your website, then you need to have access to editing the CSS of the themes that you choose. While the WordPress business plan features more themes to choose from, you do have the option to customize website CSS on both premium and business. 
The only way that you are able to alter the CSS is if you select a premium theme.
While you may have to pay for this theme on a WordPress premium plan, it can be worth it to get the extra control over the look and feel of your site.
One important thing to note about the difference in WordPress plans is that you may find that the business plan still works out better for you. This plan is the first tier that allows you to remove the WordPress.com branding from the design of the site.
---
Monetization
Once you move beyond the WordPress personal plan, you get some great features that allow you to start making money from your site. It won't be as flexible as a self-hosted WordPress site, but it's still something to consider. 
Starting with the Premium plan, you can add advertisements to your page via their WordAds program. Marked as the "official WordPress.com advertising program for site owners," you can earn money based on impressions and clicks of ads on your website. 
It may not earn you much, but it's better than nothing. Unfortunately, the WordPress personal plan does not grant access to the WordAds program, which starts at the Premium level. 
Keep in mind that a self-hosted WordPress website is still the most flexible option for earning. You gain greater control over where ads are placed and where they come from.
If you want the flexibility to earn based on opening a storefront, then the WordPress plans for business and higher are the right choice. 
---
SEO Tools
Search engine optimization is key to helping your audience find your website. Without careful attention paid to SEO, you might just be posting on your site and sending it out into the unknown, where nobody will be able to find it.
Fortunately, there is good news beyond just a Google Analytics integration with WordPress business. 
Along with the ability to install plugins, you will find that you can add some great SEO tools to your page. 
As mentioned earlier, one of the best integrations you can make is with Rank Math. This allows you to see how your keyword stacks up on the page and what you can do to boost the visibility of your website. 
Of course, that isn't all you'll find with the SEO tools available on WordPress business plans. You can also manage data that matters to the search engines, including: 
Meta descriptions
Custom title formats
Search and social previews
While still not as robust as WordPress.org, these SEO tools do matter and make a difference with the WordPress business plan over the premium option. 
---
Security
When it comes to the reliability of your website, every last detail matters. You don't want to lose all of the hard work you put into building your site because of a glitch in security. To this end, you'll find that WordPress business offers more safety, but the premium plan is also quite good. 
The WordPress premium plans allow you to protect your site using their firewall and basic security measures. Once you start to make changes to the code of your website, you may find that you need something that offers more protection, though. 
To this end, the WordPress business plan may be better suited to your needs. You'll have access to the features from Jetpack, which include: 
Backups
Restores
Security scanning
Downtime monitoring
Other security features of the WordPress business plan include a web application firewall and managed malware protection. 
---
Customer Service
It's inevitable that you may one day need to reach out to customer service about your WordPress plans. Depending on your preferred method of communication, you get some solid service out of both the WordPress premium and the business plans. 
WordPress Premium allows you to reach out to live support via their chat function. This enables you to get the help you need quickly, easily, and in real time. While it may be a bit inconvenient to have to wait on someone to type out responses to you, it's a great way to get things accomplished. 
WordPress Business also allows for live chat and email service. 
It's important to note that WordPress.com does not offer phone support at this time. They say that it's too difficult to deal with code and website functions over the phone when they may need to reference specific code.
WordPress Premium vs Business Pricing
Last but not least, it's important to take a closer look at how the pricing for both Premium and Business plans compare. If you're on a shoestring budget, then you may want to opt for the WordPress premium plan, which is significantly less expensive. 
Premium plans are $8 per month ($96 billed annually), and you get some pretty basic functionality. It's a solid price for the ability to put up a website quickly and easily, especially if you've never done this before. 
For those who want a little more control over their WordPress.com site, the business plan provides just that – but at a cost. It comes in at $25 per month ($300 billed annually).
As you can see, the cost differences for building a WordPress website with premium and business are quite different, so decide which one you can afford. 
An Alternative: WordPress.org for More Control
We would be remiss if we didn't at least outline another option to help you build a robust website with the flexibility to customize it however you want: WordPress.org. This free platform gives you a much greater degree of control over how your website will turn out, even when compared to the WordPress.com business plan. 
For those who are serious about making money on their website, you'll want to consider making the switch to a self-hosted WordPress.org site as soon as possible. It might sound a bit more intimidating, but you'll learn the ropes fast enough and won't have to worry about the WordPress.com limitations. 
If this sounds more aligned with how you want your site to be run, be sure to check out our full guide on how to start a blog here. 
You can also use hosting with Iridium Hosting which specializes in WordPress and can help get you up and running in no time at all.
Iridium Hosting even offers a full-scale site management service to help take care of all of your site's security, maintenance needs, and more.
You can also follow along a course like The Affiliate Lab which will show you exactly – step-by-step how to get set up, rank, and monetize your site.
This will allow you to start to cover the cost of keeping things running smoothly and generate a stream of passive income well into the future. 
Final Thoughts: Is WordPress Premium vs Business Right for Your Site? 
It's clear that WordPress business offers a lot more functionality and features than the premium version of the web hosting plan. If you want to make a serious go of your site, then it may be worth the extra few dollars to get set up with the business plan from the start. 
That being said, we still think that WordPress.org and self-hosting your website is the better option to give you more control over the site. It's an affordable option with greater flexibility and doesn't have to be complicated to set up. 
Be sure to weigh all your options about which platform is the right fit for you before diving into the heavy work of building a site!