In this article, we're going to be comparing Teachable vs Podia to see which of these online course platforms comes out on top.
We will be taking an in-depth look at their course creation features, pricing structures, customization features, support, and overall user experience, to help you decide which is the right online course platform for your business.
In a rush? Here's a quick TLDR.
Teachable is undoubtedly the best option when it comes to creating and selling online courses. It has a wider range of features and more customization options, but it is slightly more expensive than Podia.
Although it doesn't have quite as many bells and whistles in the online course area, Podia is a great option for anyone looking to offer communities and memberships alongside their online courses. It offers excellent value with all of the features you need included – no need to add third-party integrations.
Ready to get started right away? Try Teachable here for free or Try Podia for free right here.
Teachable vs Podia: Four Key Differences You Should Know About
Both Teachable and Podia have all the tools you need to start a successful online course business. However, there are a few key differences that might mean one will be more suited to you than the other. Although the two do offer a similar service, it is worth checking out their features and working out which is best for you.
Online Course Features. Teachable has better features for online courses, such as student compliance features, and even a dedicated mobile app so students can watch videos and learn on the go.
Memberships and Communities. When it comes to building a membership area or community to go alongside your online course, Podia comes out on top. If you want to do this with Teachable, you will need to use a third-party integration.
Support. Podia offers better customer support overall. If you have an issue, you can chat with a real person via the live chat feature, whereas with Teachable, you will have to submit a support ticket.
Pricing. Podia is slightly cheaper than Teachable and has lower transaction fees across all plans too.
It is certainly worth considering what your needs are and what features Podia and Teachable offer. This gives you the opportunity to explore both options and work out what is best for you and your requirements.
Teachable: Overview and Main Features
Teachable is a popular online course platform designed to make creating online courses easy.
It's main features include:
Online courses
Digital downloads
Coaching
E-commerce
teachable:pay
Powerful integrations
Marketing automation
Together, these features enable you to your run your entire online business from one place.
Teachable also offers some new AI features, including an AI curriculum generator and an AI quiz generator, to help you create the best possible online course.
There are currently more than 100,000 people using Teachable to create content. And thanks to its new mobile app, Teachable courses can be accessed on pretty much any device. This is great news for those that want to create digital content for people on the move.
Making and designing your course is easy using Teachable's built in drag and drop editor, which also allows you to edit and create your own website and/or blog, allowing you to brand your content and ensure everything works seamlessly together.
Podia: Overview and Main Features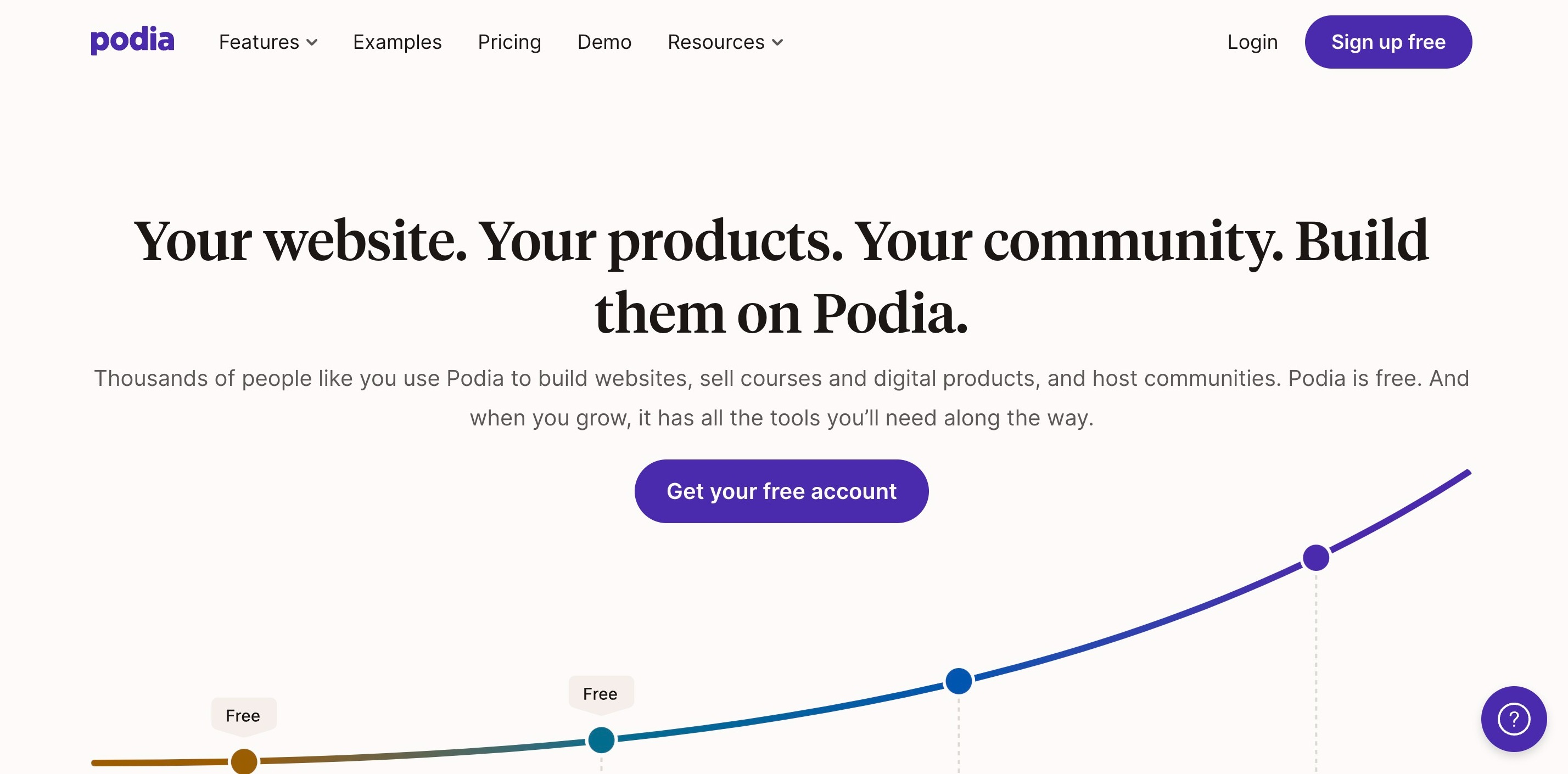 Podia is an all in one platform that has helped over 150,000 creators build beautiful online courses and sell them with ease.
It's known for being easy to use and is a great choice for anyone wanting an all in one platform that combines communities, memberships, and courses. 
It's main features include:
Website builder
Community
Email marketing
Online courses
Digital downloads
Webinars
Workshops
Coaching and Consultations
Course completion certificates
One of the biggest benefits of using Podia is that, in most cases, you won't need to use any third party integrations. It includes all the features you need to sell online courses, including sales pages and email marketing features, and you can even sell digital products. You can also choose to add your own custom domain or use Podia's domain if you prefer.
Teachable vs Podia: Which is Easier to Use?
Most people will find that Teachable is the easier of the two to use thanks to its easy-to-read dashboard that points you in the right direction as you build your course.
Teachable also has some innovative AI features, including an AI curriculum generator. Anyone who experiences writer's block or overwhelm when creating courses will love this feature, as it uses AI to generate a complete outline for your course.
All you have to do is choose a name and describe your course so that the AI understands what it's about. Once you hit generate, you will be given your course curriculum, which will include course sections and individual lessons within each section. You can, of course, edit any of these, but it will give you a solid starting point. Then, when you're ready, you can go in and add content to each section of your course.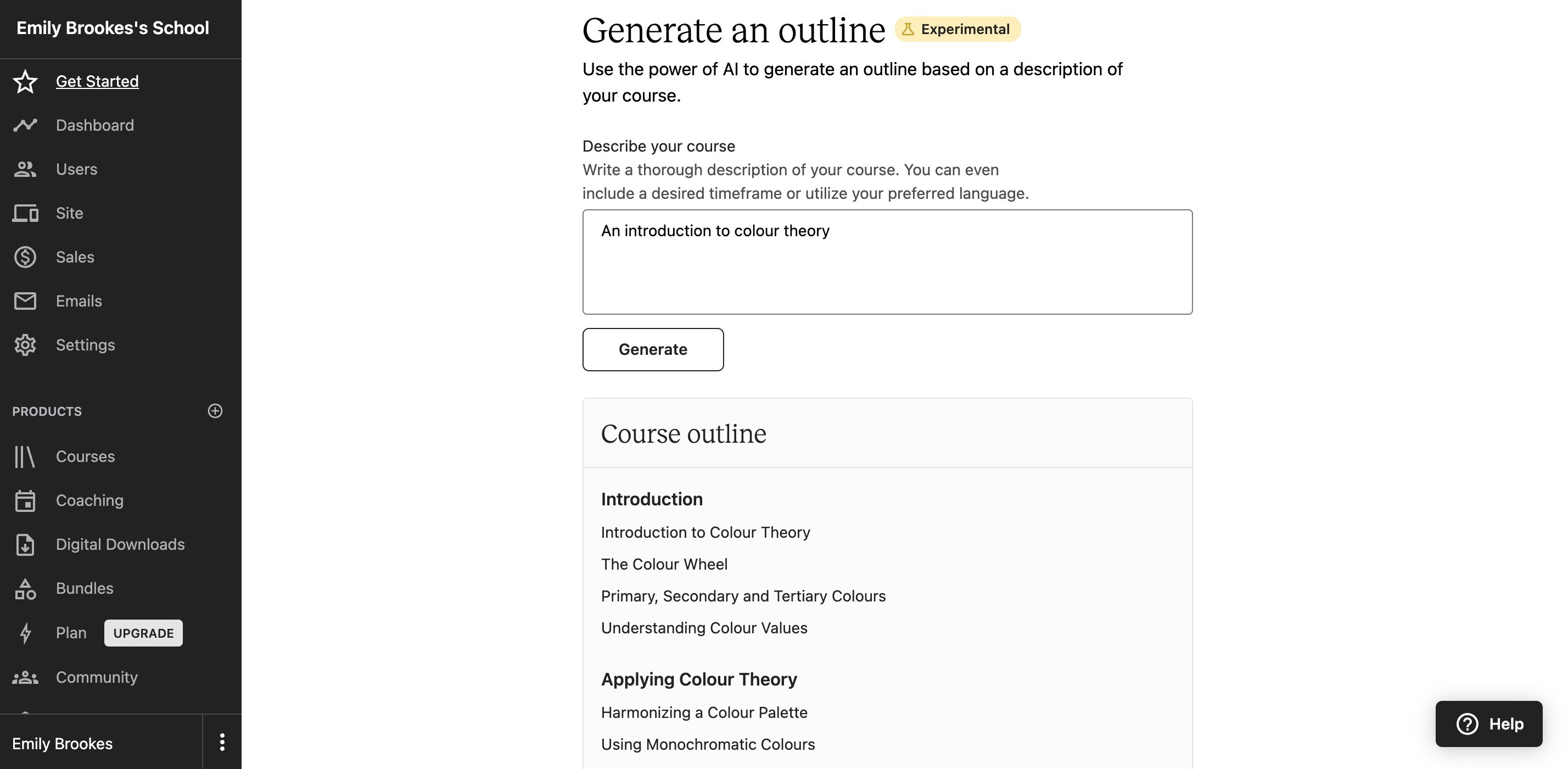 Another useful feature from Teachable is the AI quiz generator. This automatically creates a quiz based on any of the text based lessons in your online course. This is a great way to help keep your students engaged, and it can add a huge amount of value to your course in just a few seconds. You can choose whether or not to grade the quiz and even manage course compliance features in the settings to ensure your students pass the quiz before moving to the next module.
Podia is incredibly easy to use too. While it doesn't have the AI features that Teachable offers, it's still a breeze to navigate and use. You can build your course using Podia's drag and drop course builder and easily customize the colors, layout, and branding until it looks exactly the way you want it to.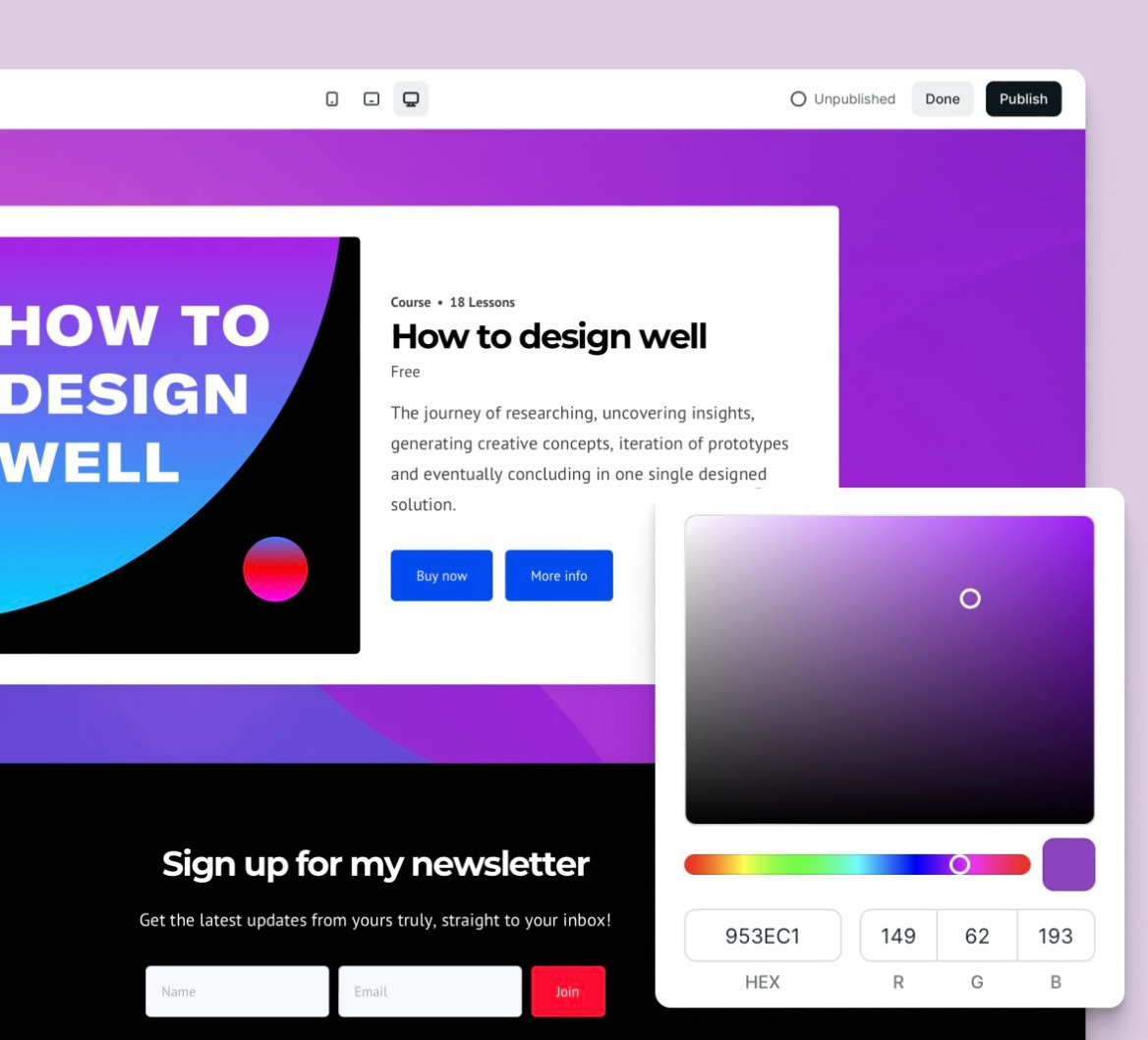 It has everything you need to create engaging courses, including graded quizzes, custom course completion certificates, and student progress tracking. 
Customer Support
The Podia website has a creator-friendly support team that is available to be contacted during business hours (ET time). They also have an email address on their website if you want to get in touch that way.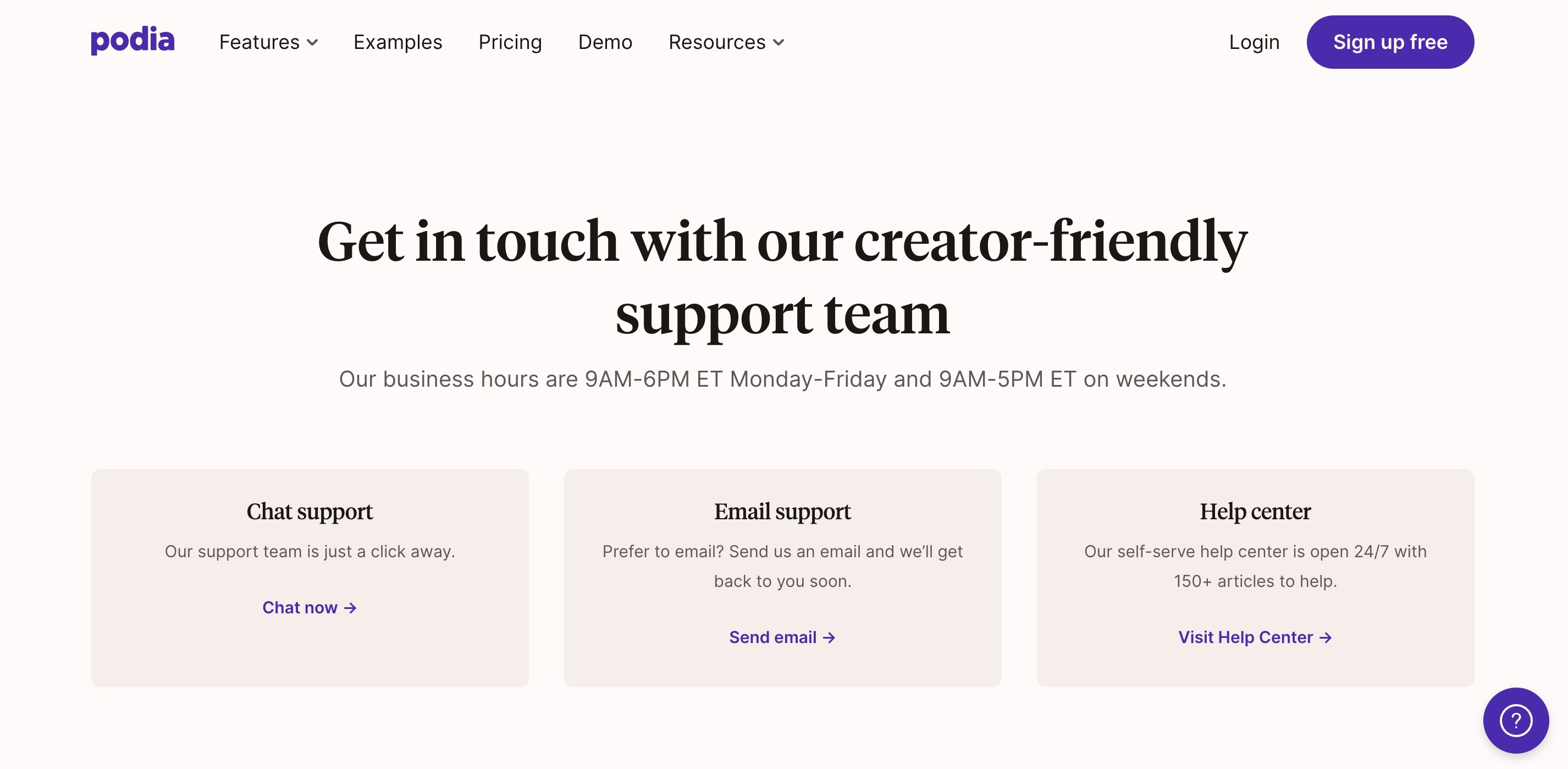 Their website also has an extensive Help Centre section, which is operational 24/7. This has a library full of articles and resources, which means that if you do have a question about using Podia, you should be able to get an answer without too much hassle.

Teachable also has a number of resources available online for anyone to access. They even have a Developer Hub for those who have more complicated questions.
Their community section allows you to speak to other Teachable users and share knowledge/ask questions. You can also submit a request for help via their website, and you'll get an email response to your query.
Teachable vs. Podia: The Pros and Cons
Here's a quick breakdown of the pros and cons of each platform!
Teachable's Pros and Cons
Free plan available
Course completion certificates
Mobile app for students to learn on the go
Advanced theme customization options
Communicate quickly and easy with email marketing automation features
Offer your students payment plans for your more expensive courses
Advanced student progress reports
Graded quizzes
Integrated payment processing
High transaction fees
Affiliate marketing features are only available on the most expensive plan
Podia's Pros and Cons
Live chat support
Transparent pricing
Earn recurring monthly revenue with memberships
Sell unlimited courses
Immediate payments without a holding period
Sell digital downloads
Offer coaching and webinars without third-party integrations
Simple migration
Course completion certificates
Limited customization features
Lacks some advanced features like student grading
No Mobile App
Teachable vs Podia: Pricing
Although price shouldn't be the only thing you consider when it comes to choosing software like this, it is something you should pay attention to. That said, Teachable is often considered more costly, but it has a few features you won't find on Podia. 
Teachable Pricing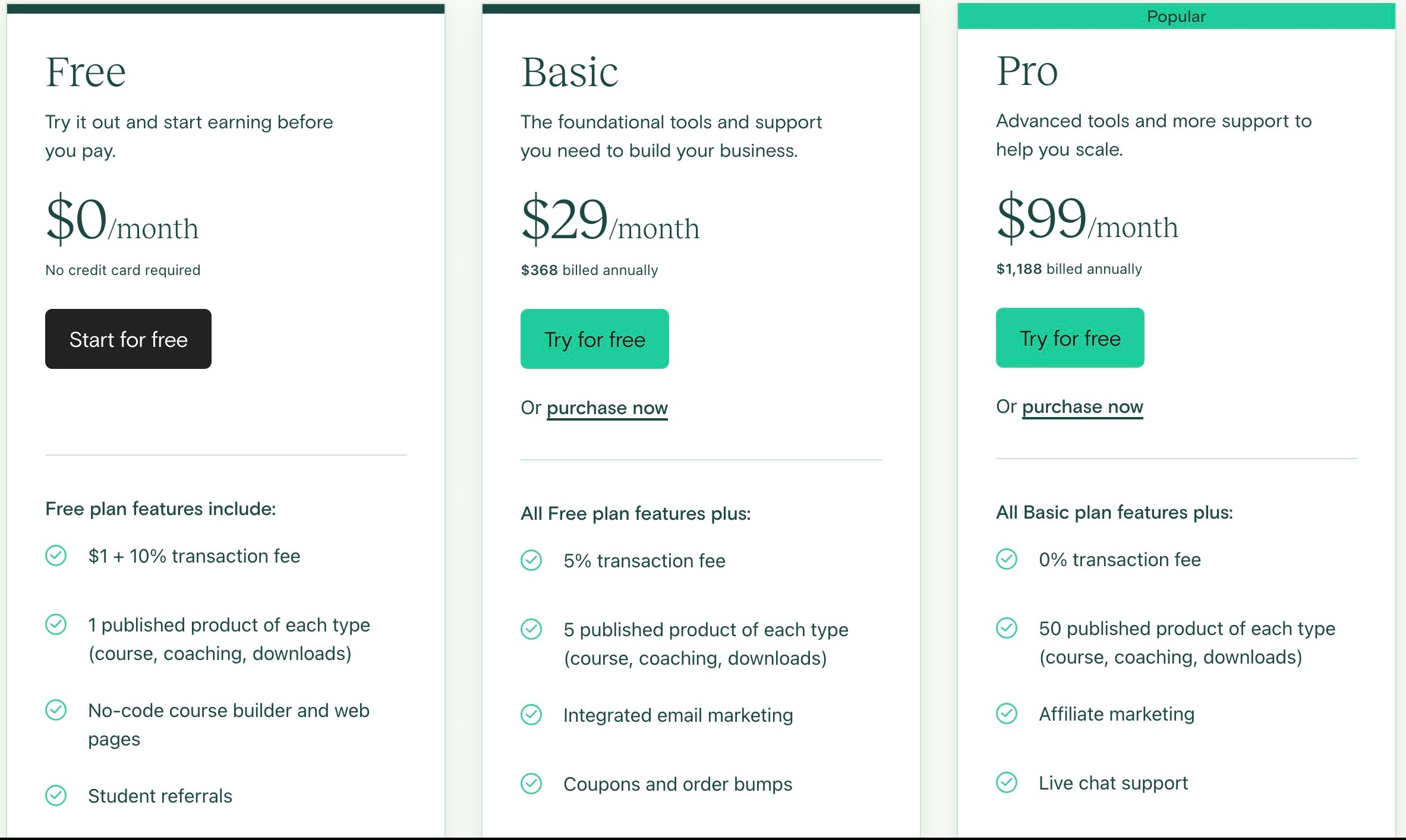 On both Teachable's Free and Basic plans you will need to pay transaction fees.
Teachable's Free plan has a $1 charge plus a 10% transaction fee for every transaction and limits you to one course, coaching, and download product.
Teachable's Basic plan costs $29/month (billed annually), with a 5% transaction fee. The Basic plan allows you to create up to five products for each product type (courses, coaching programs, and digital downloads).
The Pro plan costs $99/month (billed annually) and has zero transaction fees. This plan allows you to publish up to 50 products for each category (courses, coaching programs, and digital products) and allows you to create an affiliate program for your products.
Podia Pricing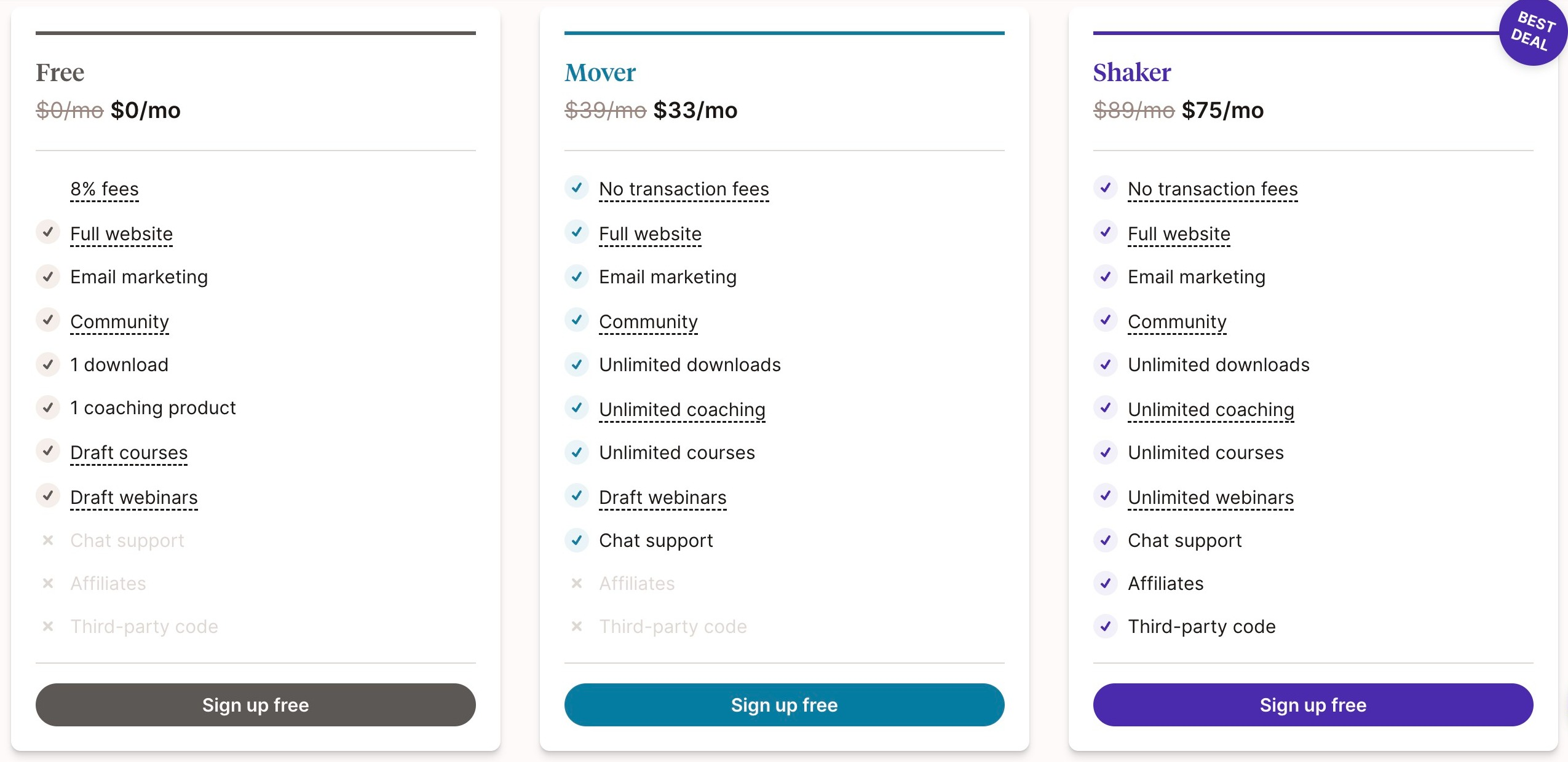 Podia has a completely free plan available, which can be great for small businesses and getting started. However, it is worth keeping in mind that you will pay an 8% transaction fee with the free version.
However, they do have two paid plans which give you more features and capabilities. These have a set monthly fee rather than a transaction fee.
Mover – $33/month
Shaker – $75/month
Both of these plans allow you to sell unlimited courses, full website, email marketing tools, community, chat support, and no transaction fees. If you want to create an affiliate program for your courses, you will need Podia's Shaker plan.
The Verdict: Podia vs Teachable – Which is Better Overall?
When it comes to creating and selling online courses specifically, Teachable has more to offer, including course compliance features and student progress reports. These allow you to track individual student progress as well as see how students are engaging with your course overall.
The platform is super easy to use, and the free plan allows you to create your first course and see how everything works before committing to one of the paid plans.
If you're looking to make money selling online courses, you can't really go wrong with Teachable.
That being said, if you're looking to sell online courses AND build an online community alongside your course, then Podia is probably the best option for you. With Podia, you can build an online community on all plans (even the free plan!), and you won't need to integrate with any third party tools.
Podia works out slightly cheaper in all areas too, so if you're on a budget, this might be something you want to factor into your decision.
Other Online Course Platforms Worth Considering
Still undecided? The good news is there are plenty of options to choose from when it comes to selling courses online. Other online course platforms worth taking a look at include:
Thinkific
Thinkific markets itself as THE all-in-one platform to help you create online courses. You don't need tech skills or knowledge to get started. Instead, Thinkific walks you through an easy-to-use dashboard to create, market, and sell your own online courses, with a wide range of features available. Check out our Thinkific review to find out more about this impressive platform.
Kajabi
Kajabi is a powerful online course creation tool that allows you to showcase a range of online content options. Coaching programs, podcasts, and even member-only websites can be created quickly and easily using the Kajabi online creator.
LearnDash
LearnDash is a WordPress plugin, which means it's ideal for creating an online school that runs from your main WordPress website or blog. This learning management system allows you to create professional courses quickly and easily and integrate this into your existing website seamlessly. Read our in-depth Learndash review to find out more about this plugin.