Are you struggling to decide which e-commerce platform is right for your online business? Choosing between Shopify vs Amazon FBA can be quite challenging, given their individual success and popularity.
Both platforms are indeed thriving:
According to Jungle Scout's 2023 State of the Amazon Seller, 89% of Amazon sellers are profitable.
Meanwhile, Shopify merchants receive orders from an impressive 457 million buyers each year!
Don't worry, though – we're going to break down each platform's key differences, features, and benefits so you can make an informed choice.
Shopify vs Amazon FBA: TL;DR
Key Points:
With Shopify, you can control your customer data and set up lead capture, email marketing, and abandoned carts (leading to high customer LTV).
Shopify gives you more leeway as a beginner. You don't have to meet strict quality standards, and you don't have to invest thousands in stock.
With Shopify, you can test many different products, so there is less margin of error.
Shopify
Amazon FBA
Platform
Standalone e-commerce
Online marketplace
Customization Options
Extensive (more control, design flexibility)
Limited (less control over storefront)
Fees
Monthly subscription + transaction fees
Subscription + referral + storage + fulfillment fees
Unique Revenue Opportunities
-Can implement funnels
-Lead capture
-One-click upsell/downsells
-Cart abandonment
-List-building
-Pixel-tracking/retargeting
Pre-existing inbound search traffic
Brand Identity
Better for unique brand building
Better for leveraging Amazon's pre-established brand and trust
Skills to Succeed
-Marketing skills & conversion optimization.
-Manage every facet of your business yourself, or outsource it
-Keyword research
-Risk management
-Risk tolerance
-Inventory management
-Allowance of a longer window to break-even, profitability
Risk, Inventory, Margins
– Less restrictions; beginner-friendly
– Can begin with less investment via dropshipping 
– Can test many products without investing in stock
– More control over your margins
-Requires more investment in inventory; not beginner-friendly
-Lower margins
Shopify Pros and Cons
One of the things I love about Shopify is its customization and branding capabilities. I've been able to design my store exactly how I wanted it, which has helped with conversions (I've had a lot of success creating high-converting landing pages and upsells with Zipify apps). 
Shopify also allows you to test products with low risk via drop shipping. You only need to invest in stock once you've proven that a product can sell.
By comparison, you must invest in stock for Amazon. That presents a sizable risk – what happens if it doesn't sell?
Shopify also offers me more control over customer data. This is huge, especially when you're buying traffic. For each visitor that visits my page, I have the opportunity to capture them as a lead.
I can also place a tracking pixel on the page and retarget them. I can't stress enough how important it is to own your traffic and have access to all that valuable information. 
And last but not least, the variety of payment gateways Shopify offers has been super helpful. It's given my customers more payment options. 
Plus, I've had the flexibility to choose the payment provider that best suits my needs, and that's been beneficial for selling "higher-risk" products that may not fly on Amazon.
There are also a few drawbacks to consider. Let me tell you about some challenges I faced regarding marketing and customer support.
One disadvantage of using Shopify is that it does not have the same built-in traffic and customer base as Amazon. While Shopify offers tools to help sellers optimize their stores for search engines, it can be easier to attract customers with the built-in audience that Amazon provides.
I had to learn various skills like:
Landing page design
Copywriting
Conversion optimization
Paid ads
Email marketing
Also, I had to deal with customer support, which can be time-consuming. So, I hired a professional on Fiverr to ensure top-notch service, which helped save time and let me focus on scaling.
One of the aspects that concerned me was the need for more control over quality and fulfillment with the dropshipping model. 
It's possible to address this concern by teaming up with a fantastic supplier. We've ensured that product quality remains top-notch and fulfillment runs seamlessly.
In addition, by staying vigilant about quality control and shipping times, I minimized nasty chargebacks and kept customers happy.
Amazon FBA Pros and Cons
Here's how Amazon FBA works:
When a customer places an order, Amazon handles the packing and shipping of the product. As a result, sellers don't have to worry about storing inventory or fulfilling orders themselves – that's all handled by Amazon's network.
Amazon has a vast customer base (300 million active users worldwide) that can be difficult for individual sellers to reach independently. 
In addition to access to a large customer base, using Amazon FBA also offers Prime eligibility for products. Prime members receive free two-day shipping on eligible products, which can increase visibility and sales for those items.
However…
Despite these benefits, there are also some drawbacks.
For example, restrictions limit certain products sellers can offer through FBA. In addition, sellers must adhere to specific labeling requirements and ensure that their products meet certain standards before Amazon's fulfillment center stores them.
FBA sellers are also subject to Amazon's policies and decisions, which can be unpredictable. For example, Amazon may suspend a seller's account without warning or remove a product listing if it violates terms of service.
Using FBA means that sellers have less control over customer data. This can make it challenging for sellers to build customer relationships outside the Amazon platform.
Lastly, competition is fierce on Amazon. Millions of third-party sellers are vying for buyers' attention, so it's easy for your products to get lost in the crowd.
Therefore, you must invest in stock to maintain your margins and sell competitively.
That said, navigating the Amazon marketplace can be like walking through a minefield, and a single bad product investment can really set you back. That's why I swear by Jungle Scout.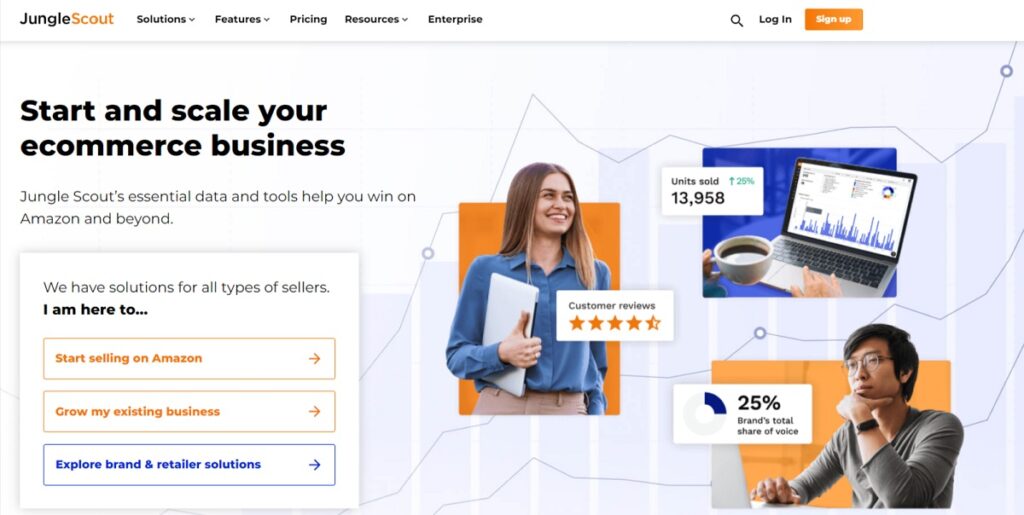 It's an awesome tool that uses real-time data to help you find genuinely profitable products. You'll have the edge you need to pick products that actually sell and avoid costly mistakes. For more info, check out our full Junglescout review.
The last drawback is the fees, which can add up quickly and cut profit margins. My margins were around 10-12% for my Amazon operation, which is lower than my Shopify dropshipping operation (20-30%).
Setting up a Shopify store
Set up a Shopify store with these easy-to-follow steps:
Register on Shopify: Create your store in no time by visiting shopify.com and providing the required information.
Choose a niche: What niche will you focus on? (Here are the best dropshipping niches.)
Add your products: The pricing strategy, store design, shipping, and more depending on the items you offer.
Choose a Shopify theme: Select a visually appealing and functional theme to enhance your store's appearance.
Set up your back office: Configure basic settings and manage your store's operations.
Set up a custom domain: Personalize your store's web address to establish a unique brand identity.
Launch your Shopify store: With everything in place, unveil your store and start selling.
Setting up an Amazon FBA store
Here are the steps to set up an Amazon FBA store:
Create an Amazon Seller Account: Sign up at sellercentral.amazon.com. Choose between an Individual or Professional plan.
Choose your products: Conduct thorough market research and select the products you want to sell. Consider factors such as demand, competition, and profitability.
Find a supplier: Source your products by finding a reliable supplier or manufacturer. Ensure they meet quality standards.
Create product listings: Set up your product listings on Amazon, including product titles, descriptions, images, and pricing. Optimize your listings using relevant keywords and high-quality content to improve visibility in search results.
Ship your products to Amazon: Prepare your products for shipment following Amazon's FBA packaging and labeling requirements. Then, send your inventory to the designated Amazon fulfillment centers.
Set up Amazon FBA: In your Seller Central account, enable Amazon FBA for your chosen products. Amazon will now handle storage, picking, packing, shipping, and customer service on your behalf.
Shopify Marketing and Advertising
I've found that Shopify presents many marketing opportunities to drive traffic and increase sales for my online store.
One strategy I've had great success with is content marketing through their integrated blogging platform. By creating valuable, high-quality blog posts for my target audience, I've established myself as a trusted expert in my niche and built stronger connections with potential customers.
Aside from blogging, Shopify has a range of marketing tools to help promote my business. Email marketing is particularly powerful, as it lets me send targeted, personalized messages to subscribers who opted-in for updates. 
With integrations like Klaviyo, I've been able to set up abandoned cart flows and segmented campaigns. Remember, email marketing is extremely profitable – it has a 4200% ROI on average for every $1 spent.
What I truly appreciate about Shopify is the ability to own customer data. Whenever someone visits my store, I can capture them as a lead and retarget them using tracking pixels. 
This advantage sets Shopify apart from Amazon, where customer information is restricted. 
Amazon FBA Marketing and Advertising
This section will discuss some of the most effective ways to win customers on Amazon FBA.
Amazon PPC (Sponsored Products)
One of the most popular advertising options is Amazon PPC or Sponsored Products. This type of advertising allows sellers to bid on specific keywords related to their products, which appear at the top or bottom of search results pages. 
You can use Amazon's targeting options such as: 
Automatic targeting
Manual targeting
Product targeting
Amazon's Promotional Tools (Coupons, Lightning Deals)
Another way to attract customers on Amazon FBA is by using Amazon's promotional tools, such as coupons and lightning deals. 
Coupons allow you to offer discounts on your products, while lightning deals offer time-limited promotions with limited quantities.
Using them will increase your sales velocity and improve your product rankings in search results pages. 
Optimizing Product Listings for Amazon Search
Optimizing your product listings for Amazon search is crucial to winning customers on Amazon FBA. 
The key elements of an optimized product listing include:
An engaging title
High-quality images
Detailed descriptions with bullet points
Competitive pricing
Positive reviews with high ratings
Relevant keywords in titles and descriptions
You can use Amazon's A+ Content feature to enhance your product descriptions with additional images and text.
Shopify Inventory Management and Fulfillment
Inventory management is a crucial aspect of any e-commerce business.
It involves tracking and managing the flow of goods from suppliers to warehouses and customers. Unfortunately, companies can experience stockouts, overstocking, and other issues without proper inventory management.
Dropshipping vs Third-Party Logistics (3PL) vs Self-Fulfillment 
Businesses have three options:
Dropshipping
Third-party logistics (3PL)
Or self-fulfillment
With drop shipping, you outsource warehousing and fulfillment to a third party. In this case, you don't own the inventory. Instead, you would pay the dropshipping service provider on a per-item basis.
Self-fulfillment involves storing products in-house and shipping them directly to customers when orders are placed.
3PL involves outsourcing warehousing and fulfillment services to a third-party provider who handles storage, packing, and shipping on behalf of the business. You would invest in stock, and then the warehouse would store your inventory and fulfill the orders.
Shopify Fulfillment Network
For those who prefer not to handle order fulfillment themselves or use 3PLs outside Shopify's network, Shopify offers its own fulfillment network: Shopify Fulfillment Network (SFN).
SFN provides end-to-end fulfillment services, including storage, packing & shipping for merchants with high-volume sales while allowing them complete control over their branding and customer experience.
One advantage of SFN is the Shopify Promise badge, a premium feature that displays order delivery dates on product pages. This increases buyer trust and can lead to higher conversion rates.
Amazon FBA Inventory Management and Fulfillment
As an Amazon seller, managing incoming and outgoing inventory is essential. 
Too much inventory ties up capital and storage space (you'll also incur fees).
If you don't have enough inventory on hand, you will lose out on sales.
The rule of thumb: it's ideal to meet demand on a rolling four-week basis.
Inventory Performance Dashboard
One of the most valuable tools that Amazon provides its sellers is the Inventory Performance Dashboard (IPD).
This dashboard displays essential inventory information such as sell-through rates, aging stock alerts, and recommended actions to optimize storage. 
Machine Learning-Based Inventory Management System
FBA sellers get access to Amazon's machine learning-based inventory management system. 
This system uses inputs like the cost of goods sold (COGS), shipment time, and historical data from Amazon to forecast customer demand accurately and set optimum inventory levels.
This allows you to automate many aspects of your supply chain management process. 
For example, you can:
Set reorder points: The system will reorder when inventory falls below the threshold.
Forecast demand: Historical sales data predict the inventory required to meet future demand.
Optimize storage: Recommends stock level for fulfillment centers based on popularity in specific regions.
Inventory Performance Index
Amazon will track your inventory performance (IPI) score based on your ability to manage your inventory levels effectively.
This score ranges from 0 to 1000 and is calculated based on factors like excess inventory levels, stranded inventory percentage, and order defect rate.
If your IPI score falls below 400, you may face additional fees or restrictions on creating new listings or sending more inventory.
On the other hand, if you maintain a high IPI score consistently, Amazon may reward you with lower fees or priority placement in search results.
Pricing Plans and Selling Fees
Shopify offers various pricing plans that cater to different business needs. The basic plan starts at $25 per month, while the advanced plan costs $399 per month.
Each plan has different features, including the number of staff accounts, gift cards, and professional reports. However, one thing that remains constant across all plans is the transaction fee charged by Shopify.
The Shopify Payments transaction fee ranges from 2.4% to 2.9% + 30 cents per transaction, depending on the pricing plan selected by the user.
In addition to transaction fees, Shopify also charges a referral fee ranging from 0.5% to 2% for sales made through external channels like Facebook and Pinterest.
Credit Card Rates
Shopify's credit card rates vary depending on the user's chosen pricing plan. Basic plans have higher credit card rates than more expensive plans. For instance, basic plans have credit card rates ranging from 2.4% to 2.9% + 30 cents per transaction compared to lower rates offered by more expensive plans.
Amazon FBA Fees and Revenue Potential
While Amazon FBA can be a convenient option for many sellers, it's important to understand the fees associated with using Amazon FBA.
Storage Fees
One of the main fees associated with using Amazon FBA is storage fees. These fees are charged based on the size and weight of your product and how long it has been stored in an Amazon warehouse. Storage fees are assessed monthly for standard-size items, while oversized items are charged daily.
Regularly review your inventory levels and remove any slow-moving or excess inventory from Amazon's warehouses to avoid excessive storage fees.
Fulfillment Fees
In addition to storage fees, Amazon FBA charges fulfillment fees for each item shipped out of their warehouse. These fees vary depending on the size and weight of the product being shipped. However, these costs can be offset by the convenience of having Amazon handle all aspects of order fulfillment.
Referral Fees
Another fee that sellers need to be aware of when using Amazon FBA is referral fees. These commissions are paid to Amazon for each sale made through their platform. Referral fees typically range from 6% to 45%, depending on the product category.
FBA Removal Fees
As an Amazon seller, you may encounter situations where you need to return your inventory from an Amazon warehouse.
The fees vary depending on the size of the product category it falls into – standard-size or oversized. Standard-size products generally have lower removal fees than oversized ones. The removal fees range from $.97 per unit to $13.05 per unit for oversized ones.
FBA Disposal Fees
Now that we've covered removal fees let's talk about disposal fees. Disposal fees are charged when a seller requests Amazon to dispose of their inventory rather than return it or store it in an Amazon fulfillment center. These fees help cover the cost of properly disposing of the products – they follow the same pricing structure as the removal fees.
Shopify vs Amazon FBA Final Thoughts
Ultimately, where to sell your products depends on your business goals and target audience. 
If you want less risk and more control over your brand, then Shopify may be the better option.
If you want to reach a wider inbound audience and leverage an established brand, then Amazon may be the better choice. Especially if you leverage a tool like Jungle Scout to help you make the best possible decisions!
However, selling on both platforms can help diversify your sales channels. By listing your products on both Amazon and Shopify, you can take advantage of the benefits of each platform while minimizing their drawbacks.