Whether you're just about to record your very first podcast or you're a seasoned professional, using the right software can take a lot of stress out of the process, leaving you free to focus on your content. In this article, we're going to be comparing Buzzsprout vs Podbean side-by-side so that you can decide which one is right for you.
Podbean and Buzzsprout are two of the most popular Podcast hosting platforms around, with relatively similar offerings, which is why many people find it hard to choose between them.
We will be taking a look at all of the features, as well as their pros and cons, and the pricing, so that you can take everything into consideration before making a decision.
In a rush? Here's what you need to know.
Overall, Podbean is the clear winner for us. It offers an insane amount of value for just $9/month, with everything you need to create and monetize a successful podcast. Keep reading to find out more about this powerful podcast-hosting service.
---
Buzzsprout vs Podbean: 3 Key Differences You Should Know About
Despite being similar in many ways, there are a few key differences between Buzzsprout and Podbean worth noting.
Buzzsprout currently has no mobile app, whereas Podbean allows you to use their app to both create and listen to podcasts.
Buzzsprout does not integrate with Amazon Alexa, which Podbean does. Allowing your podcasts to be shared easily to Alexa devices can help to increase your reach.
Podbean enables you to create live audio shows, whereas Buzzsprout doesn't offer this.
Buzzsprout vs Podbean: Overview and Main Features
The great thing about both Buzzsprout and Podbean is that they each offer a wide range of features. This means that whatever you need from a podcast platform, you can be sure you'll be able to find it.
Both offer a variety of plans too, so whatever stage you are at in your podcast journey, you should be able to find a plan that suits your needs.
Buzzsprout
The Buzzsprout podcast hosting platform is designed to make podcasting easy, even for complete beginners. It offers free podcast hosting for up to two hours a month and has a range of affordable plans available for those who need more hours.
Buzzsprout offers a great range of features and aims to provide everything a podcaster needs. Its main features include:
Podcast integrated directory distribution. Integrated podcast distribution is provided to popular podcast directories. This includes Spotify, Amazon Music, Apple Podcasts, and also Google Podcasts. This a great feature for those wishing to grow their following.
Podcast monetization features. With many podcasters looking to monetize their content, Buzzsprout offers affiliate marketing straight from your account. This feature is uncommissioned, and you will receive the full amount of any affiliate earnings your account generates. External sponsors can still be added, and donations can be accepted through links to Patreon, PayPal, or Buy Me a Coffee.
Transcription services. Buzzsprout's episode transcription makes it possible for speed readers and those with hearing loss to access your content.
Buzzsprout embed player. An embeddable media player is provided that you can integrate into your website. The player is fully customizable too. Choose your colors and images, set your sharing options, and provide podcast details.
API integrations. Buzzsprout provides an API for simple and quick integrations by 3rd party software apps. Full details are listed on GitHub.
Advanced podcast analytics. Buzzsprout offers easy-to-understand data for important metrics like total downloads, device types, locations, and listener averages. The data can be displayed over various time periods to give an idea of how your podcasts are being received.
Podbean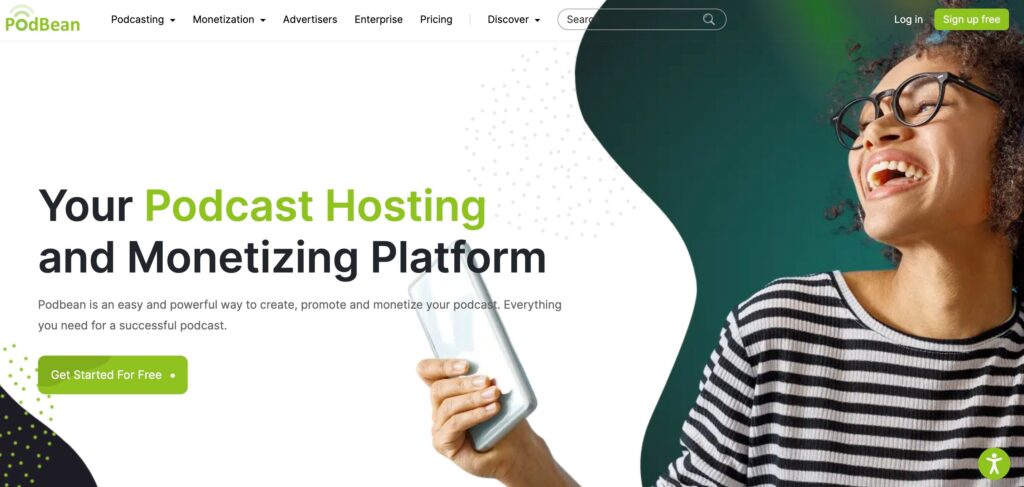 Podbean is a powerful podcast hosting platform with a wide range of monetization features on offer.
This popular Buzzsprout alternative is used by over 600,000 podcasters worldwide and has facilitated over 11.4 billion downloads at the time of writing.
Its main features include:
Video podcasting. Podbean provides useful support for video podcasting.
Audio live streaming. Live Streaming has become an important medium for interactive connections with your audience. Very useful for providing your subscribers with exclusively produced content.
Remote recording. With provision for up to 7 guests alongside the podcast host, the live-stream capabilities given by Podbean will see you easily produce sessions with music that are automatically stored for future use.
Automated transcription and closed captions. Podbean has added automatic transcription to give captions and full transcriptions for your podcasts. This feature is charged at $0.20/per minute and requires pre-planning as the service takes some time to complete.
Podcast editing. Podbean also includes hosting and editing software, giving you great post-production strength. Remove redundant content, provide intros and outros, and give your podcasts polish with special effects and well-placed music to ensure a perfect finished piece.
Multiple monetization options. Podbean enables a large range of monetization choices, including Ads Marketplace, Patron programs, paid premium podcasts, and a fan club facility.
Go mobile. Podbean has a great mobile app that lets you listen, record straight from your phone or upload pre-recorded content. Convenience on the go is assured with Podbean.
Embedded media players. Podbean gives users fully customizable embedded media players for podcasters.
Distribution across podcast directories. Podbean publishes to YouTube, Apple Podcasts, and other well-known podcast directories automatically.
Analytics. Podbean provides IAB-certified analytics and displays them in an easy-to-understand format. The data can be used to both understand and grow your audience.
Buzzsprout vs Podbean: Which is Easier to Use?
Let's see how Buzzsprout measures up against Podbean when it comes to usability.
Buzzsprout
Buzzsprout's platform is refreshingly easy to use. It has clearly been designed with the user in mind, which means navigating your way around the platform, even when you're new to podcasts, should be a doddle.
Podbean
Podbean prides itself on having a number of resources that those new to podcasts can take advantage of.
This, alongside a user-friendly dashboard and interface, means that most users consider it to be a platform that is extremely easy to use and get to grips with.
Analytics
Being able to monitor your podcast statistics lets you see what is doing well and what isn't, so you can tweak your content as needed in order to ensure you're reaching the maximum number of listeners.
Buzzsprout
All of Buzzsprouts plans, including their free option, allow you to see various statistics and analyze podcast performance.
You can get an idea of your audience data too. This allows you to perfect the content you put out in the future to ensure you reach the best audience.
You can even see what applications people use when tuning into your podcast and where your listeners are tuning in from.
Podbean
Podbean has an advanced analytics area, which allows you to understand download and audience numbers.
You can also use the statistics section of Podbean to see the latest trends. This allows you to stay ahead of other podcasters when it comes to the content you are creating and putting out there.
You can look at things such as your top 10 performing podcasts and even the best performing times of day/days of the week.
Integrations
While both platforms have an impressive range of built-in features, there may be more than you want to be able to do.
Both Buzzsprout and Podbean allow you to team them up with third-party platforms to ensure you get the maximum functionality possible. 
Buzzsprout
Buzzsprout works with various podcast-related platforms, including the facility to sign up for audio transcriptions to be carried out.
This allows you to boost your SEO, so it can be worth doing if you want to drive more traffic to your podcast. Other integrations include WordPress, Podtrac, and Canva.
Podbean
Podbean works with a number of third-party platforms to offer integration. One that lots of people get excited about is Mailchimp – which allows you to let people know when you release a new podcast.
Other integration options include Google Analytics, Dropbox, Alexa, and WordPress.
Podcast Monetization Features
If your podcast starts to take off in popularity, then you may wish to look at ways to monetize your podcast.
Whilst it can take a while to be able to make a salary from a podcast, there are different ways to bring in some extra money from your newfound side hustle.
From sponsorships, advertising, and event hosting to selling products and offering premium content, your options for monetizing your podcast are pretty extensive.
Buzzsprout
In the past, Buzzsprout has hit the headlines for the monetization features that they offer, with a YouTube-style approach to enabling podcasters to make money from their content.
They have a whole section on their website to guide creators through being able to make the most of their money-making opportunities. 
They allow you to create Buzzsprout ads, which allow you to run product promotions and grow your audience that way.
Podbean
Podbean allows podcasters to live stream their podcast (with free and paid listening options) and earn money by receiving virtual gifts that can be sent in by those listening in live.
Much like Buzzsprout, they have an extensive section on their website to help you with monetizing your podcast, including advice on things like setting up a patron program that is suitable for you and your content.
They also offer advice on setting up and selling merchandise and accept donations from grateful listeners.
Customer Support
Great customer support is essential; neither lacks this feature. However, Podbean has more options for those wanting to learn in-depth about the ins and outs of podcasting.
Both platforms will see your customer support needs met quickly and efficiently.
Buzzsprout
Buzzsprout provides its customer support via email, which gives you access to knowledgeable professionals to solve your issues.
It also provides a range of resources, including FAQs, blogs, and articles, as well as guides to help you with individual tasks. 
Podbean
Podbean offers comprehensive customer support to its users. Direct contact is made through the customer support form. Podbean reacts by assigning you a support professional to solve your issues.
The platform's support center also has extensive video tutorials and in-depth articles to guide you on your way. Their Podcast Academy gives beginners a solid knowledge base from which to gain the skills needed to find success.
And finally, Podbean's live events give users the opportunity to learn from successful podcasters willing to share their experiences.  
Buzzsprout vs Podbean: Pros & Cons
These are subjective, and your individual purpose and requirements may influence how you view these pros and cons.
Buzzsprout
Free 90-day trial offered
Free podcast hosting for 2 hours per month
Unlimited storage with all plans
Provision provided for multiple podcast creations from a one account
Easy to use
Customer support has limitations and is only provided through email
No video hosting with audio
No live streaming capability
Podbean
Free basic plan with low-cost paid options.
Free Website Builder
Podbean Apps for both Apple and Android devices.
Free migration to Podbean
Live streaming capability
Beginner-friendly learning curve
Lots of help and tutorials available
Podbean offers a no-refund policy
Users need an account to become a subscriber or leave a comment.
Buzzsprout vs Podbean: Pricing
Both Buzzsprout and Podbean have a number of plans you can choose from, which means you can pick the package that best suits your needs and budget.
Buzzsprout Pricing
Each package on Buzzsprout gives you access to unlimited team members and advances analytics on your podcast episodes.
Free Plan – upload 2 hours of podcast each month, with each podcast episode hosted for 90 days.
$12/month – upload 3 hours of content each month, with episodes hosted forever. Allows access to tools that allow you to import podcasts and take advantage of unlimited storage. Upload more content for $4/hour.
$18/month – upload 6 hours of content each month, with episodes hosted forever. Upload more content for $3/hour.
$24/month – upload 12 hours of content each month, with episodes hosted forever. Upload more content for $2/hour.
Podbean Pricing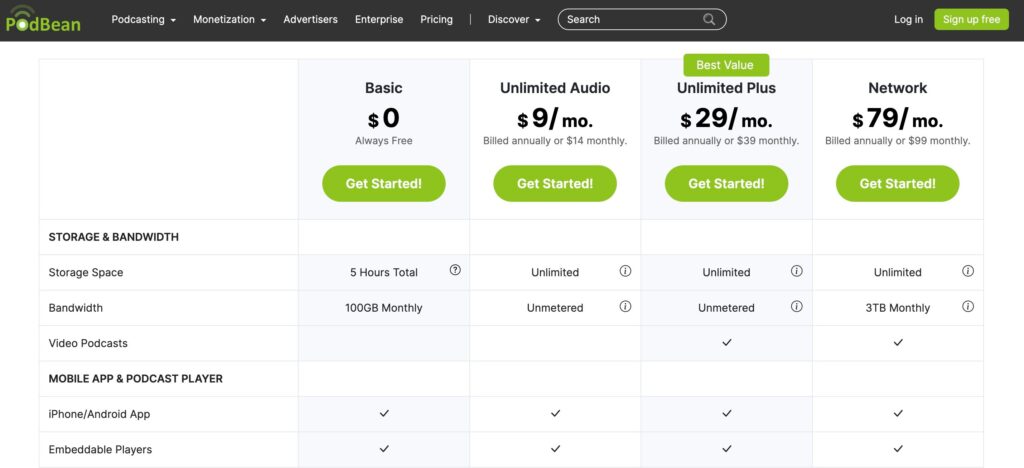 Basic (free). 5 hours of storage space and basic capabilities, including access to the app, creating your own podcast website, and access to their podcast themes.
Unlimited Audio – $14 a month (discount if you pay annually). As above, as well as unlimited storage space, advanced custom design options, mapping your own domain, and access to monetization and advertising tools.
Unlimited Plus – $39 a month (discount if you pay annually). As above, as well as full custom design options, video podcast options, unlimited bandwidth, access to their patron program, and the ability to pay to host multiple podcasts.
Network – $99 a month (discount if you pay annually). Everything from Unlimited Plus, as well as unlimited podcast hosting for multiple podcast channels. You can also have multiple admins and your own professional network page. 
Buzzsprout vs Podbean -The Verdict: Which is Better Overall?
So… who came out on top in the battle between Podbean vs. Buzzsprout?
Although both podcast hosting platforms have some great options, Podbean is the clear winner for us.
While Buzzsprout may seem cheaper on the surface, when you dig a little deeper, you will see just how much value Podbean has to offer for almost the same price.
If you're willing to pay the year upfront (which you should if you're serious about your podcast), Podbean actually works out slightly cheaper at just $9/month, so it's a no-brainer really.
The wide range of collaboration features and the ability to record podcasts remotely with multiple hosts make it a great option for large businesses and individuals alike.
That being said, both platforms have a free trial available, so if you're undecided, you can test them both before committing to a paid plan.