Surfshark vs ExpressVPN. Two of the best VPN providers on the market right now. But which one fits you best? It basically comes down to your top VPN requirements and price.
This article will discuss Surfshark and ExpressVPN's key features. How they stack up against each other will guide you in choosing the one that works best for your anonymity and security.
Surfshark VPN has really upped its game over the past couple of years. It gives exceptional service, is the fastest VPN overall, and offers highly tempting pricing plans. I would go for Surfshark, no question about it.
Surfshark vs ExpressVPN
ExpressVPN was always my top pick on the market, even if it was pricey. But now, I've lost faith.
Recent ExpressVPN developments have raised some potential privacy problems. In particular, they were purchased by the somewhat questionable Kape Technologies. The CIO of ExpressVPN was also fined for his participation in Project Raven in the United Arab Emirates. The fines were for hacking and spying on US residents on behalf of the UAE government.
Having said that, you won't go wrong with either ExpressVPN or Surfshark because they are both great options. Both are compatible with popular streaming services like Amazon Prime, Netflix, Hulu, Disney+, HBO, and many more.
Although both VPNs perform well in speed testing and provide solid security, Surfshark VPN wins out in both areas. And the title of being the best-value VPN provider on the market is one that it has more than earned. For just $2.30 a month, you can get a top-notch VPN service provider. It can compete with the finest, making it a great choice for people trying to save money.
ExpressVPN also provides a comprehensive set of VPN capabilities. It offers top-notch speeds and unparalleled access to your selected streaming service. Unfortunately, it ranks among the most expensive VPNs available.
Where ExpressVPN falters, Surfshark excels as one of the most economical VPNs. You also get an unlimited simultaneous connection, quick speed, and strong security. Thus solidifying its place in the top tier of VPN services.
No time to read the rest of this article? No problem. Get Surfshark right here!
Let's break down the best features of both VPNs.
Speed
Besides cost, the connection speed is one of the main considerations when choosing a VPN. Fast-speed testing a VPN can be a challenging task. The servers used, the protocols at play, and what you're doing online affect speed. Your location might also be a factor.
A VPN protocol is a collection of instructions. These are for establishing a safe and secure connection for data transmission between your device and a VPN server. Both VPN services deliver respectable speeds thanks to many top-notch protocols and many servers.
Surfshark VPN uses WireGuard, OpenVPN, and IKEv2. ExpressVPN supports its Lightway protocol, OpenVPN, IKEv2, and L2TP/IPsec.
The quickest protocols are usually WireGuard and Lightway. ExpressVPN is still one of the faster alternatives available. But it is a touch slower than Surfshark. This is because the WireGuard protocol is a little more refined than Lightway.
Both are dependably fast and excellent picks when downloading files or streaming content. Despite the slight reductions, you won't notice any differences from your typical ISP speeds.
Surfshark provides specific specialized servers for torrenting. These may increase speeds, and both providers support torrenting across all servers.
Server Locations
You should really become familiar with the Five Eyes, Nine Eyes, or Fourteen Eyes alliance. It will help you understand the significance of selecting the best VPN server location for maintaining your privacy. The alliances form groups of countries committed to sharing information about their own citizens. The shared data includes military intelligence. The following countries form part of this alliance.
Five Eyes: US, UK, Canada, Australia, New Zealand
Nine Eyes: Five Eyes + Denmark, France, Holland, Norway
Fourteen Eyes: Nine Eyes + Germany, Belgium, Italy, Sweden, Spain
These countries are notorious for attempting to incorporate monitoring technologies on many websites. This is particularly true in the US and the UK.
If you live in one of these alliance nations, or any other country with extensive surveillance, you should pick a virtual private network with servers elsewhere. And using VPNs with AES 256-bit encryption will shield your privacy better from government monitoring.
ExpressVPN has roughly 3,000 servers with 160 VPN server locations spread over 94 countries.
Surfshark provides more than 3,200 servers spread throughout 65 nations.
Both VPNs service the prime areas you are most likely to use. But as always, double-check that the country you need is supported before clicking the subscribe button.
Security and Privacy Features
Internet users access the internet through private networks using Virtual Private Networks (VPNs). These are extremely well-designed and powerful Internet Security Solutions.
Surfshark vs ExpressVPN? Both offer excellent security and privacy features.
Surfshark offers all the features you'll need in a safe VPN: updated protocols, 100% RAM-only servers, and military-grade encryption.
Your email address and billing information are among the data that Surfshark collects. If privacy is really important to you, be aware of this. You can use Surfshark Search, the true incognito mode, for searches you don't want other people to see. It's an excellent, minimal, zero-log private search service.
Unfortunately, Surfshark is headquartered in the Netherlands. That country is part of the 5-Eyes Intelligence Alliance. Surfshark's no-logs policy has not been independently audited. Then again, the German Security Organization, Cure53, successfully audited its browser extensions and server infrastructure. Surfshark also shut down its Indian servers in response to the new logging laws currently in effect in India.
ExpressVPN offers robust privacy features made up of four separate protocols. It also offers split tunneling and Perfect Forward Secrecy. This security feature changes your key on the connection once every 60 minutes. You can send some traffic from your devices through the secure VPN tunnel with VPN split tunneling. The remaining traffic gets sent over a different tunnel on the open network. It also runs on RAM-only servers. However, it logs the date and server when you access it.
Both block access to VPN connection time, IP address, and traffic.

Device compatibility
Nowadays, the average digital consumer owns a minimum of three connected devices. Cross-platform support for VPNs is more crucial than ever. If you want a secure and unrestricted internet experience, running a VPN on your home computer is no longer enough.
Surfshark and ExpressVPN support the following popular desktop and mobile operating systems: Android, iOS, Windows, macOS, and Linux. You can also set them up on routers, gaming consoles, and smart TVs like Apple TV and Android TV.
Streaming
This one is definitely a critical use case for VPN since so many people are choosing to stream their favorite TV and movies. One of the essential functions of a decent VPN is that it gives you access to blocked streaming content.
So Surfshark vs ExpressVPN: which one is better? When it comes to unblocking Disney+, Amazon Prime Video, Netflix US and other territories, BBC iPlayer, etc., ExpressVPN excels. There is no need to delve deeper to discover what it can and can't unblock because it is upfront about it.
Surfshark offers a similar service. It includes 10 Netflix regions, Prime Video, Disney+, and iPlayer on its list. But, Surfshark is a little more covert about informing you of what it allows.
Both also offer apps that allow you to use the Amazon Fire TV stick (a smart tv device that allows you to stream videos, install apps, play music, and more on your TV).
Torrenting and P2P (Peer to Peer)
Protection when torrenting is one of the most common reasons to get a VPN. Once more, both services offer excellent options. (Not that we, in any way, recommend torrenting.)
Both services include:
Split tunneling to segregate traffic 
Reasonable connection speeds
A kill switch (great if you intend to download large files and don't want to risk a dropped connection)
You can torrent safely with Surfshark. All its servers have high AES-256 encryption and support P2P traffic, with reasonable torrent speeds. The VPN's privacy-focused logging policy, kill switch, and Double VPN shields your P2P activity from your ISP. All this means that anonymous torrenting using qBittorrent, BitTorrent, uTorrent, and Vuze is quite safe.
All of ExpressVPN's 3,000+ servers are optimized for P2P. It has as many features for safe torrenting as Surfshark, but it's much faster. ExpressVPN definitely wins this round.
Bypassing Internet Access Restrictions
Many countries impose restrictions on access to particular websites. For instance, China has some of the world's most sophisticated internet filtering technologies. These are collectively known as the Great Firewall. Because of this, most VPNs are simply inoperable on the mainland.
ExpressVPN and Surfshark handle internet censorship in China and other territories with heavy censorship policies pretty easily.
A Surfshark VPN user might first need to set the NoBorders mode. (Settings > Advanced > NoBorders).
ExpressVPN does all this automatically!
Customer Support
ExpressVPN and Surfshark provide excellent 24/7 customer support through email and live chat. But Surfshark's response time is much faster than ExpressVPN. Both services urge clients to contact them again if they encounter new problems.

Additionally, there are substantial, searchable databases addressing the most typical queries. You can also find video instructions on the Surfshark and ExpressVPN official YouTube channels.
Pricing
Surfshark vs ExpressVPN: which one wins when it comes to pricing? Surfshark's aggressive pricing strategy certainly gets in front of the competition. Right now, ExpressVPN doesn't even come close to those costs.
Surfshark
There's a 30-day money-back guarantee on all Surfshark plans.
Pay monthly at $12.95/month.
Pay $3.99/month billed at $59.76 every 12 months. Additional taxes may apply depending on your jurisdiction.
Pay $2.30/per month (billed annually) if you sign up for 24 months. You'll pay $59.76 immediately, which lasts for 26 months (2 months usage free). After that, you get billed every 12 months. Again, additional taxes may apply depending on your jurisdiction.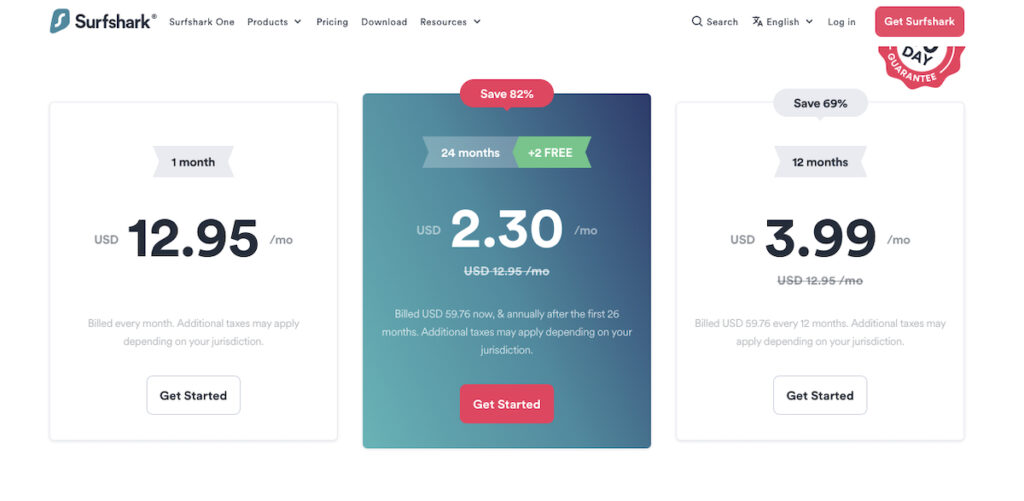 ---
ExpressVPN
There's a slight annoyance here. You have to look for ExpressVPN pricing; the links are not on the site's landing page. You'll need to type 'ExpressVPN Pricing' in your search engine search bar. For such a good VPN, this kind of thing feels unnecessary!
All ExpressVPN plans offer a 30-day money-back guarantee.
Select the monthly plan at $12.95/month
Choose the six-month plan, and pay $9.99/month billed every six months. 
Sign up for the 12-month plan and pay $6.67/month. Billed once for 15 months (3 months free), then every 12 months.
There are, of course, other products you could consider. Read our article about nine ExpressVPN alternatives.
And if you are just looking to keep your login information safe and sound, I recommend you read about 23 LastPass alternatives.
Surfshark vs ExpressVPN – Which is Better?
Finally, whether you choose Surfshark or ExpressVPN, they offer great features. Both VPN services provide a wealth of privacy-conscious capabilities. They make it easy to use more complicated functions like split tunneling or rapid file downloads.
You should always be able to locate a connection that works for you because both offer various servers and protocols.
Although ExpressVPN has the advantage of third-party audits, it does have a few security concerns for some users.
Both offer good customer support options, but Surfshark customer support agents reply faster.
The price difference between ExpressVPN and Surfshark is the critical point of differentiation. Surfshark is more affordable than ExpressVPN on all plans besides the rolling monthly contract.
Users save a ton with Surfshark because two years of service costs just $60 instead of $100 for ExpressVPN. Even if you only need a VPN for a year, Surfshark is still less expensive than ExpressVPN.
It's hard to find reasons not to use Surfshark, given the generally faster speeds and a few extra features like a double VPN. (Surfshark calls it MultiHop. This allows users to connect via two different VPN servers.) It has a significant enough competitive advantage to make the service more tempting. In our comparison, Surfshark VPN wins by a landslide!