Have you heard about Skimlinks but are unsure whether it's for you? This Skimlinks review is going to detail what Skimlinks is, how to use it, the pros and cons, the best alternatives so you can make a decision.
Affiliate marketing is a great revenue stream for new bloggers. However, getting approved for affiliate programs can often be hard without a proven sales record.
Not to mention how time-consuming it can be to trawl through affiliate merchants to find ones that relate to your content. 
Luckily there are platforms such as Skimlinks that do a lot of the legwork finding merchants that want to advertise with bloggers, even when they're new.
Like the sound of Skimlinks? Try it out for free here.
What is Skimlinks?
Skimlinks is an affiliate network with thousands of affiliate programs available in various niches.
They are like the middleman between you and the merchant. And while Skimlinks is free to sign up and use, they take a 25% cut of each affiliate sale.
While this might seem a lot, it allows you to relax and take a hands-off approach to affiliate marketing.
They also provide a nifty piece of technology that automatically creates affiliate product links, according to your content, without you having to scroll through merchants to get affiliate links yourself.
You must install a snippet of code to your website after signing up to be a Skimlinks affiliate partner. Then, affiliate links will appear automatically in your blog posts for merchants they're partnered with.
And, when someone clicks on that affiliate link and buys something, you earn a commission.
Skimlinks Review: Is It Good for New Bloggers?
Yes, Skimlinks is a great option for new bloggers.
While you don't need to use them and can search for affiliate programs yourself, Skimlinks removes the headache of getting turned down by merchants.
Plus, it saves you a ton of time searching for relevant affiliate programs, sending out applications, and waiting to get approved.
With Skimlinks, once you've signed up and added the code to your website, you can enjoy the automated process.
How to Use Skimlinks?
Head over to the Skimlinks website and sign up for a free account.
You'll be asked to provide your name, email address, domain name, and company name.
Once Skimlinks have reviewed your application and invites you to their platform, you'll receive an activation email.
Be aware that Skimlinks does have approval criteria, so there is always a chance you might be rejected.
Once you verify your email address, you can add the Skimlinks script to the website that you signed up with.
Find the JavaScript code snippet on the Skimlinks installation page. Copy and paste it just before the closing </body> tag of your page, at the very end of the page, in the footer.
After the code is installed, it can take up to 24 hours to start seeing data in your Publisher Hub.
Skimlinks Review: Tips to Earn More
One great thing about Skimlinks is that you don't have to apply for individual affiliate programs
But, to make money with Skimlinks, you need to have content that can be linked to by the advertisers on the platform.
Follow these tips to earn more with Skimlinks:
Tailor Content to Skimlinks Advertisers
A way to earn more with Skimlinks is to search what advertisers have affiliate programs and create blog content related to that.
By creating posts relevant to the merchants on the platform, you're setting yourself up for success.
Link to the advertiser and some of their products in your post, which would be helpful to your readers.
Search for High Paying Affiliate Programs
Using the search bar, you can filter Skimlinks merchants by category, program type, rate type and features.
Scrolling through, you should also see the average commission rate and payment type.
You can even click on each merchant to learn more. This will give you a great idea of which advertisers to target because you can see the ones that convert best and pay the highest commissions.
Promote Affiliate Links in Social Media Posts
While the automation of affiliate marketing is a great plus of using Skimlinks.
You may want to diversify your efforts by promoting relevant affiliate links on your social media accounts.
Head on over to the 'Toolbox' section of Skimlinks. Grab the URL that you want to promote and add it into the Link Generator.
Click 'Generate and Copy Short Link' to get a neat link you can use in a social media post.
Another option is to use the 'Skimlinks Editor' Google Chrome extension.
This allows you to grab affiliate links from merchant's websites that are signed up with Skimlinks without having to go into your Skimlinks account.
Use the Skimlinks Referral Program
After you start banking affiliate commissions with Skimlinks, you can bump up your earnings by referring the platform to your fellow bloggers.
You'll receive a 35% cut of what your referrals earn during their first 12 months with Skimlinks.
How Often Do Skimlinks Pay Commissions?
It does take a while to start getting paid what you're owed from Skimlinks.
However, this is the same with the majority of affiliate programs.
According to Skimlinks, the time it takes to be paid commissions will vary between merchants. But, this will be at least 92 days after the transaction date.
Plus, there is a minimum payment threshold of $65 you have to reach, before it can be transferred into to your account.
Skimlinks Review: Pros and Cons
It's important to be aware of the pros and cons before using Skimlinks. Here's what you need to know:
Pros
There are quite a few pros to using Skimlinks. These include:
Huge Range of Merchants
There are literally tens of thousands of merchants on Skimlinks. This saves you time having to search out affiliate programs yourself.
Simple to Sign Up and Use
Just sign up to Skimlinks, add the code to your website and let them add links to your content. This is great for new bloggers who might feel overwhelmed by affiliate marketing.
Easy to Get Accepted Even as a New Blogger
As a new blogger, you may get rejected as an affiliate by some merchants who don't like that your blog has minimal traffic. As a Skimlinks affiliate, you can promote any merchant, even if they've rejected you before.
Cons
There are few cons to be aware of before using Skimlinks. These include:
Skimlinks Take 25% of Your Earnings
Because Skimlinks is the mediator between the merchant and the publisher, they take a cut of each commission you make. Skimlinks takes 25%, and so you receive 75%.
There is a 90-Day Payment Timeframe
Affiliate payments are only made 90 days after the affiliate commission is locked in. This might put some publishers off who want to get paid more frequently.
Some Report That the Plugin Slows Down their Website
While it seems like a great concept to add code to your website and have affiliate links added automatically, some bloggers have reported their site speed slowing down.
Customer Support is Lacking
While Skimlinks does have customer support via email, many online reviews have pinpointed waiting a long time to get a response when a problem arises. Plus, there is no live chat to take advantage of.
Skimlinks Review FAQs
Here are some answers to frequently asked questions about Skimlinks.
Is Skimlinks Free to Use?
It's free for publishers to sign up and start using Skimlinks. They work on a revenue share basis, taking 25% of every commission you make.
How Does Skimlinks Work?
Skimlinks helps publishers earn commissions from the links on their websites.
All you have to do is link directly to the products and brands you write about, and the Skimlinks plugin will turn these links into affiliate links.
The publisher earns a commission if a reader clicks on one of these links and makes a purchase.
However, it's important to check that the brand you write about is one of the 48,500 Skimlinks partners on their database.
You can also add links manually if you prefer not to add the Skimlinks code to your website.
Best Skimlinks Alternatives
If you're thinking the Skimlinks affiliate program may not be for you, here are a few alternatives to consider:
VigLink
VigLink (recently rebranded to Sovrn Commerce) is another platform helping publishers monetize their content.
Just like Skimlinks, VigLink transforms any links you've mentioned in-content to merchants into an affiliate link that can generate revenue.
They work with 30K worldwide brands and businesses and offer instant approval for new publishers.
Auto Affiliate Links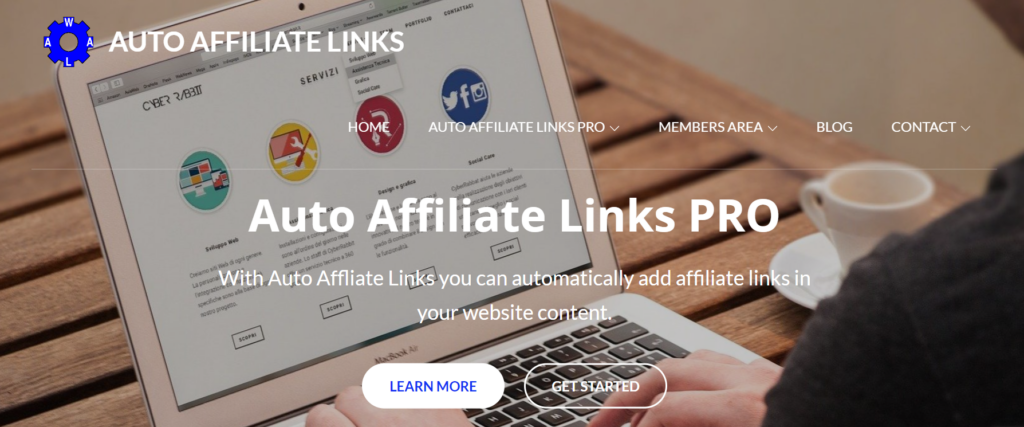 Auto Affiliate Links is a WordPress plugin that you can use to automatically add affiliate links to your content.
You can manually set the keywords and affiliate links, plus where they should be added into your content.
Or alternatively, you can let the plugin do the work for you, displaying links from companies such as Amazon, EBay, Clickbank, Shareasale, BestBuy, Walmart and Commission Junction.
Skimlinks Review: Conclusion
Now we're at the end of this Skimlinks review, you can decide if it's right for you.
If you're looking for a simple approach to monetize your content while doing the smallest amount of work possible, Skimlinks is worth looking into.
There are thousands of merchants in various niches, so you're sure to find a few you can link to in your content.
If you're already linking out to brands and businesses, why not get paid for it?
However, you have to think if you're happy to give up 25% of your affiliate earnings to Skimlinks.
You could sign up for the same affiliate programs manually and keep the extra money for yourself.
Decide whether you want an easier life or a little more money in your pocket.
Another point to consider is how much luck you've had applying to affiliate programs on your own.
New bloggers and site owners may get rejected frequently by affiliate merchants when they're starting.
If this sounds like your experience, joining Skimlinks is a great place to start your journey because they do the partner outreach for you.