After recently watching the Superbowl, the world is abuzz with analysis, love, hatred, and general chatter about the commercials during the game.
Some may think that TV commercials are only hot during the Superbowl. But I personally think a great niche idea for a blog or news website is TV commercials.
Here's a few of the topics you could cover in this niche:
History of commercials
Bios and "news" related to actors in the commercials
"Where are they now" for actors, products, or things shown in commercials.
Financial, popularity, and other business information about the commercials.
Any and every question related to commercials.
So, is this niche idea your next million-dollar idea? Let's jump into some of the analysis.
Is this a Better SEO Niche or News Niche?
I think there's plenty of SEO traffic in this niche.
But what I love is that there's also plenty of news, gossip, and other "hot" topics that can really help diversify traffic.
Celebrities often appear in commercials, which really opens the doors to Google Discover, news, and social media traffic.
So, there are plenty of SEO type keywords that your could target:
does pluto tv have commercials
old tv commercials
does youtube tv have commercials
how much do tv commercials cost
how to watch tv without commercials
why are tv commercials so loud
how to get on tv commercials
who are the actors in the new state farm commercial
who is stevie in the state farm axe throwing commercial.
how much does jake from state farm make per commercial
But there's also, even MORE, potential "viral" or "discover" type topics that could get huge spikes in traffic:
Here's how much money Chris Paul Gets Paid for Each State Farm Commercial
The Worst Beer Commercial of All Time
The Funniest Commercial Outtakes You Don't Want to Miss
How This Random TV Commercial Started a 50 Year Marriage
Why Ryan Reynalds is an Advertising Genius
The Inside Scoop on What Flo Really Does When She's Not Filming Progressive Commercials
This 1 Commercial Sold the Most Product for Apple of All Time
Build a Community and Email List
If you decide to jump into this niche, I highly recommend that you build some type of community on Facebook, Twitter, YouTube, or other platforms.
And PLEASE build an email list!
With an email list you can have a newsletter to get people back to your website over and over again. Build the email list big enough and sponsors with absolutely pay to be included in your newsletter.
Millions of people are watching commercials each year, so the potential market size is huge. Sure, not everyone will want to be a part of a community that is about TV commercials, but if you take a unique angle, you could make it more appealing.
I'm just here to share the niche, you can add your own "spice" to build the community.
Ad Arbitrage for This Niche?
I was browsing YouTube recently and saw a display ad (not a video ad) on the homepage that essentially said, "Find Out These Little Known Facts About Lily from AT&T". And of course, there was a picture of the actress that played Lily.
I was then taken to this page with an article titled, "The Lesser-Known Things About Lily from the AT&T Commercials"
The site is just full of display ads and hopes that I continue scrolling through the article so they make more money from ad revenue than they spend on the ad to get me there.
Ad arbitrage is still alive and well.
I believe there are TONS of ad arbitrage opportunities just like this in the TV commercial space.
Come up with a creative ad that gets cheap clicks, send them to a gallery or long form article that keeps people reading and you make more than you spend.
The Competition
Several sites do exist in this niche, although, I don't think any of them are executing as well as possible. In addition, most of the websites that cover TV commercials are either general celebrity news type websites or are more on the business side of TV commercials.
I think a website that covers both aspects and is more niche (i.e. not all celebrity news) has the opportunity to do well.
DailyCommercials.com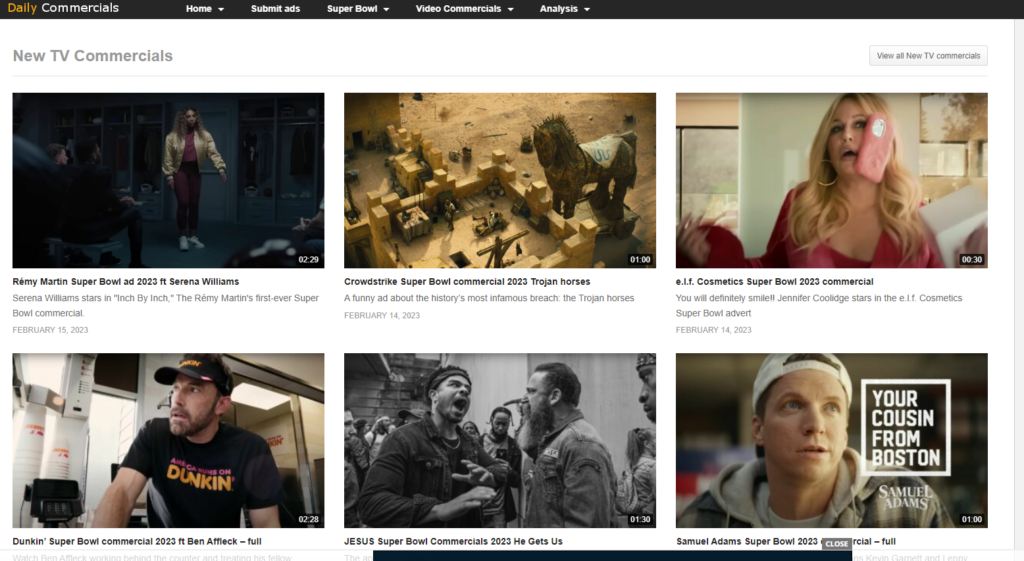 DailyCommercials.com shares the most recent commercials and criticizes them. So, its more of a "commercial review" type site in a similar vein to movie reviews.
ABanCommercials.com
Abancommercials.com posts the latest running commercials, including banned commercials. They appear to get a decent amount of traffic, but do very little analysis or content for each commercial.
iSpot.tv
iSpot.tv is all about measuring TV ad spend and tracking results. So, while this doesn't necessarily cover the exact topics I was listing, it does show the business side of the niche that could be explored for both content and revenue.
PopMatters.com
PopMatters.com is more of a general popular culture news website; however, they do have several articles related to TV commercials and actors.
In fact, most websites that cover TV commercials are more general celebrity type websites like this.
AdAge.com and AdWeek.com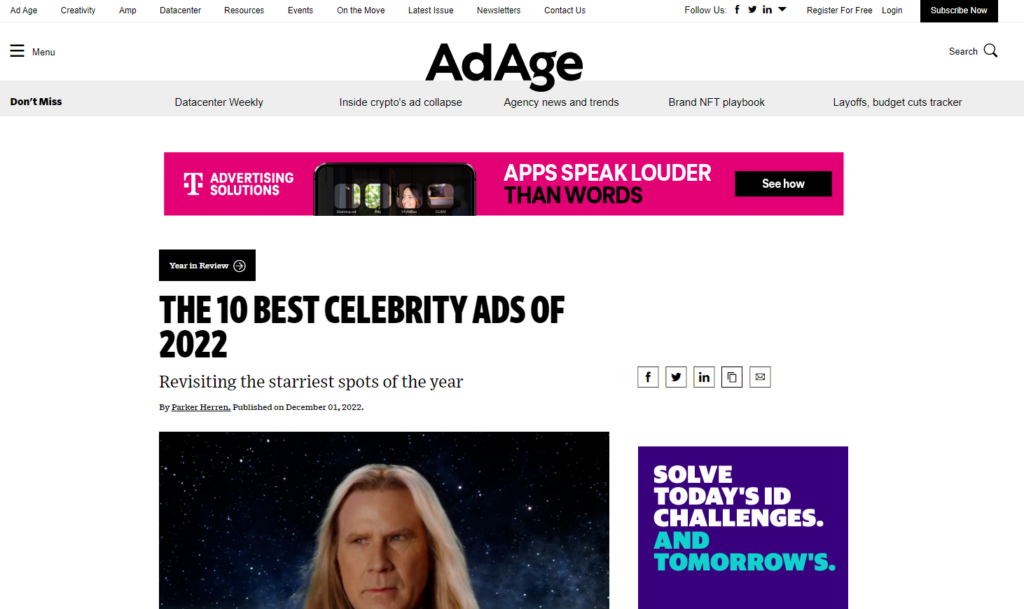 AdAge.com and AdWeek.com are both huge websites that cover all types of advertising news and analysis. These sites are mostly dedicated to the business side of advertising, but they do have a broader content strategy that covers all types of commercials and news.
Overall, I hope someone takes this niche idea and runs with it!
I would personally start this idea if I had more time. However, I've got plenty of projects already keeping me busy.
I hope someone considers this niche idea, or at least finds a spark of an idea that they can apply someone else based on this analysis.