"SEO for Hotels" is more than just a buzzword – it's your ticket to reaching eager travelers online.
In the bustling world of hospitality, a lavish lobby won't cut it if guests can't find you online.
Dive into this article to unveil the tailored strategies that will ensure your hotel shines brightly on search results. By the end, the digital path to your doorstep will be illuminated, and bookings boosted!
What Makes SEO for Hotels Different?
Unlike standard SEO, SEO for hotels leans heavily on location.
There are two distinct categories of hotel SEO:
Hotels in a city or in the proximity of a city center. 
Hotels or resorts in the country, near tourist attractions.
As a hotelier, your SEO success depends completely on selecting the right SEO strategy.
Let's first look at the foundations for hotel search engine optimization.
Foundations of Hotel SEO
The primary goal of a hotel's SEO strategy is to increase its online visibility in search engines.
Here are some of the standard strategies for hotel SEO.
Keyword Research: Identify relevant keywords targeting various travelers. (I expand on this later.)
Optimize On-Page SEO: Ensure that title tags, headers, meta descriptions, and content are optimized with targeted keywords.
Mobile Optimization: Ensure your site is mobile-friendly.
Local SEO (more about this later):
Claim and optimize your Google Business Profile.
Encourage and manage customer reviews.
Build local citations. Ensure consistent NAP (Name, Address, Phone) information across directories.
Quality Content
Develop a blog that highlights:
Travel tips
Local attractions
Events
Hotel amenities
Optimize Images: Compress images and use relevant alt text.
Schema Markup: Implement structured data to provide search engines and users with more information about your hotel. You can use a schema markup generator tool.
Earn Quality Backlinks
Collaborate with:
Travel bloggers
Local businesses
Event organizers
By working with these people, you can earn authoritative backlinks. This will increase the authority of your hotel website when viewed by search engines.
Social Media Integration: Use the top social media platforms to showcase your hotel and direct more organic traffic to your site.
Speed Optimization: Reduce load times.
Optimize for Voice Search: Ensure your content answers common traveler questions in a conversational tone.
Monitor and Analyze
Use tools like Google Search Console and Google Analytics to monitor:
Traffic sources
User behavior
Keyword rankings.
Adjust your strategies based on this data.
So those are the fundamentals.
However, SEO for hotels should also focus specifically on your potential customers:
Who are they?
What are their needs?
How are they searching online for the right hotel?
We'll look at that in more depth now.
Your Hotel Website Visitors
As mentioned earlier, we have to distinguish between a city hotel and a country resort. The guest expectations, their needs, and their search queries are completely different.
City Hotels
The potential guests of a city hotel are:
Business travelers
Tourists (both domestic and international)
Conference attendees
Families on vacation
Solo travelers
Students on educational tours
Event attendees (concerts, festivals, sports events, etc.)
Government officials or diplomats on official duties
Celebrities and VIPs
Journalists and media personnel
Group travelers (e.g., senior citizen groups or youth groups)
Flight crew members on layovers
Researchers or academics attending seminars
Artists and performers
Medical tourists seeking treatments
Transit passengers with long layovers or unexpected delays
Resort Hotels
Resort hotels usually cater to:
Vacationing families
Couples on romantic getaways
Adventure seekers (e.g., those interested in water sports, hiking, etc.)
Wellness tourists (seeking spa treatments, yoga retreats, etc.)
Golf enthusiasts (if the resort has a golf course)
Destination wedding guests
Reunion groups
Honeymooners
Solo relaxation seekers
Weekend escapers (from nearby cities or towns)
Nature lovers (especially if the resort is in a scenic location)
Festival or event attendees (if the resort hosts special events)
Corporate retreat participants
Incentive travel groups (companies rewarding employees)
Travel influencers and bloggers
Photographers seeking picturesque locations
Food enthusiasts (if the resort is known for its culinary offerings)
Wine or craft beverage tourists (if near vineyards or breweries)
Cultural tourists (if the resort is near historical or cultural sites)
Guests attending themed weekends or special resort programs
All this information is a great source for building a targeted keyword list.
And why are keywords the next important subject?
Keywords are the bridge between your website and Google search.
Keyword Research
Keyword research is the process of understanding your guest. You want to know:
How they search for accommodation
What their needs are
The answers to these questions will help you build an effective SEO strategy for your hotel business.
Since the hotel industry is very competitive, you need a good tool for hotel SEO.
Best Tool to Research Keywords
There are many options when it comes to keyword research tools, but I recommend SEMrush.
SEMrush is widely recognized as a leading tool for keyword research, and here's why:
Extensive Keyword Database
Keyword Difficulty Score: SEMrush provides a keyword difficulty score, allowing you to gauge how challenging it might be to rank for a particular keyword. This helps in prioritizing keywords that are not only relevant but also achievable in terms of ranking.
Related Keywords and Phrase Match: Beyond just primary keywords, SEMrush suggests related keywords and phrase match options. This can help uncover long-tail keywords or variations you might not have initially considered.
SERP Analysis: The tool analyzes the Search Engine Results Pages (SERP) for any keyword.
Search Volume and Trends: SEMrush provides historical data on keyword search volumes. 
Integration with Other SEMrush Features: The Keyword Magic tool seamlessly integrates with other SEMrush features like site audit, backlink analysis, and content suggestions.
Keyword Intent and Questions: SEMrush helps identify the intent behind keywords. It also shows user questions, which is great for FAQ and content creation.
SEMrush is recognized by SEO experts for its keyword research strength. Read our SEMrush review and tutorial to learn more.
Free Tools to Research Keywords
And look at the related keywords from the bottom of the SERP.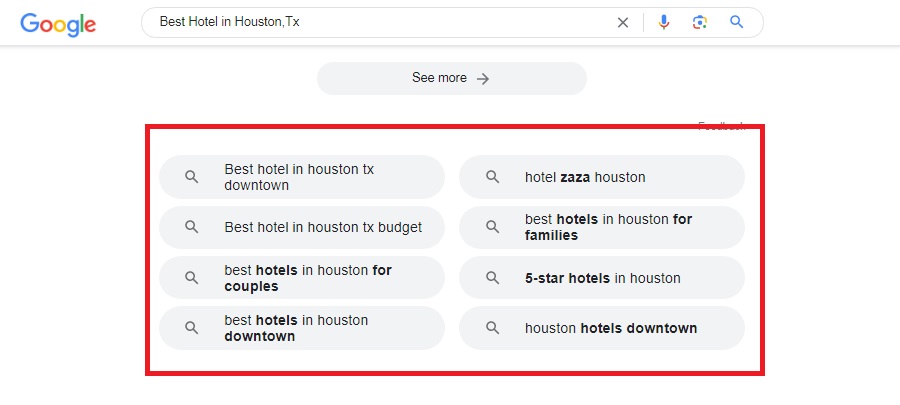 Also, don't forget to use "People also ask."
Other handy free tools are:
Keyword research would not be complete without an analysis of the keywords your competitors are using. Here are some additional aspects to investigate:
Their site content
The SEO strategies they use
What backlinks they have
Their market share
Their website speed and performance 
Tools like SEMrush and especially SpyFu can help.
SEO for Hotels: Website Strategies
A well-designed hotel website ensures user-friendly navigation, showcasing amenities, rooms, and guest experiences.
Coupled with solid SEO practices, the hotel website becomes easily discoverable in search results, attracting potential guests.
This initial digital impression can significantly influence a guest's decision-making. It can elevate the likelihood of them completing a booking and driving revenue for the hotel.
There are two important components in your hotel SEO strategy:
Your hotel website 
Your Google Business Profile (which is part of local SEO). 
I will start with some hotel SEO tips and discuss local SEO later.
The Home Page
The Home page is usually the first point of contact for online visitors. A well-optimized Home page will create a positive first impression, encouraging more extended site visits and reducing bounce rates.
Keyword Relevance: You should optimize the Home page for high-value keywords related to the hotel's offerings. This will help search engines understand the primary focus of the hotel website, improving its chances of ranking high for relevant search queries.
User Experience: The Home page must be engaging and intuitive. Visitors should be able to navigate and make bookings easily.
High Traffic Volume: The Home is the most visited page. Optimizing the Home page will lead to significant improvements in organic traffic.
Mobile Optimization: A large number of potential customers are searching on mobile devices. Your Home page must be mobile-friendly and fast-loading. Search engines prioritize mobile-optimized sites.
Link Distribution: External sites will link to a hotel's Home page. The accumulated "link juice" or authority can then be distributed to other internal pages via internal linking, enhancing the SEO value of the entire site.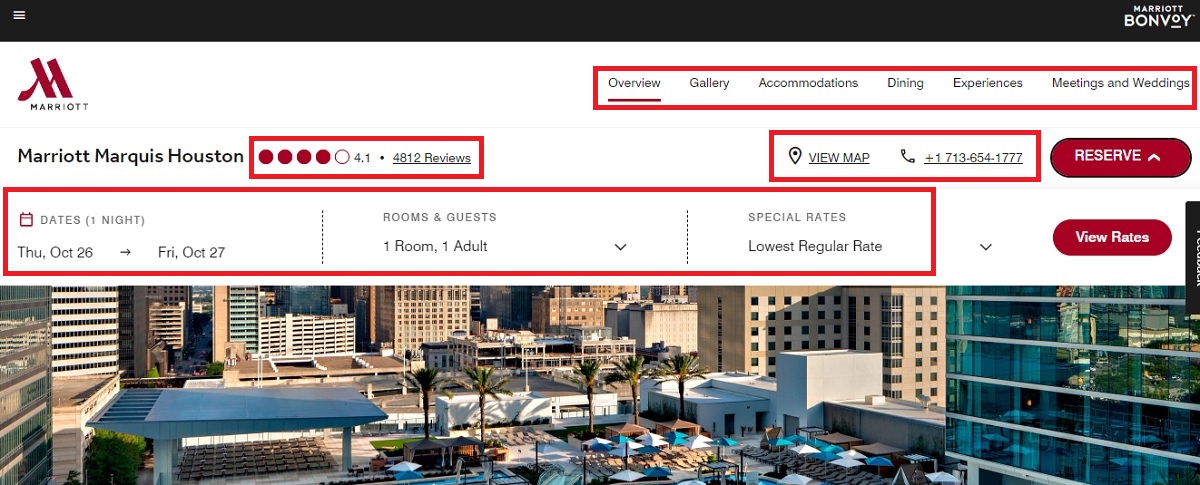 Make sure that you have the following elements on your Home page:
An optimized image of your hotel
Address, phone number, and map
A booking call to action
A user-friendly navigation menu that leads to all your important pages
An indication of your reviews
Introduce Blog Pages
Optimized blog pages will draw even more traffic to your site.
Use your previous keyword research and lists for city or resort hotels to compile a list of pages and valuable content.
Here are some points to keep in mind:
Relevant: Make sure your content matches what users are searching for. Use keywords that align with what people search for.
Authoritative: Dive deep into your topic.
Target terms travelers use to describe your hotel
Why are people traveling to your location?
What are they looking to do?
What would they like about your property?
Do you offer peripheral services? Consider including weddings, conferences, and events.
Trustworthy: Ensure your information is accurate and current. Use reputable sources and update outdated info.
Unique: Write unique content; don't copy other sites.
Friendly: Make your content user-friendly. It should look good, be easy to read, and load quickly.
Local SEO for Hotels
The popular search for a hotel will include the keywords "hotel in [city]."
Example: Hotel in Houston.
Convince Google that your hotel is the right answer for the query by showing the following information:
Address, map, phone number etc. Claim your Google Business Profile. (In older articles, you may see the term Google My Business listings.)
Include Citations on your Home page.
Place testimonials and reviews of past travelers.
Optimize the hotel amenities and attractions by means of content, photos, and videos.
Build Your Google Business Profile
Google Business Profile (Google My Business) gives you a free business spot. If you still need to get yours, grab it here and fill in the details.
Add good photos, list your hotel's offerings, and ask guests to review you on Google or other search engines. Always reply to their comments.
Add your website link, hotel name, and address, and make sure it matches everywhere online.
Gather Citations
Citations are online references to your hotel's NAP (Name, Address, Phone number) on various websites or directories. Citations are critical to success with local SEO.
To optimize results, it's important to maintain NAP uniformity across all platforms. Inconsistent listings may not only mislead potential customers but could also draw Google's attention.
Strategically position citations in places most fitting for your business, like where Google anticipates them. So, hotels should prioritize travel and room booking directories, aligning with the search habits of their primary audience – travelers.
Collect Customer Reviews
Collecting guest reviews is important for hotel SEO. Positive testimonials boost your hotel's credibility and trustworthiness.
These reviews generated by your guests are content rich in relevant keywords, enhancing organic search visibility.
And more than that, positive ratings can improve click-through rates from search results, signaling search engines about your site's:
In short, reviews will improve your rankings.
List in Directories
Ever wondered why some hotels effortlessly draw guests in droves while others linger in obscurity? The secret sauce might just be "Hotel Directories."
Listings should be positioned where they are most relevant for your business, essentially where search engines anticipate them to be.
In this context, your hotel ought to be featured in travel and accommodation reservation platforms. Here, they will cater to your primary clientele (travelers) looking for your offerings.
If I do a search like "Best Hotel in Houston, TX," I find that directories control more than the first 15 positions. As a city hotel, even with the best SEO for hotels strategy, you will find it very hard to rank at the top of the SERP.
Even the best hotel SEO service will most likely not do a better job for you. A better solution is to list your hotel with one of the strong directories.
Optimize for Amenities
Build an Amenities page to show everything that will attract your guests:
Pool
Spa
Gym
Restaurants
Child care
Entertainment center
Gifts shop
Now, are those amenities only for your guests?
NOT NECESSARILY! You should also target and attract local people living around your hotel.
On-page and Technical SEO
On-page SEO refers to optimizing individual web pages – the content, headers, title tags, meta descriptions, and more.
Technical SEO has to do with website crawlability, indexing, rendering, and structure.
These are vast subjects beyond the scope of this article.
I recommend reviewing these two in-depth articles that outline best practices: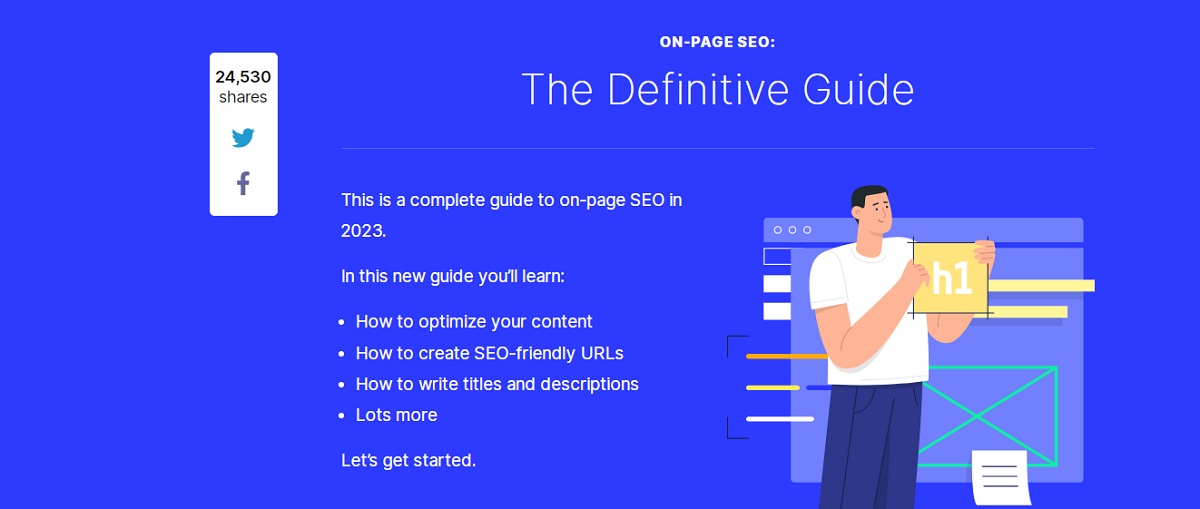 Monitor Your SEO Strategy
You invested considerable time and effort in search engine optimization as part of your hotel marketing. Now, you have to monitor the results.
Here are some steps to do that.
Google Analytics and Google Search Console: Use Google Analytics and Google Search Console to monitor organic traffic to your hotel's website. You can track metrics like:
Sessions
Users
Page views
Average session duration
CTR
Keyword Rankings: Use SEMrush to monitor the rankings of your targeted keywords.
Conversion Rate: Monitor the percentage of visitors who make bookings.
On-page Metrics
Examine metrics like:
Bounce rate
Time on page
Pages per session.
These give clues about content quality.
Backlink Analysis: Analyze the number and quality of incoming links to your website.
Local SEO
Check metrics like:
Search Views
Map views
The number of actions visitors take
User Feedback
Feedback on platforms like TripAdvisor or Yelp can provide insights into areas in need of improvement.
SEO Audit Tools: Periodically use SEO tools to audit your site and highlight any technical issues. SEMrush is a good choice.
Remember, SEO is a continuous process. You have to tweak your strategies for optimum results.
SEO for Hotels: Conclusion
In the dynamic world of the hospitality industry, a digital footprint is as crucial as the guest experience on-site.
Ensuring your hotel is easily discoverable online via SEO not only elevates brand visibility but also significantly drives bookings.
By tailoring your SEO efforts to the unique needs of travelers and consistently monitoring results, you can carve a niche in this competitive landscape.
So, dive deep into SEO, keep your guests at the heart of your strategy, and watch your bookings soar!